PreK–12 educators will see school pricing in their cart after logging in.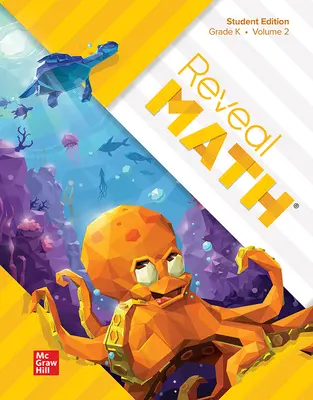 Reveal Math Student Edition, Grade K, Volume 2
MHID: 0076839036 | ISBN 13: 9780076839032
Payment Options: During checkout, you can pay with a P.O. (simply enter the number), Credit Card, or PayPal.
Product Details:
Cultivate mathematical student agency, growth mindset, and collaboration with the write-in Student Edition. Each volume is full-color and perforated for ease of use. This is volume 2.
| Title | ISBN 13 | Price |
| --- | --- | --- |
| Reveal Math, Grade K, Print Student Edition Package, 1-year | 9781264374014 | $30.56 |
| Minnesota Reveal Math, Grade K, Student Bundle, 1-year subscription | 9781266369933 | $48.52 |
| Reveal Math, Grade K, Print Student Edition Package, 2-years | 9781264550159 | $50.96 |
| Reveal Math, Grade K, MH Student Bundle, 1-year | 9781265778972 | $53.20 |
| Minnesota Reveal Math, Grade K, Student Bundle with Redbird, 1-year subscription | 9781266345159 | $55.16 |
| Minnesota Reveal Math, Grade K, Student Bundle with Arrive Math Booster, 1-year subscription | 9781266388682 | $54.28 |
| Reveal Math, Grade K, MH Student Bundle with Redbird, 1-year | 9781265424206 | $60.12 |
| Reveal Math, Grade K, Print Student Edition Package, 3-years | 9781264446032 | $61.12 |
| Reveal Math, Grade K, Print Student Edition Package, 4-years | 9781264405091 | $77.40 |
| Reveal Math, Grade K, MH Student Bundle, 2-years | 9781265758936 | $88.28 |
| Reveal Math, Grade K, Print Student Edition Package, 5-years | 9781264438693 | $91.64 |
| Minnesota Reveal Math, Grade K, Student Bundle, 3-year subscription | 9781266256776 | $98.96 |
| Reveal Math, Grade K, MH Student Bundle with Redbird, 2-years | 9781265631390 | $98.52 |
| Reveal Math, Grade K, MH Student Bundle, 3-years | 9781265764456 | $106.16 |
| Minnesota Reveal Math, Grade K, Student Bundle with Arrive Math Booster, 3-year subscription | 9781266250415 | $106.56 |
| Minnesota Reveal Math, Grade K, Student Bundle with Redbird, 3-year subscription | 9781266264054 | $112.60 |
| Reveal Math, Grade K, Print Student Edition Package, 6-year | 9781264374267 | $114.64 |
| Reveal Math, Grade K, MH Student Bundle with Redbird, 3-years | 9781265589837 | $120.04 |
| Reveal Math, Grade K, Print Student Edition Package, 7-years | 9781264425242 | $123.68 |
| Reveal Math, Grade K, MH Student Bundle, 4-years | 9781265777524 | $127.84 |
| Reveal Math, Grade K, Print Student Edition Package, 8-years | 9781264446469 | $129.88 |
| Reveal Math, Grade K, MH Student Bundle, 5-years | 9781265798345 | $143.52 |
| Reveal Math, Grade K, MH Student Bundle with Redbird, 4-years | 9781265574994 | $145.84 |
| Reveal Math, Grade K, Print Student Edition Package, 9-years | 9781264437597 | $146.08 |
| Minnesota Reveal Math, Grade K, Student Bundle, 6-year subscription | 9781266365850 | $151.08 |
| Reveal Math, Grade K, MH Student Bundle, 6-years | 9781265802844 | $163.48 |
| Minnesota Reveal Math, Grade K, Student Bundle with Arrive Math Booster, 6-year subscription | 9781266386190 | $163.12 |
| Reveal Math, Grade K, Print Student Edition Package, 10-years | 9781264443963 | $162.32 |
| Reveal Math, Grade K, MH Student Bundle with Redbird, 5-years | 9781265543891 | $164.16 |
| Minnesota Reveal Math, Grade K, Student Bundle, 7-year subscription | 9781266410185 | $170.40 |
| Minnesota Reveal Math, Grade K, Student Bundle with Redbird, 6-year subscription | 9781266342912 | $172.80 |
| Minnesota Reveal Math, Grade K, Student Bundle with Arrive Math Booster, 7-year subscription | 9781266402739 | $182.92 |
| Reveal Math, Grade K, MH Student Bundle, 7-years | 9781265806132 | $184.60 |
| Reveal Math, Grade K, MH Student Bundle with Redbird, 6-years | 9781265411237 | $186.76 |
| Minnesota Reveal Math, Grade K, Student Bundle with Redbird, 7-year subscription | 9781266405730 | $192.88 |
| Reveal Math, Grade K, MH Student Bundle, 8-years | 9781265810436 | $204.12 |
| Reveal Math, Grade K, MH Student Bundle with Redbird, 7-years | 9781265516659 | $208.68 |
| Reveal Math, Grade K, MH Student Bundle, 9-years | 9781265784829 | $229.56 |
| Reveal Math, Grade K, MH Student Bundle with Redbird, 8-years | 9781265655525 | $231.64 |
| Reveal Math, Grade K, MH Student Bundle, 10-years | 9781265787271 | $255.04 |