PreK–12 educators will see school pricing in their cart after logging in.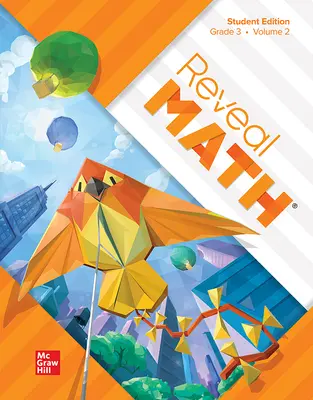 Reveal Math Student Edition, Grade 3, Volume 2
MHID: 0076839060 | ISBN 13: 9780076839063
Payment Options: During checkout, you can pay with a P.O. (simply enter the number), Credit Card, or PayPal.
Product Details:
Cultivate mathematical student agency, growth mindset, and collaboration with the write-in Student Edition. Each volume is full-color and perforated for ease of use. This is volume 2.
| Title | ISBN 13 | Price |
| --- | --- | --- |
| Reveal Math, Grade 3, Print Student Edition Package, 1-year | 9781264374168 | $28.56 |
| Reveal Math, Grade 3, Streamlined Student Bundle, 1-year | 9781264387694 | $40.04 |
| Minnesota Reveal Math, Grade 3, Student Bundle, 1-year subscription | 9781266370489 | $45.32 |
| Reveal Math, Grade 3, Student Bundle, 1-year | 9780077013103 | $47.12 |
| Reveal Math, Grade 3, Print Student Edition Package, 2-years | 9781264550333 | $47.60 |
| Reveal Math, Grade 3, MH Student Bundle, 1-year | 9781265783532 | $49.72 |
| Reveal Math, Grade 3, Student Bundle with Arrive Math Booster, 1-year | 9780077013509 | $50.76 |
| Minnesota Reveal Math, Grade 3, Student Bundle with Redbird, 1-year subscription | 9781266341199 | $51.52 |
| Minnesota Reveal Math, Grade 3, Student Bundle with Arrive Math Booster, 1-year subscription | 9781266390548 | $50.72 |
| Reveal Math, Grade 3, Student Bundle with Redbird, 1-year | 9780077013318 | $53.56 |
| Reveal Math, Grade 3, MH Student Bundle with Redbird, 1-year | 9781265431877 | $56.16 |
| Reveal Math, Grade 3, Student Bundle with Redbird and Arrive Math Booster, 1-year | 9780077012892 | $57.16 |
| Minnesota Reveal Math, Grade 3, Student Bundle with ALEKS (via ALEKS) and Arrive Math Booster, 1-year subscription | 9781264482702 | $58.68 |
| Reveal Math, Grade 3, Student Bundle with ALEKS, 1-year | 9781264390298 | $57.84 |
| Reveal Math, Grade 3, Print Student Edition Package, 3-years | 9781264446339 | $57.12 |
| Reveal Math, Grade 3, Student Bundle with ALEKS (via my.), 1-year | 9781264390090 | $57.84 |
| Reveal Math, Grade 3, MH Student Bundle with ALEKS, 1-year | 9781265441715 | $60.44 |
| Reveal Math, Grade 3, Student Bundle with ALEKS and Arrive Math Booster, 1-year | 9781264389971 | $61.44 |
| Reveal Math, Grade 3, Student Bundle with ALEKS (via my.)and Arrive Math Booster, 1-year | 9781264389865 | $61.44 |
| Reveal Math, Grade 3, Streamlined Student Bundle, 2-years | 9781264551040 | $66.72 |
| Reveal Math, Grade 3, Print Student Edition Package, 4-years | 9781264415403 | $72.32 |
| Reveal Math, Grade 3, Student Bundle, 2-years | 9781264438266 | $78.56 |
| Reveal Math, Grade 3, Streamlined Student Bundle, 3-years | 9781264387304 | $80.04 |
| Reveal Math, Grade 3, MH Student Bundle, 2-years | 9781265760939 | $82.48 |
| Reveal Math, Grade 3, Student Bundle with Arrive Math Booster, 2-years | 9781264554522 | $83.88 |
| Reveal Math, Grade 3, Print Student Edition Package, 5-years | 9781264438785 | $85.64 |
| Reveal Math, Grade 3, Student Bundle with Redbird, 2-years | 9781264552184 | $88.16 |
| Reveal Math, Grade 3, MH Student Bundle with Redbird, 2-years | 9781265637149 | $92.08 |
| Minnesota Reveal Math, Grade 3, Student Bundle, 3-year subscription | 9781266260186 | $92.48 |
| Reveal Math, Grade 3, Student Bundle, 3-years | 9781264374908 | $94.28 |
| Reveal Math, Grade 3, Student Bundle with Redbird and Arrive Math Booster, 2-years | 9781264555727 | $93.56 |
| Reveal Math, Grade 3, Student Bundle with ALEKS, 2-year | 9781265744717 | $94.60 |
| Reveal Math, Grade 3, Student Bundle with ALEKS (via my.), 2-year | 9781265740061 | $94.60 |
| Reveal Math, Grade 3, MH Student Bundle with ALEKS, 2 Years | 9781265514969 | $98.52 |
| Reveal Math, Grade 3, Student Bundle with ALEKS (via my.)and Arrive Math Booster, 2-year | 9781265747138 | $99.96 |
| Minnesota Reveal Math, Grade 3, Student Bundle with Arrive Math Booster, 3-year subscription | 9781266254741 | $99.56 |
| Reveal Math, Grade 3, MH Student Bundle, 3-years | 9781265771492 | $99.20 |
| Reveal Math, Grade 3, Student Bundle with ALEKS and Arrive Math Booster, 2-year | 9781265752408 | $99.96 |
| Reveal Math, Grade 3, Streamlined Student Bundle, 4-years | 9781264556243 | $101.36 |
| Reveal Math, Grade 3, Student Bundle with Arrive Math Booster, 3-years | 9781264386864 | $101.48 |
| Minnesota Reveal Math, Grade 3, Student Bundle with Redbird, 3-year subscription | 9781266267918 | $105.20 |
| Reveal Math, Grade 3, Print Student Edition Package, 6-year | 9781264374380 | $107.12 |
| Reveal Math, Grade 3, Student Bundle with Redbird, 3-years | 9781264386086 | $107.24 |
| Reveal Math, Grade 3, MH Student Bundle with Redbird, 3-years | 9781265595067 | $112.16 |
| Reveal Math, Grade 3, Student Bundle, 4-years | 9781264445219 | $114.28 |
| Reveal Math, Grade 3, Student Bundle with Redbird and Arrive Math Booster, 3-years | 9781264375363 | $114.36 |
| Reveal Math, Grade 3, Student Bundle with ALEKS, 3-year | 9781264394036 | $115.84 |
| Reveal Math, Grade 3, Student Bundle with ALEKS (via my.), 3-year | 9781264393718 | $115.84 |
| Reveal Math, Grade 3, Print Student Edition Package, 7-years | 9781264429455 | $115.56 |
| Reveal Math, Grade 3, MH Student Bundle, 4-years | 9781265778910 | $119.48 |
| Minnesota Reveal Math, Grade 3, Student Bundle with ALEKS (via ALEKS) and Arrive Math Booster, 3-year subscription | 9781266270437 | $120.64 |
| Reveal Math, Grade 3, Streamlined Student Bundle, 5-years | 9781264438600 | $119.96 |
| Reveal Math, Grade 3, Print Student Edition Package, 8-years | 9781264446520 | $121.36 |
| Reveal Math, Grade 3, MH Student Bundle with ALEKS, 3 Years | 9781265510916 | $120.76 |
| Reveal Math, Grade 3, Student Bundle with Arrive Math Booster, 4-years | 9781265682378 | $123.60 |
| Reveal Math, Grade 3, Student Bundle with ALEKS (via my.)and Arrive Math Booster, 3-year | 9781264393350 | $123.00 |
| Reveal Math, Grade 3, Student Bundle with ALEKS and Arrive Math Booster, 3-year | 9781264393558 | $123.00 |
| Reveal Math, Grade 3, Student Bundle, 5-years | 9781264438075 | $128.52 |
| Reveal Math, Grade 3, Student Bundle with Redbird, 4-years | 9781265677398 | $131.08 |
| Reveal Math, Grade 3, Streamlined Student Bundle, 6-years | 9781264388677 | $132.80 |
| Reveal Math, Grade 3, MH Student Bundle, 5-years | 9781265800291 | $134.12 |
| Reveal Math, Grade 3, Print Student Edition Package, 9-years | 9781264441013 | $136.52 |
| Reveal Math, Grade 3, MH Student Bundle with Redbird, 4-years | 9781265582555 | $136.28 |
| Reveal Math, Grade 3, Student Bundle with Arrive Math Booster, 5-years | 9781264463350 | $139.24 |
| Minnesota Reveal Math, Grade 3, Student Bundle, 6-year subscription | 9781266368066 | $141.16 |
| Reveal Math, Grade 3, Student Bundle with Redbird and Arrive Math Booster, 4-years | 9781265689919 | $140.40 |
| Reveal Math, Grade 3, Student Bundle with ALEKS (via my.), 4-year | 9781265755775 | $142.32 |
| Reveal Math, Grade 3, Student Bundle with ALEKS, 4-year | 9781265757571 | $142.32 |
| Reveal Math, Grade 3, MH Student Bundle with ALEKS, 4 Years | 9781265507428 | $147.52 |
| Reveal Math, Grade 3, Student Bundle, 6-years | 9780077013004 | $146.80 |
| Reveal Math, Grade 3, Student Bundle with Redbird, 5-years | 9781264458370 | $147.80 |
| Reveal Math, Grade 3, Streamlined Student Bundle, 7-years | 9781264569069 | $147.48 |
| Reveal Math, Grade 3, Student Bundle with ALEKS (via my.)and Arrive Math Booster, 4-year | 9781265762834 | $151.64 |
| Reveal Math, Grade 3, Student Bundle with ALEKS and Arrive Math Booster, 4-year | 9781265765736 | $151.64 |
| Reveal Math, Grade 3, Print Student Edition Package, 10-years | 9781264447633 | $151.68 |
| Reveal Math, Grade 3, MH Student Bundle, 6-years | 9781265803797 | $152.76 |
| Reveal Math, Grade 3, MH Student Bundle with Redbird, 5-years | 9781265561796 | $153.40 |
| Minnesota Reveal Math, Grade 3, Student Bundle with Arrive Math Booster, 6-year subscription | 9781266387463 | $152.44 |
| Reveal Math, Grade 3, Student Bundle with Arrive Math Booster, 6-years | 9780077013417 | $158.88 |
| Minnesota Reveal Math, Grade 3, Student Bundle with Redbird, 6-year subscription | 9781266343865 | $161.48 |
| Reveal Math, Grade 3, Student Bundle with ALEKS (via my.), 5-years | 9781264485178 | $160.68 |
| Reveal Math, Grade 3, Student Bundle with ALEKS, 5-year | 9781264485116 | $160.68 |
| Reveal Math, Grade 3, Streamlined Student Bundle, 8-years | 9781264444113 | $160.00 |
| Minnesota Reveal Math, Grade 3, Student Bundle, 7-year subscription | 9781266411397 | $159.24 |
| Reveal Math, Grade 3, Student Bundle with Redbird and Arrive Math Booster, 5-years | 9781264460625 | $158.52 |
| Reveal Math, Grade 3, MH Student Bundle with ALEKS, 5 Years | 9781265505158 | $166.28 |
| Reveal Math, Grade 3, Student Bundle, 7-years | 9781264438433 | $165.60 |
| Reveal Math, Grade 3, Student Bundle with Redbird, 6-years | 9780077013202 | $168.56 |
| Reveal Math, Grade 3, Student Bundle with ALEKS (via my.) and Arrive Math Booster, 5-years | 9781264486489 | $171.36 |
| Reveal Math, Grade 3, Student Bundle with ALEKS and Arrive Math Booster, 5-year | 9781264486335 | $171.36 |
| Minnesota Reveal Math, Grade 3, Student Bundle with Arrive Math Booster, 7-year subscription | 9781266404368 | $170.92 |
| Reveal Math, Grade 3, MH Student Bundle, 7-years | 9781265808945 | $172.52 |
| Reveal Math, Grade 3, MH Student Bundle with Redbird, 6-years | 9781265418878 | $174.52 |
| Reveal Math, Grade 3, Student Bundle with Arrive Math Booster, 7-years | 9781265710316 | $178.08 |
| Reveal Math, Grade 3, Student Bundle with Redbird and Arrive Math Booster, 6-years | 9780077012793 | $180.64 |
| Minnesota Reveal Math, Grade 3, Student Bundle with Redbird, 7-year subscription | 9781266407581 | $180.24 |
| Reveal Math, Grade 3, Streamlined Student Bundle, 9-years | 9781264570140 | $180.00 |
| Reveal Math, Grade 3, Student Bundle, 8-years | 9781264445387 | $182.84 |
| Reveal Math, Grade 3, Student Bundle with ALEKS (via my.), 6-year | 9781264395071 | $183.04 |
| Reveal Math, Grade 3, Student Bundle with ALEKS, 6-year | 9781264395163 | $183.04 |
| Minnesota Reveal Math, Grade 3, Student Bundle with ALEKS (via ALEKS) and Arrive Math Booster, 6-year subscription | 9781264482016 | $186.32 |
| Reveal Math, Grade 3, MH Student Bundle with ALEKS, 6-years | 9781265440039 | $189.00 |
| Reveal Math, Grade 3, Student Bundle with Redbird, 7-years | 9781265696726 | $188.08 |
| Reveal Math, Grade 3, MH Student Bundle, 8-years | 9781265817800 | $190.76 |
| Reveal Math, Grade 3, MH Student Bundle with Redbird, 7-years | 9781265526207 | $195.00 |
| Reveal Math, Grade 3, Student Bundle with ALEKS and Arrive Math Booster, 6-year | 9781264394715 | $195.20 |
| Reveal Math, Grade 3, Student Bundle with ALEKS (via my.)and Arrive Math Booster, 6-year | 9781264394418 | $195.20 |
| Reveal Math, Grade 3, Student Bundle with Arrive Math Booster, 8-years | 9781264464043 | $197.08 |
| Reveal Math, Grade 3, Streamlined Student Bundle, 10-years | 9781264571130 | $200.00 |
| Reveal Math, Grade 3, Student Bundle with Redbird and Arrive Math Booster, 7-years | 9781265717834 | $200.60 |
| Reveal Math, Grade 3, Student Bundle with ALEKS, 7-year | 9781265778361 | $203.08 |
| Reveal Math, Grade 3, Student Bundle with ALEKS (via my.), 7-year | 9781265772307 | $203.08 |
| Reveal Math, Grade 3, Student Bundle, 9-years | 9781264445714 | $205.64 |
| Minnesota Reveal Math, Grade 3, Student Bundle with ALEKS (via ALEKS) and Arrive Math Booster, 7-year subscription | 9781264481378 | $205.92 |
| Reveal Math, Grade 3, Student Bundle with Redbird, 8-years | 9781264459476 | $208.56 |
| Reveal Math, Grade 3, MH Student Bundle with ALEKS, 7 Years | 9781265502034 | $210.00 |
| Reveal Math, Grade 3, MH Student Bundle, 9-years | 9781265785666 | $214.52 |
| Reveal Math, Grade 3, Student Bundle with ALEKS (via my.)and Arrive Math Booster, 7-year | 9781265779634 | $215.60 |
| Reveal Math, Grade 3, MH Student Bundle with Redbird, 8-years | 9781265519384 | $216.48 |
| Reveal Math, Grade 3, Student Bundle with ALEKS and Arrive Math Booster, 7-year | 9781265785222 | $215.60 |
| Reveal Math, Grade 3, Student Bundle with Redbird and Arrive Math Booster, 8-years | 9781264461356 | $222.80 |
| Reveal Math, Grade 3, Student Bundle with ALEKS, 8-year | 9781264485437 | $225.68 |
| Reveal Math, Grade 3, Student Bundle with ALEKS (via my.), 8-years | 9781264485864 | $225.68 |
| Reveal Math, Grade 3, Student Bundle, 10-years | 9781264445950 | $228.48 |
| Reveal Math, Grade 3, MH Student Bundle with ALEKS, 8 Years | 9781265498665 | $233.60 |
| Reveal Math, Grade 3, MH Student Bundle, 10-years | 9781265793517 | $238.36 |
| Reveal Math, Grade 3, Student Bundle with ALEKS (via my.) and Arrive Math Booster, 8-years | 9781264487417 | $239.92 |
| Reveal Math, Grade 3, Student Bundle with ALEKS and Arrive Math Booster, 8-year | 9781264486939 | $239.92 |