PreK–12 educators will see school pricing in their cart after logging in.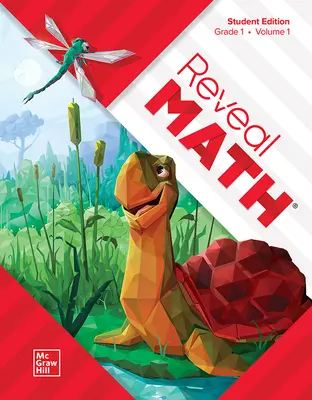 Reveal Math Student Edition, Grade 1, Volume 1
MHID: 0076659321 | ISBN 13: 9780076659326
Payment Options: During checkout, you can pay with a P.O. (simply enter the number), Credit Card, or PayPal.
Product Details:
Cultivate mathematical student agency, growth mindset, and collaboration with the write-in Student Edition. Each volume is full-color and perforated for ease of use. This is volume 1.
| Title | ISBN 13 | Price |
| --- | --- | --- |
| Reveal Math, Grade 1, Print Student Edition Package, 1-year | 9781264374045 | $30.56 |
| Reveal Math, Grade 1, Streamlined Student Bundle, 1-year | 9781264387540 | $42.88 |
| Minnesota Reveal Math, Grade 1, Student Bundle, 1-year subscription | 9781266370045 | $48.52 |
| Reveal Math, Grade 1, Student Bundle, 1-year | 9780077013066 | $50.44 |
| Reveal Math, Grade 1, Print Student Edition Package, 2-years | 9781264550180 | $50.96 |
| Reveal Math, Grade 1, MH Student Bundle, 1-year | 9781265780180 | $53.20 |
| Minnesota Reveal Math, Grade 1, Student Bundle with Arrive Math Booster, 1-year subscription | 9781266390432 | $54.28 |
| Reveal Math, Grade 1, Student Bundle with Arrive Math Booster, 1-year | 9780077013462 | $54.32 |
| Minnesota Reveal Math, Grade 1, Student Bundle with Redbird, 1-year subscription | 9781266346736 | $55.16 |
| Reveal Math, Grade 1, Student Bundle with Redbird, 1-year | 9780077013271 | $57.32 |
| Reveal Math, Grade 1, MH Student Bundle with Redbird, 1-year | 9781265426965 | $60.12 |
| Reveal Math, Grade 1, Student Bundle with Redbird and Arrive Math Booster, 1-year | 9780077012878 | $61.20 |
| Reveal Math, Grade 1, Print Student Edition Package, 3-years | 9781264446261 | $61.12 |
| Reveal Math, Grade 1, Streamlined Student Bundle, 2-years | 9781264550906 | $71.40 |
| Reveal Math, Grade 1, Print Student Edition Package, 4-years | 9781264410569 | $77.40 |
| Reveal Math, Grade 1, Student Bundle, 2-years | 9781264438181 | $84.08 |
| Reveal Math, Grade 1, Streamlined Student Bundle, 3-years | 9781264387168 | $85.68 |
| Reveal Math, Grade 1, MH Student Bundle, 2-years | 9781265759599 | $88.28 |
| Reveal Math, Grade 1, Student Bundle with Arrive Math Booster, 2-years | 9781264554270 | $89.76 |
| Reveal Math, Grade 1, Print Student Edition Package, 5-years | 9781264438723 | $91.64 |
| Reveal Math, Grade 1, Student Bundle with Redbird, 2-years | 9781264551927 | $94.36 |
| Minnesota Reveal Math, Grade 1, Student Bundle, 3-year subscription | 9781266257292 | $98.96 |
| Reveal Math, Grade 1, MH Student Bundle with Redbird, 2-years | 9781265634629 | $98.52 |
| Reveal Math, Grade 1, Student Bundle with Redbird and Arrive Math Booster, 2-years | 9781264554959 | $100.12 |
| Reveal Math, Grade 1, Student Bundle, 3-years | 9781264374731 | $100.88 |
| Reveal Math, Grade 1, MH Student Bundle, 3-years | 9781265764876 | $106.16 |
| Minnesota Reveal Math, Grade 1, Student Bundle with Arrive Math Booster, 3-year subscription | 9781266251078 | $106.56 |
| Reveal Math, Grade 1, Student Bundle with Arrive Math Booster, 3-years | 9781264386635 | $108.60 |
| Reveal Math, Grade 1, Streamlined Student Bundle, 4-years | 9781264554829 | $108.48 |
| Minnesota Reveal Math, Grade 1, Student Bundle with Redbird, 3-year subscription | 9781266264337 | $112.60 |
| Reveal Math, Grade 1, Student Bundle with Redbird, 3-years | 9781264385973 | $114.76 |
| Reveal Math, Grade 1, Print Student Edition Package, 6-year | 9781264374335 | $114.64 |
| Reveal Math, Grade 1, MH Student Bundle with Redbird, 3-years | 9781265590611 | $120.04 |
| Reveal Math, Grade 1, Student Bundle with Redbird and Arrive Math Booster, 3-years | 9781264375103 | $122.40 |
| Reveal Math, Grade 1, Student Bundle, 4-years | 9781264444687 | $122.28 |
| Reveal Math, Grade 1, Print Student Edition Package, 7-years | 9781264425501 | $123.68 |
| Reveal Math, Grade 1, MH Student Bundle, 4-years | 9781265777531 | $127.84 |
| Reveal Math, Grade 1, Streamlined Student Bundle, 5-years | 9781264438563 | $128.36 |
| Reveal Math, Grade 1, Print Student Edition Package, 8-years | 9781264446506 | $129.88 |
| Reveal Math, Grade 1, Student Bundle with Arrive Math Booster, 4-years | 9781265680190 | $132.28 |
| Reveal Math, Grade 1, Student Bundle, 5-years | 9781264438044 | $137.52 |
| Reveal Math, Grade 1, Student Bundle with Redbird, 4-years | 9781265677138 | $140.28 |
| Reveal Math, Grade 1, Streamlined Student Bundle, 6-years | 9781264388547 | $142.12 |
| Reveal Math, Grade 1, MH Student Bundle, 5-years | 9781265798833 | $143.52 |
| Reveal Math, Grade 1, MH Student Bundle with Redbird, 4-years | 9781265579081 | $145.84 |
| Reveal Math, Grade 1, Print Student Edition Package, 9-years | 9781264438228 | $146.08 |
| Reveal Math, Grade 1, Student Bundle with Arrive Math Booster, 5-years | 9781264462391 | $149.00 |
| Reveal Math, Grade 1, Student Bundle with Redbird and Arrive Math Booster, 4-years | 9781265687175 | $150.24 |
| Minnesota Reveal Math, Grade 1, Student Bundle, 6-year subscription | 9781266367267 | $151.08 |
| Reveal Math, Grade 1, Student Bundle, 6-years | 9780077012960 | $157.08 |
| Reveal Math, Grade 1, Streamlined Student Bundle, 7-years | 9781264568796 | $157.80 |
| Reveal Math, Grade 1, Student Bundle with Redbird, 5-years | 9781264458233 | $158.16 |
| Minnesota Reveal Math, Grade 1, Student Bundle with Arrive Math Booster, 6-year subscription | 9781266386329 | $163.12 |
| Reveal Math, Grade 1, Print Student Edition Package, 10-years | 9781264444939 | $162.32 |
| Reveal Math, Grade 1, MH Student Bundle with Redbird, 5-years | 9781265547837 | $164.16 |
| Reveal Math, Grade 1, MH Student Bundle, 6-years | 9781265803223 | $163.48 |
| Minnesota Reveal Math, Grade 1, Student Bundle, 7-year subscription | 9781266410512 | $170.40 |
| Reveal Math, Grade 1, Student Bundle with Arrive Math Booster, 6-years | 9780077013370 | $170.04 |
| Reveal Math, Grade 1, Student Bundle with Redbird and Arrive Math Booster, 5-years | 9781264460175 | $169.64 |
| Reveal Math, Grade 1, Streamlined Student Bundle, 8-years | 9781264444083 | $171.20 |
| Minnesota Reveal Math, Grade 1, Student Bundle with Redbird, 6-year subscription | 9781266343070 | $172.80 |
| Reveal Math, Grade 1, Student Bundle, 7-years | 9781264438389 | $177.20 |
| Reveal Math, Grade 1, Student Bundle with Redbird, 6-years | 9780077013189 | $180.36 |
| Minnesota Reveal Math, Grade 1, Student Bundle with Arrive Math Booster, 7-year subscription | 9781266404191 | $182.92 |
| Reveal Math, Grade 1, MH Student Bundle, 7-years | 9781265807078 | $184.60 |
| Reveal Math, Grade 1, MH Student Bundle with Redbird, 6-years | 9781265416003 | $186.76 |
| Reveal Math, Grade 1, Student Bundle with Arrive Math Booster, 7-years | 9781265705114 | $190.56 |
| Reveal Math, Grade 1, Streamlined Student Bundle, 9-years | 9781264569434 | $192.60 |
| Minnesota Reveal Math, Grade 1, Student Bundle with Redbird, 7-year subscription | 9781266406454 | $192.88 |
| Reveal Math, Grade 1, Student Bundle with Redbird and Arrive Math Booster, 6-years | 9780077013561 | $193.32 |
| Reveal Math, Grade 1, Student Bundle, 8-years | 9781264445301 | $195.64 |
| Reveal Math, Grade 1, Student Bundle with Redbird, 7-years | 9781265695545 | $201.24 |
| Reveal Math, Grade 1, MH Student Bundle, 8-years | 9781265813192 | $204.12 |
| Reveal Math, Grade 1, MH Student Bundle with Redbird, 7-years | 9781265519674 | $208.68 |
| Reveal Math, Grade 1, Student Bundle with Arrive Math Booster, 8-years | 9781264459803 | $210.88 |
| Reveal Math, Grade 1, Streamlined Student Bundle, 10-years | 9781264570775 | $214.00 |
| Reveal Math, Grade 1, Student Bundle with Redbird and Arrive Math Booster, 7-years | 9781265713942 | $214.64 |
| Reveal Math, Grade 1, Student Bundle, 9-years | 9781264445554 | $220.04 |
| Reveal Math, Grade 1, Student Bundle with Redbird, 8-years | 9781264459209 | $223.16 |
| Reveal Math, Grade 1, MH Student Bundle, 9-years | 9781265785512 | $229.56 |
| Reveal Math, Grade 1, MH Student Bundle with Redbird, 8-years | 9781265658540 | $231.64 |
| Reveal Math, Grade 1, Student Bundle with Redbird and Arrive Math Booster, 8-years | 9781264461288 | $238.40 |
| Reveal Math, Grade 1, Student Bundle, 10-years | 9781264445806 | $244.48 |
| Reveal Math, Grade 1, MH Student Bundle, 10-years | 9781265791100 | $255.04 |