PreK–12 educators will see school pricing in their cart after logging in.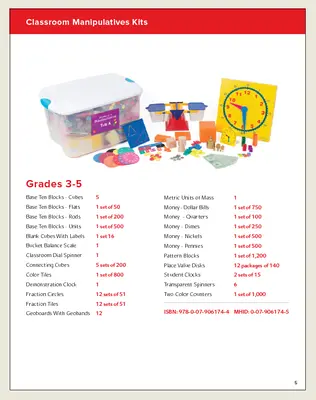 Reveal Math Manipulative Kit, Grades 3-5
MHID: 1264417381 | ISBN 13: 9781264417384
Payment Options: During checkout, you can pay with a P.O. (simply enter the number), Credit Card, or PayPal.
Product Details:
This convenient set of classroom manipulatives makes it easy to teach the program hands-on. It includes a variety of common manipulatives to match varying needs, helps students develop mathematical concepts through hands-on explorations, and allows for whole-group instruction by providing classroom quantities of materials. Materials include: Base Ten Blocks - Cubes, Base Ten Blocks - Flats, Base Ten Blocks - Rods, Base Ten Blocks - Units, Blank Cubes With Labels, Bucket Balance Scale, Classroom Dial Spinner, Color Tiles, Connecting Cubes, Demonstration Clock, Fraction Circles, Fraction Tiles, Geoboards With Geobands, Metric Units of Mass, Money - Dollar Bills, Money - Quarters, Money - Dimes, Money - Nickels, Money - Pennies, Pattern Blocks, Place Value Disks, Student Clocks, Transparent Spinners, and Two-Color Counters.
| Title | ISBN 13 | Quantity |
| --- | --- | --- |
| Everyday Mathematics, Grades PK-6, Rocker Balance | N/A | 1 |
| EVERYDAY MATH GAMES KIT CHOKE WARNING STICKER | N/A | 2 |
| NUMBER WORLDS - CLASSROOM DIAL | N/A | 1 |
| GREEN CONNECTING CUBES/200 | N/A | 1 |
| ORANGE CONNECTING CUBES/200 | N/A | 1 |
| PURPLE CONNECTING CUBES/200 | N/A | 1 |
| RED CONNECTING CUBES/200 | N/A | 1 |
| My Math, Yellow Connecting Cubes/200 | N/A | 1 |
| BASE TEN FLATS/50 | N/A | 1 |
| FRACTION TILES/51 | N/A | 12 |
| FRACTION CIRCLES/51 | N/A | 12 |
| Everyday Mathematics 4, Grade K, Spinner - Transparent | N/A | 6 |
| PATTERN BLOCKS/1200 | N/A | 1 |
| COLOR TILES/800 | N/A | 1 |
| DEMONSTRATION CLOCK | N/A | 1 |
| STORAGE TUB 66 QUART | N/A | 1 |
| BASE TEN CUBE/1 | N/A | 5 |
| BASE TEN RODS/200 | N/A | 1 |
| BASE TEN UNITS/500 | N/A | 1 |
| Everyday Mathematics 4, Grade 2, Play Money Quarter Set | N/A | 1 |
| Everyday Mathematics 4, Grades 1-2, Play Money Dime Set | N/A | 1 |
| Everyday Mathematics 4, Grade 2, Play Money Nickel Set | N/A | 1 |
| Everyday Mathematics 4, Grades 1-2, Play Money Penny Set | N/A | 1 |
| My Math, Geoboards | N/A | 12 |
| 2 COLOR COUNTERS/1000 | N/A | 1 |
| MONEY/BILLS/750 | N/A | 1 |
| BLANK CUBES WITH LABELS | N/A | 1 |
| Everyday Mathematics 4, Grade 3, Standard Metric Masses | 9780021354467 | 1 |
| My Math and Reveal Math Student Clocks, Pkg of 15 | 9780079061683 | 2 |
| My Math and Reveal Math Place Value Disks, Pkg of 140 | 9780079061690 | 12 |
| My Math and Reveal Math Manipulative Kit Insert, Grades 1-2 | N/A | 1 |
| My Math and Reveal Math Manipulative Kit, Tub A Content List Sticker, Grades 3-5 | N/A | 1 |
| My Math and Reveal Math Manipulative Kit, Tub B Content List Sticker, Grades 3-5 | N/A | 1 |
| My Math and Reveal Math Manipulative Kit Tub Label, Tub A, Grades 3-5 | N/A | 1 |
| My Math and Reveal Math Manipulative Kit Tub Label, Tub B, Grades 3-5 | N/A | 1 |
| My Math and Reveal Math Manipulative Kit Shipper, Grades K, 3-5 | N/A | 1 |
| Everyday Math, Number Worlds Kit Tub K-6 | N/A | 1 |
Title
EVERYDAY MATH GAMES KIT CHOKE WARNING STICKER
Title
NUMBER WORLDS - CLASSROOM DIAL
Title
GREEN CONNECTING CUBES/200
Title
ORANGE CONNECTING CUBES/200
Title
PURPLE CONNECTING CUBES/200
Title
My Math and Reveal Math Manipulative Kit Insert, Grades 1-2
Title
My Math and Reveal Math Manipulative Kit, Tub A Content List Sticker, Grades 3-5
Title
My Math and Reveal Math Manipulative Kit, Tub B Content List Sticker, Grades 3-5
Title
My Math and Reveal Math Manipulative Kit Tub Label, Tub A, Grades 3-5
Title
My Math and Reveal Math Manipulative Kit Tub Label, Tub B, Grades 3-5
Title
My Math and Reveal Math Manipulative Kit Shipper, Grades K, 3-5
Title
Everyday Math, Number Worlds Kit Tub K-6