PreK–12 educators will see school pricing in their cart after logging in.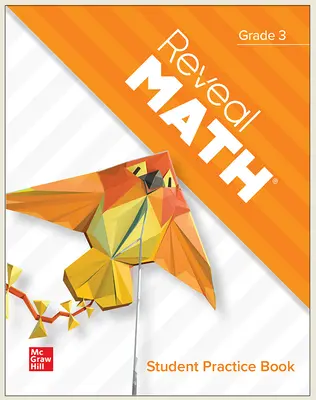 Reveal Math, Grade 3, Student Practice Book
MHID: 0076937062 | ISBN 13: 9780076937066
Payment Options: During checkout, you can pay with a P.O. (simply enter the number), Credit Card, or PayPal.
Product Details:
The Student Practice Book provides two additional pages of practice for each lesson to further build proficiency and confidence with the lesson concepts.
| Title | ISBN 13 | Price |
| --- | --- | --- |
| Minnesota Reveal Math, Grade 3, Student Bundle, 1-year subscription | 9781266370489 | $48.52 |
| Indiana Reveal Math, Grade 3, Student Bundle, 1-year | 9781266479489 | $50.40 |
| Reveal Math, Grade 3, MH Student Bundle, 1-year | 9781265783532 | $53.20 |
| Minnesota Reveal Math, Grade 3, Student Bundle with Arrive Math Booster, 1-year subscription | 9781266390548 | $54.28 |
| Indiana Reveal Math, Grade 3, Student Bundle with Arrive Math Booster, 1-year | 9781266507342 | $54.24 |
| Minnesota Reveal Math, Grade 3, Student Bundle with Redbird, 1-year subscription | 9781266341199 | $55.16 |
| Indiana Reveal Math, Grade 3, Student Bundle with Redbird, 1-year | 9781266474484 | $57.28 |
| Reveal Math, Grade 3, MH Student Bundle with Redbird, 1-year | 9781265431877 | $60.12 |
| Indiana Reveal Math, Grade 3, Student Bundle with ALEKS (via my.), 1-year | 9781266490613 | $61.84 |
| Indiana Reveal Math, Grade 3, Student Bundle with Redbird and Arrive Math Booster, 1-year | 9781266514180 | $61.12 |
| Minnesota Reveal Math, Grade 3, Student Bundle with ALEKS (via ALEKS) and Arrive Math Booster, 1-year subscription | 9781264482702 | $62.80 |
| Reveal Math, Grade 3, MH Student Bundle with ALEKS, 1-year | 9781265441715 | $64.68 |
| Indiana Reveal Math, Grade 3, Student Bundle with ALEKS (via my.)and Arrive Math Booster, 1-year | 9781266503061 | $65.72 |
| Reveal Math, Grade 3, MH Student Bundle, 2-years | 9781265760939 | $88.28 |
| Minnesota Reveal Math, Grade 3, Student Bundle, 3-year subscription | 9781266260186 | $98.96 |
| Reveal Math, Grade 3, MH Student Bundle with Redbird, 2-years | 9781265637149 | $98.52 |
| Reveal Math, Grade 3, MH Student Bundle with ALEKS, 2 Years | 9781265514969 | $105.44 |
| Minnesota Reveal Math, Grade 3, Student Bundle with Arrive Math Booster, 3-year subscription | 9781266254741 | $106.56 |
| Reveal Math, Grade 3, MH Student Bundle, 3-years | 9781265771492 | $106.16 |
| Minnesota Reveal Math, Grade 3, Student Bundle with Redbird, 3-year subscription | 9781266267918 | $112.60 |
| Reveal Math, Grade 3, MH Student Bundle with Redbird, 3-years | 9781265595067 | $120.04 |
| Reveal Math, Grade 3, MH Student Bundle, 4-years | 9781265778910 | $127.84 |
| Minnesota Reveal Math, Grade 3, Student Bundle with ALEKS (via ALEKS) and Arrive Math Booster, 3-year subscription | 9781266270437 | $129.12 |
| Reveal Math, Grade 3, MH Student Bundle with ALEKS, 3 Years | 9781265510916 | $129.24 |
| Reveal Math, Grade 3, MH Student Bundle, 5-years | 9781265800291 | $143.52 |
| Reveal Math, Grade 3, MH Student Bundle with Redbird, 4-years | 9781265582555 | $145.84 |
| Minnesota Reveal Math, Grade 3, Student Bundle, 6-year subscription | 9781266368066 | $151.08 |
| Reveal Math, Grade 3, MH Student Bundle with ALEKS, 4 Years | 9781265507428 | $157.84 |
| Indiana Reveal Math, Grade 3, Student Bundle, 6-years | 9781266476457 | $156.92 |
| Minnesota Reveal Math, Grade 3, Student Bundle with Arrive Math Booster, 6-year subscription | 9781266387463 | $163.12 |
| Reveal Math, Grade 3, MH Student Bundle with Redbird, 5-years | 9781265561796 | $164.16 |
| Reveal Math, Grade 3, MH Student Bundle, 6-years | 9781265803797 | $163.48 |
| Minnesota Reveal Math, Grade 3, Student Bundle, 7-year subscription | 9781266411397 | $170.40 |
| Indiana Reveal Math, Grade 3, Student Bundle with Arrive Math Booster, 6-years | 9781266505287 | $169.84 |
| Minnesota Reveal Math, Grade 3, Student Bundle with Redbird, 6-year subscription | 9781266343865 | $172.80 |
| Reveal Math, Grade 3, MH Student Bundle with ALEKS, 5 Years | 9781265505158 | $177.92 |
| Indiana Reveal Math, Grade 3, Student Bundle with Redbird, 6-years | 9781266473234 | $180.20 |
| Minnesota Reveal Math, Grade 3, Student Bundle with Arrive Math Booster, 7-year subscription | 9781266404368 | $182.92 |
| Reveal Math, Grade 3, MH Student Bundle, 7-years | 9781265808945 | $184.60 |
| Reveal Math, Grade 3, MH Student Bundle with Redbird, 6-years | 9781265418878 | $186.76 |
| Indiana Reveal Math, Grade 3, Student Bundle with Redbird and Arrive Math Booster, 6-years | 9781266510137 | $193.12 |
| Minnesota Reveal Math, Grade 3, Student Bundle with Redbird, 7-year subscription | 9781266407581 | $192.88 |
| Indiana Reveal Math, Grade 3, Student Bundle with ALEKS (via my.), 6-years | 9781266487040 | $195.68 |
| Minnesota Reveal Math, Grade 3, Student Bundle with ALEKS (via ALEKS) and Arrive Math Booster, 6-year subscription | 9781264482016 | $199.40 |
| Reveal Math, Grade 3, MH Student Bundle with ALEKS, 6-years | 9781265440039 | $202.24 |
| Reveal Math, Grade 3, MH Student Bundle, 8-years | 9781265817800 | $204.12 |
| Indiana Reveal Math, Grade 3, Student Bundle with ALEKS (via my.)and Arrive Math Booster, 6-years | 9781266495137 | $208.64 |
| Reveal Math, Grade 3, MH Student Bundle with Redbird, 7-years | 9781265526207 | $208.68 |
| Minnesota Reveal Math, Grade 3, Student Bundle with ALEKS (via ALEKS) and Arrive Math Booster, 7-year subscription | 9781264481378 | $220.36 |
| Reveal Math, Grade 3, MH Student Bundle with ALEKS, 7 Years | 9781265502034 | $224.72 |
| Reveal Math, Grade 3, MH Student Bundle, 9-years | 9781265785666 | $229.56 |
| Reveal Math, Grade 3, MH Student Bundle with Redbird, 8-years | 9781265519384 | $231.64 |
| Reveal Math, Grade 3, MH Student Bundle with ALEKS, 8 Years | 9781265498665 | $249.96 |
| Reveal Math, Grade 3, MH Student Bundle, 10-years | 9781265793517 | $255.04 |