PreK–12 educators will see school pricing in their cart after logging in.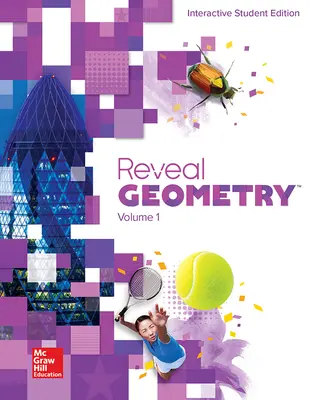 Reveal Geometry, Interactive Student Edition, Volume 1
MHID: 0076626016 | ISBN 13: 9780076626014
Payment Options: During checkout, you can pay with a P.O. (simply enter the number), Credit Card, or PayPal.
Product Details:
Students explore, collaborate, and reflect to build confidence in their Geometry math abilities using this volume 1 of 2 interactive student write-in text.
| Title | ISBN 13 | Price |
| --- | --- | --- |
| Reveal Geometry, Alabama Student Bundle, 1-year subscription | 9781265916305 | $45.60 |
| Reveal Geometry, Student Bundle, 1-year subscription | 9780076960934 | $48.84 |
| Reveal, Geometry, Student Bundle with MH, 1-year subscription | 9781265452582 | $52.12 |
| Reveal Geometry, Alabama Student Bundle with ALEKS via my.mheducation.com, 1-year subscription | 9781265918460 | $54.92 |
| Reveal Geometry, Alabama Student Bundle with ALEKS.com, 1-year subscription | 9781265920074 | $54.92 |
| Reveal Geometry, Alabama Student Bundle with Additional Lessons Workbook, 1-year subscription | 9781264507498 | $56.00 |
| Reveal Geometry, Student Bundle with ALEKS.com, 1-year subscription | 9780076896462 | $58.84 |
| Reveal Geometry, Student Bundle with ALEKS via my.mheducation.com, 1-year subscription | 9780076962167 | $58.84 |
| Reveal, Geometry, Student Bundle with ALEKS and MH, 1-year subscription | 9781265351144 | $61.44 |
| Reveal Geometry, Student Bundle, 2-year subscription | 9781264542505 | $105.72 |
| Reveal, Geometry, Student Bundle with MH, 2-year subscription | 9781266716539 | $111.00 |
| Reveal Geometry, Student Bundle, 3-year subscription | 9780076978038 | $123.56 |
| Reveal Geometry, Student Bundle with ALEKS via my.mheducation.com, 2-year subscription | 9781264378449 | $127.16 |
| Reveal Geometry, Student Bundle with ALEKS.com, 2-year subscription | 9781264378432 | $127.16 |
| Reveal, Geometry, Student Bundle with MH, 3-year subscription | 9781266714221 | $130.48 |
| Reveal, Geometry, Student Bundle with ALEKS and MH, 2-year subscription | 9781266689482 | $131.08 |
| Reveal Geometry, Student Bundle, 4-year subscription | 9781264542406 | $142.84 |
| Reveal, Geometry, Student Bundle with MH, 4-year subscription | 9781266714054 | $150.72 |
| Reveal Geometry, Student Bundle, 5-year subscription | 9780076960965 | $154.24 |
| Reveal Geometry, Student Bundle with ALEKS via my.mheducation.com, 3-year subscription | 9780076978236 | $157.12 |
| Reveal Geometry, Alabama Student Bundle, 6-year subscription | 9781265915131 | $157.36 |
| Reveal Geometry, Student Bundle with ALEKS.com, 3-year subscription | 9780076864119 | $157.12 |
| Reveal, Geometry, Student Bundle with ALEKS and MH, 3-year subscription | 9781266689147 | $162.04 |
| Reveal, Geometry, Student Bundle with MH, 5-year subscription | 9781266712272 | $163.20 |
| Reveal Geometry, Student Bundle, 6-year subscription | 9780076960972 | $168.56 |
| Reveal Geometry, Student Bundle with ALEKS via my.mheducation.com, 4-year subscription | 9781264371570 | $168.56 |
| Reveal Geometry, Alabama Student Bundle with Additional Lessons Workbook, 6-year subscription | 9781264500352 | $168.28 |
| Reveal Geometry, Student Bundle with ALEKS.com, 4-year subscription | 9781264371587 | $168.56 |
| Reveal, Geometry, Student Bundle with ALEKS and MH, 4-year subscription | 9781266687815 | $173.76 |
| Reveal, Geometry, Student Bundle with MH, 6-year subscription | 9781265450694 | $178.52 |
| Reveal Geometry, Student Bundle with ALEKS.com, 5-year subscription | 9780076864072 | $179.96 |
| Reveal Geometry, Student Bundle with ALEKS via my.mheducation.com, 5-year subscription | 9780076962174 | $179.96 |
| Reveal Geometry, Alabama Student Bundle with ALEKS.com, 6-year subscription | 9781265919092 | $181.36 |
| Reveal Geometry, Alabama Student Bundle with ALEKS via my.mheducation.com, 6-year subscription | 9781265918057 | $181.36 |
| Reveal, Geometry, Student Bundle with ALEKS and MH, 5-year subscription | 9781266687693 | $185.56 |
| Reveal Geometry, Student Bundle, 7-year subscription | 9780076960989 | $185.68 |
| Reveal Geometry, Alabama Student Bundle with Additional Lessons Workbook and ALEKS.com, 6-year subscription | 9781265129620 | $192.28 |
| Reveal Geometry, Alabama Student Bundle with Additional Lessons Workbook and ALEKS via my.mheducation.com, 6-year subscription | 9781265129309 | $192.28 |
| Reveal Geometry, Student Bundle with ALEKS via my.mheducation.com, 6-year subscription | 9780076962204 | $194.28 |
| Reveal Geometry, Student Bundle with ALEKS.com, 6-year subscription | 9780076896424 | $194.28 |
| Reveal, Geometry, Student Bundle with MH, 7-year subscription | 9781266708152 | $197.28 |
| Reveal Geometry, Student Bundle, 8-year subscription | 9781264541720 | $199.96 |
| Reveal, Geometry, Student Bundle with ALEKS and MH, 6-year subscription | 9781265350017 | $200.24 |
| Reveal Geometry, Student Bundle with ALEKS.com, 7-year subscription | 9780076864065 | $211.40 |
| Reveal Geometry, Student Bundle with ALEKS via my.mheducation.com, 7-year subscription | 9780076962211 | $211.40 |
| Reveal, Geometry, Student Bundle with MH, 8-year subscription | 9781266706349 | $213.24 |
| Reveal, Geometry, Student Bundle with ALEKS and MH, 7-year subscription | 9781266687617 | $218.32 |
| Reveal Geometry, Student Bundle with ALEKS.com, 8-year subscription | 9781264371525 | $225.68 |
| Reveal Geometry, Student Bundle with ALEKS via my.mheducation.com, 8-year subscription | 9781264371518 | $225.68 |
| Reveal, Geometry, Student Bundle with ALEKS and MH, 8-year subscription | 9781266686573 | $233.60 |