PreK–12 educators will see school pricing in their cart after logging in.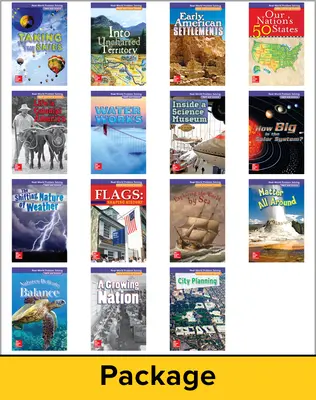 McGraw-Hill My Math, Grade 5, Real-World Problem Solving Readers Deluxe Package (On Level)
MHID: 0021073651 | ISBN 13: 9780021073658
Payment Options: During checkout, you can pay with a P.O. (simply enter the number), Credit Card, or PayPal.
Product Details:
Grade 5, On-Level. Contains 6 readers for each chapter in the Student Edition.
| Title | ISBN 13 | Quantity |
| --- | --- | --- |
| MATH 2009 GR 5 CITY PLANNING REAL-WORLD ON-LEVEL READERS | 9780021062522 | 6 |
| MATH 2009 GR 5 WATER WORKS REAL-WORLD ON-LEVEL READERS | 9780021059829 | 6 |
| MATH 2009 GR 5 TAKING TO THE SKIES REAL-WORLD ON-LEVEL READERS | 9780021059768 | 6 |
| MATH 2009 GR 5 INTO UNCHARTERED TERRITORY REAL-WORLD ON-LEVEL READERS | 9780021059775 | 6 |
| MATH 2009 GR 5 EARLY AMERICAN SETTLEMENTS REAL-WORLD ON-LEVEL READERS | 9780021059782 | 6 |
| MATH 2009 GR 5 OUR NATION'S FIFTY STATES REAL-WORLD ON-LEVEL READERS | 9780021059799 | 6 |
| MATH 2009 GR 5 LIFE IN COLONIAL AMERICA REAL-WORLD ON-LEVEL READERS | 9780021059812 | 6 |
| MATH 2009 GR 5 INSIDE A SCIENCE MUSEUM REAL-WORLD ON-LEVEL READERS | 9780021062430 | 6 |
| MATH 2009 GR 5 HOW BIG IS THE SOLAR SYSTEM REAL-WORLD ON-LEVEL READERS | 9780021062447 | 6 |
| MATH 2009 GR 5 THE SHIFTING WEIGHT OF WEATHER REAL-WORLD ON-LEVEL READERS | 9780021062454 | 6 |
| MATH 2009 GR 5 FLAGS: SHAPING OUR HISTORY REAL-WORLD ON-LEVEL READERS | 9780021062461 | 6 |
| MATH 2009 GR 5 EXPLORING THE WORLD BY SEA REAL-WORLD ON-LEVEL READERS | 9780021062478 | 6 |
| MATH 2009 GR 5 MATTER ALL AROUND REAL-WORLD ON-LEVEL READERS | 9780021062485 | 6 |
| MATH 2009 GR 5 NATURE'S DELICATE BALANCE REAL-WORLD ON-LEVEL READERS | 9780021062492 | 6 |
| MATH 2009 GR 5 A GROWING NATION REAL-WORLD ON-LEVEL READERS | 9780021062515 | 6 |
Title
MATH 2009 GR 5 CITY PLANNING REAL-WORLD ON-LEVEL READERS
Title
MATH 2009 GR 5 WATER WORKS REAL-WORLD ON-LEVEL READERS
Title
MATH 2009 GR 5 TAKING TO THE SKIES REAL-WORLD ON-LEVEL READERS
Title
MATH 2009 GR 5 INTO UNCHARTERED TERRITORY REAL-WORLD ON-LEVEL READERS
Title
MATH 2009 GR 5 EARLY AMERICAN SETTLEMENTS REAL-WORLD ON-LEVEL READERS
Title
MATH 2009 GR 5 OUR NATION'S FIFTY STATES REAL-WORLD ON-LEVEL READERS
Title
MATH 2009 GR 5 LIFE IN COLONIAL AMERICA REAL-WORLD ON-LEVEL READERS
Title
MATH 2009 GR 5 INSIDE A SCIENCE MUSEUM REAL-WORLD ON-LEVEL READERS
Title
MATH 2009 GR 5 HOW BIG IS THE SOLAR SYSTEM REAL-WORLD ON-LEVEL READERS
Title
MATH 2009 GR 5 THE SHIFTING WEIGHT OF WEATHER REAL-WORLD ON-LEVEL READERS
Title
MATH 2009 GR 5 FLAGS: SHAPING OUR HISTORY REAL-WORLD ON-LEVEL READERS
Title
MATH 2009 GR 5 EXPLORING THE WORLD BY SEA REAL-WORLD ON-LEVEL READERS
Title
MATH 2009 GR 5 MATTER ALL AROUND REAL-WORLD ON-LEVEL READERS
Title
MATH 2009 GR 5 NATURE'S DELICATE BALANCE REAL-WORLD ON-LEVEL READERS
Title
MATH 2009 GR 5 A GROWING NATION REAL-WORLD ON-LEVEL READERS