PreK–12 educators will see school pricing in their cart after logging in.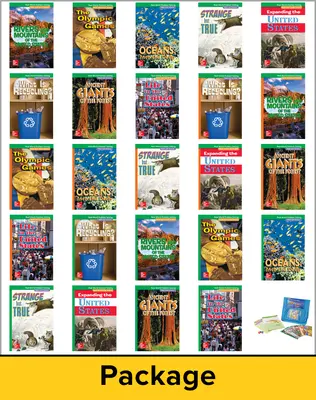 McGraw-Hill My Math, Grade 4, My Learning Station
MHID: 0021171637 | ISBN 13: 9780021171637
Payment Options: During checkout, you can pay with a P.O. (simply enter the number), Credit Card, or PayPal.
Product Details:
This interactive classroom center motivates students with activities, games, and literature for small-group or independent practice and review. Directions for differentiating instruction--Approaching, On-Level, and Beyond--are included. Grades K-5. Components are available in English and Spanish.
| Title | ISBN 13 | Quantity |
| --- | --- | --- |
| MATH 2009 GR 4 EXPANDING THE UNITED STATES REAL-WORLD ON-LEVEL READERS | 9780021062324 | 1 |
| MATH 2009 GR 4 WHAT IS RECYCLING REAL-WORLD ON-LEVEL READERS | 9780021062331 | 1 |
| MATH 2009 GR 4 ANCIENT GIANTS OF THE FOREST REAL-WORLD ON-LEVEL READERS | 9780021062362 | 1 |
| MATH 2009 GR 4 RIVERS & MOUNTAINS OF THE US REAL-WORLD ON-LEVEL READERS | 9780021059690 | 1 |
| MATH 2009 GR 4 THE OLYMPIC GAMES REAL-WORLD ON-LEVEL READERS | 9780021059713 | 1 |
| MATH 2009 GR 4 OCEANS: IN TO THE DEEP REAL-WORLD ON-LEVEL READERS | 9780021059720 | 1 |
| MATH 2009 GR 4 CLASS PROJECT REAL-WORLD ON-LEVEL READERS | 9780021059744 | 1 |
| MATH 2009 GR 4 STRANGE BUT TRUE REAL-WORLD ON-LEVEL READERS | 9780021059751 | 1 |
| MATH 2009 GR 4 LIFE IN THE UNITED STATES REAL-WORLD ON-LEVEL READERS | 9780021062386 | 1 |
| RWPS reader, G4, What is Recycling | 9780021009022 | 1 |
| RWPS reader, G4, Rivers & Mountains | 9780021009039 | 1 |
| RWPS reader, G4, The Olympic Games | 9780021009046 | 1 |
| RWPS reader, G4, Oceans: into the Deep | 9780021009053 | 1 |
| RWPS reader, G4, Class Project | 9780021009077 | 1 |
| RWPS reader, G4, Strange But True | 9780021009084 | 1 |
| RWPS reader, G4, Expanding the United States | 9780021009091 | 1 |
| RWPS reader, G4, Ancient Giants of the Forest | 9780021009107 | 1 |
| RWPS reader, G4, Life in the United States | 9780021009121 | 1 |
| RWPS BL reader, G4, Class Project | 9780021010516 | 1 |
| RWPS reader, G4, What is Recycling | 9780021010912 | 1 |
| RWPS reader, G4, Rivers & Mountains | 9780021010929 | 1 |
| RWPS reader, G4, The Olympic Games | 9780021010936 | 1 |
| RWPS reader, G4, Oceans: into the Deep | 9780021010943 | 1 |
| RWPS reader, G4, Strange But True | 9780021010974 | 1 |
| RWPS reader, G4, Expanding the United States | 9780021010981 | 1 |
| RWPS reader, G4, Ancient Giants of the Forest | 9780021010998 | 1 |
| RWPS reader, G4, Life in the United States | 9780021011018 | 1 |
| My Learning Station Gameboards Grade 4 | 9780021171699 | 1 |
| My Learning Station Activity Cards Grade 4 | 9780021171750 | 1 |
| My Learning Station Teacher Guide Grade 4 | 9780021171811 | 1 |
| My Learning Station Graphic Novel CD Grade 4 | 9780021171972 | 1 |
| My Learning Station Problem Solving Cards Grade 4 | 9780021172085 | 1 |