PreK–12 educators will see school pricing in their cart after logging in.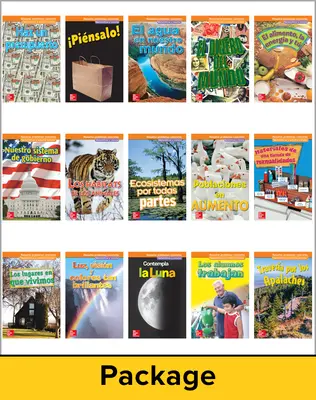 McGraw-Hill My Math, Grade 3, Real-World Problem Solving Readers Deluxe Package (Spanish)
MHID: 0021073767 | ISBN 13: 9780021073764
Payment Options: During checkout, you can pay with a P.O. (simply enter the number), Credit Card, or PayPal.
Product Details:
Grade 3, Spanish version. Contains 6 readers for each chapter in the Student Edition.
| Title | ISBN 13 | Quantity |
| --- | --- | --- |
| SPAN MATH 2009 GR 3 LIGHT, SIGHT, AND COLORS REAL-WORLD LEVELED READERS | 9780021070879 | 6 |
| SPAN MATH 2009 GR 3 ANIMAL HABITATS REAL-WORLD LEVELED READERS | 9780021070770 | 6 |
| SPAN MATH 2009 GR 3 ECOSYSTEMS ALL AROUND REAL-WORLD LEVELED READERS | 9780021070787 | 6 |
| SPAN MATH 2009 GR 3 MAKING A BUDGET REAL-WORLD LEVELED READERS | 9780021070794 | 6 |
| SPAN MATH 2009 GR 3 THINK ABOUT IT REAL-WORLD LEVELED READERS | 9780021070817 | 6 |
| SPAN MATH 2009 GR 3 POPULATIONS ON THE RISE REAL-WORLD LEVELED READERS | 9780021070824 | 6 |
| SPAN MATH 2009 GR 3 WATER IN OUR WORLD REAL-WORLD LEVELED READERS | 9780021070831 | 6 |
| SPAN MATH 2009 GR 3 CRAFT STORE SUPPLIES REAL-WORLD LEVELED READERS | 9780021070848 | 6 |
| SPAN MATH 2009 GR 3 THE PLACES WE LIVE REAL-WORLD LEVELED READERS | 9780021070855 | 6 |
| SPAN MATH 2009 GR 3 FOOD, ENERGY , AND YOU REAL-WORLD LEVELED READERS | 9780021070862 | 6 |
| SPAN MATH 2009 GR 3 UNDERSTANDING OUR GOVERNMENT REAL-WORLD LEVELED READERS | 9780021070886 | 6 |
| SPAN MATH 2009 GR 3 MOON GAZING REAL-WORLD LEVELED READERS | 9780021070893 | 6 |
| SPAN MATH 2009 GR 3 STUDENTS AT WORK REAL-WORLD LEVELED READERS | 9780021070916 | 6 |
| SPAN MATH 2009 GR 3 MONEY AROUND THE WORLD REAL-WORLD LEVELED READERS | 9780021070923 | 6 |
| SPAN MATH 2009 GR 3 APPALACHIAN JOURNEY REAL-WORLD LEVELED READERS | 9780021070930 | 6 |
| GENERIC GR K-6 LEVELED READER DELUXE DIVIDER | N/A | 1 |
| GENERIC GR K-6 LEVELED READER DELUXE SHIPPER | N/A | 1 |
| GENERIC GR K-6 LEVELED READER DELUXE TRAY | N/A | 1 |
Title
SPAN MATH 2009 GR 3 LIGHT, SIGHT, AND COLORS REAL-WORLD LEVELED READERS
Title
SPAN MATH 2009 GR 3 ANIMAL HABITATS REAL-WORLD LEVELED READERS
Title
SPAN MATH 2009 GR 3 ECOSYSTEMS ALL AROUND REAL-WORLD LEVELED READERS
Title
SPAN MATH 2009 GR 3 MAKING A BUDGET REAL-WORLD LEVELED READERS
Title
SPAN MATH 2009 GR 3 THINK ABOUT IT REAL-WORLD LEVELED READERS
Title
SPAN MATH 2009 GR 3 POPULATIONS ON THE RISE REAL-WORLD LEVELED READERS
Title
SPAN MATH 2009 GR 3 WATER IN OUR WORLD REAL-WORLD LEVELED READERS
Title
SPAN MATH 2009 GR 3 CRAFT STORE SUPPLIES REAL-WORLD LEVELED READERS
Title
SPAN MATH 2009 GR 3 THE PLACES WE LIVE REAL-WORLD LEVELED READERS
Title
SPAN MATH 2009 GR 3 FOOD, ENERGY , AND YOU REAL-WORLD LEVELED READERS
Title
SPAN MATH 2009 GR 3 UNDERSTANDING OUR GOVERNMENT REAL-WORLD LEVELED READERS
Title
SPAN MATH 2009 GR 3 MOON GAZING REAL-WORLD LEVELED READERS
Title
SPAN MATH 2009 GR 3 STUDENTS AT WORK REAL-WORLD LEVELED READERS
Title
SPAN MATH 2009 GR 3 MONEY AROUND THE WORLD REAL-WORLD LEVELED READERS
Title
SPAN MATH 2009 GR 3 APPALACHIAN JOURNEY REAL-WORLD LEVELED READERS
Title
GENERIC GR K-6 LEVELED READER DELUXE DIVIDER
Title
GENERIC GR K-6 LEVELED READER DELUXE SHIPPER
Title
GENERIC GR K-6 LEVELED READER DELUXE TRAY