PreK–12 educators will see school pricing in their cart after logging in.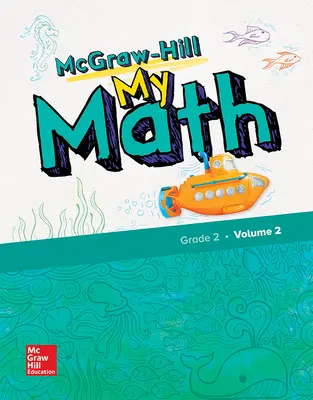 McGraw-Hill My Math, Grade 2, Student Edition, Volume 2
MHID: 0079057608 | ISBN 13: 9780079057600
Payment Options: During checkout, you can pay with a P.O. (simply enter the number), Credit Card, or PayPal.
Product Details:
This interactive Student Edition contains everything students need to build conceptual understanding, application, and procedural skill and fluency. Opportunities such as vocabulary support, homework pages, real-world problem-solving investigations, and fluency practice, provide meaningful student engagement. Content is organized to address the Standards for Mathematics and emphasize Mathematical Practices. Hands-On activities connect learning to the real world.
| Title | ISBN 13 | Price |
| --- | --- | --- |
| McGraw-Hill My Math, Grade 2, Mississippi, 1-year Student Bundle | 9780076982233 | $30.20 |
| McGraw-Hill My Math 2018 1-year Student Bundle, Grade 2 | 9780079063045 | $35.76 |
| McGraw-Hill My Math, Grade 2, Mississippi, 1-year Student Bundle with Arrive | 9780076982448 | $38.20 |
| McGraw-Hill My Math Student Bundle with Arrive Math Booster, 1-Year, Grade 2 | 9780076990269 | $40.12 |
| McGraw-Hill My Math, Grade 2, Mississippi, 1-year Student Bundle with Redbird | 9780076983131 | $40.20 |
| McGraw-Hill My Math Student Bundle with Redbird, 1-Year, Grade 2 | 9780076990504 | $42.48 |
| McGraw-Hill My Math, Grade 2, Mississippi, 1-year Student Bundle with Redbird and Arrive | 9780076982332 | $46.20 |
| McGraw-Hill My Math Student Bundle with Redbird and Arrive Math Booster, 1-Year, Grade 2 | 9780076990887 | $49.36 |
| Mississippi McGraw-Hill My Math 2-year Student Bundle, Grade 2 | 9780077015862 | $60.40 |
| McGraw-Hill My Math 2018 2-year Student Bundle, Grade 2 | 9780076953554 | $69.96 |
| Mississippi McGraw-Hill My Math 2-year Student Bundle with Arrive, Grade 2 | 9780077016395 | $76.40 |
| Mississippi McGraw-Hill My Math 2-year Student Bundle with Redbird, Grade 2 | 9780077016302 | $80.40 |
| Mississippi McGraw-Hill My Math 3-year Student Bundle, Grade 2 | 9780077017170 | $81.60 |
| Mississippi McGraw-Hill My Math 2-year Student Bundle with Redbird and Arrive, Grade 2 | 9780077016500 | $92.40 |
| McGraw-Hill My Math 2018 3-year Student Bundle, Grade 2 | 9780076812479 | $91.48 |
| Mississippi McGraw-Hill My Math 3-year Student Bundle with Arrive, Grade 2 | 9780077017125 | $97.60 |
| Mississippi McGraw-Hill My Math 4-year Student Bundle, Grade 2 | 9780077016616 | $102.68 |
| Mississippi McGraw-Hill My Math 3-year Student Bundle with Redbird, Grade 2 | 9780077017248 | $105.60 |
| McGraw-Hill My Math Student Bundle with Arrive Math Booster, 3-Years, Grade 2 | 9780076990023 | $108.40 |
| McGraw-Hill My Math Student Bundle with Redbird, 3-Years, Grade 2 | 9780076990610 | $114.64 |
| McGraw-Hill My Math, Grade 2, Mississippi, 5-year Student Bundle | 9780076982202 | $117.48 |
| Mississippi McGraw-Hill My Math 3-year Student Bundle with Redbird and Arrive, Grade 2 | 9780077017033 | $117.60 |
| Mississippi McGraw-Hill My Math 4-year Student Bundle with Arrive, Grade 2 | 9780077016814 | $118.68 |
| McGraw-Hill My Math, Grade 2, Mississippi, 5-year Student Bundle with Arrive | 9780076983346 | $127.48 |
| Mississippi McGraw-Hill My Math 4-year Student Bundle with Redbird, Grade 2 | 9780077016715 | $126.68 |
| McGraw-Hill My Math Student Bundle with Arrive Math Booster, 5-Years, Grade 2 | 9780076990139 | $127.36 |
| McGraw-Hill My Math 2018 5-year Student Bundle, Grade 2 | 9780079061973 | $131.00 |
| McGraw-Hill My Math Student Bundle with Redbird and Arrive Math Booster, 3-Years, Grade 2 | 9780076990948 | $133.36 |
| McGraw-Hill My Math, Grade 2, Mississippi, 5-year Student Bundle with Redbird | 9780076983124 | $137.48 |
| McGraw-Hill My Math Student Bundle with Redbird, 5-Years, Grade 2 | 9780076990702 | $138.88 |
| McGraw-Hill My Math Student Bundle with Arrive Math Booster, 6-Years, Grade 2 | 9780076990313 | $138.88 |
| Mississippi McGraw-Hill My Math 4-year Student Bundle with Redbird and Arrive, Grade 2 | 9780077016913 | $142.68 |
| McGraw-Hill My Math 2018 6-year Student Bundle, Grade 2 | 9780079063106 | $146.04 |
| McGraw-Hill My Math, Grade 2, Mississippi, 5-year Student Bundle with Redbird and Arrive | 9780076983247 | $149.48 |
| McGraw-Hill My Math Student Bundle with Arrive Math Booster, 7-Years, Grade 2 | 9780076990405 | $150.48 |
| McGraw-Hill My Math Student Bundle with Redbird and Arrive Math Booster, 5-Years, Grade 2 | 9780076991044 | $152.76 |
| McGraw-Hill My Math Student Bundle with Redbird, 6-Years, Grade 2 | 9780076990764 | $152.76 |
| McGraw-Hill My Math Student Bundle with Redbird and Arrive Math Booster, 6-Years, Grade 2 | 9780076991365 | $162.04 |
| McGraw-Hill My Math 2018 7-year Student Bundle, Grade 2 | 9780079004369 | $164.36 |
| McGraw-Hill My Math Student Bundle with Redbird, 7-Years, Grade 2 | 9780076990825 | $166.68 |
| McGraw-Hill My Math Student Bundle with Redbird and Arrive Math Booster, 7-Years, Grade 2 | 9780076991495 | $180.56 |
| McGraw-Hill My Math 2018 8-year Student Bundle, Grade 2 | 9780079025258 | $182.60 |