PreK–12 educators will see school pricing in their cart after logging in.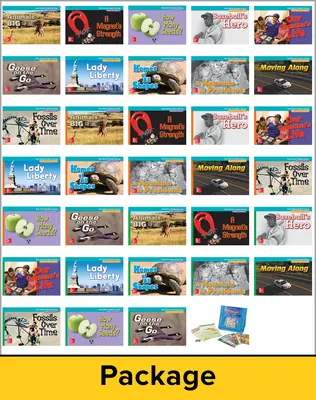 McGraw-Hill My Math, Grade 2, My Learning Station
MHID: 0021171610 | ISBN 13: 9780021171613
Payment Options: During checkout, you can pay with a P.O. (simply enter the number), Credit Card, or PayPal.
Product Details:
This interactive classroom center motivates students with activities, games, and literature for small-group or independent practice and review. Directions for differentiating instruction--Approaching, On-Level, and Beyond--are included. Grades K-5. Components are available in English and Spanish.
| Title | ISBN 13 | Quantity |
| --- | --- | --- |
| MATH 2009 GR 2 A MOUNTAIN OF PRESIDENTS REAL-WORLD ON-LEVEL READERS | 9780021062188 | 1 |
| MATH 2009 GR 2 A MAGNET'S STRENGTH REAL-WORLD ON-LEVEL READERS | 9780021059577 | 1 |
| MATH 2009 GR 2 HOW MANY SEEDS REAL-WORLD ON-LEVEL READERS | 9780021059584 | 1 |
| MATH 2009 GR 2 BASEBALL'S HERO REAL-WORLD ON-LEVEL READERS | 9780021059614 | 1 |
| Our Grandma's Life | 9780021059621 | 1 |
| MATH 2009 GR 2 GEESE ON THE GO REAL-WORLD ON-LEVEL READERS | 9780021062140 | 1 |
| MATH 2009 GR 2 LADY LIBERTY REAL-WORLD ON-LEVEL READERS | 9780021062164 | 1 |
| MATH 2009 GR 2 HOMES OF ALL SHAPES REAL-WORLD ON-LEVEL READERS | 9780021062171 | 1 |
| MATH 2009 GR 2 MOVING ALONG REAL-WORLD ON-LEVEL READERS | 9780021062195 | 1 |
| MATH 2009 GR 2 FOSSILS OVER TIME REAL-WORLD ON-LEVEL READERS | 9780021062218 | 1 |
| MATH 2009 GR 2 BOOK 14 ANIMALS BIG AND SMALL REAL-WORLD PROBLEM SOLVING | 9780021071494 | 1 |
| RWPS reader, G2, A Magnet's Strength | 9780021008704 | 1 |
| RWPS reader, G2, Baseball's Hero | 9780021008728 | 1 |
| RWPS reader, G2, Our Grandma's Life | 9780021008735 | 1 |
| RWPS reader, G2, Lady Liberty | 9780021008759 | 1 |
| RWPS reader, G2, Homes of All Shapes | 9780021008766 | 1 |
| RWPS reader, G2, A Mountain of Presidents | 9780021008773 | 1 |
| RWPS reader, G2, Moving Along | 9780021008780 | 1 |
| RWPS reader, G2, Fossils Over Time | 9780021008797 | 1 |
| RWPS reader, G2, How Many Seeds | 9780021008803 | 1 |
| RWPS reader, G2, Geese on the Go | 9780021008827 | 1 |
| RWPS reader, G2, Animals Big and Small | 9780021008353 | 1 |
| RWPS BL reader, G2, Animals Big and Small | 9780021010295 | 1 |
| RWPS BL reader, G2, A Magnet's Strength | 9780021010301 | 1 |
| RWPS BL reader, G2, Baseball's Hero | 9780021010325 | 1 |
| RWPS BL reader, G2, Our Grandma's Life | 9780021010332 | 1 |
| RWPS BL reader, G2, Lady Liberty | 9780021010356 | 1 |
| RWPS BL reader, G2, Homes of All Shapes | 9780021010363 | 1 |
| RWPS BL reader, G2, A Mountain of Presidents | 9780021010370 | 1 |
| RWPS BL reader, G2, Moving Along | 9780021010387 | 1 |
| RWPS BL reader, G2, Fossils Over Time | 9780021010394 | 1 |
| RWPS BL reader, G2, How Many Seeds | 9780021010400 | 1 |
| RWPS BL reader, G2, Geese on the Go | 9780021010424 | 1 |
| My Learning Station Gameboards Grade 2 | 9780021171675 | 1 |
| My Learning Station Activity Cards Grade 2 | 9780021171736 | 1 |
| My Learning Station Teacher Guide Grade 2 | 9780021171798 | 1 |
| My Learning Station Graphic Novel CD Grade 2 | 9780021171958 | 1 |