PreK–12 educators will see school pricing in their cart after logging in.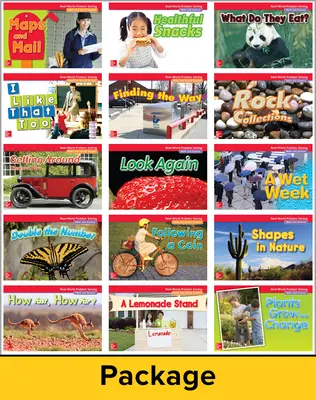 McGraw-Hill My Math, Grade 1, Real-World Problem Solving Readers Deluxe Package (On Level)
MHID: 0021073619 | ISBN 13: 9780021073610
Payment Options: During checkout, you can pay with a P.O. (simply enter the number), Credit Card, or PayPal.
Product Details:
Grade 1, On-Level. Contains 6 readers for each chapter in the Student Edition.
| Title | ISBN 13 | Quantity |
| --- | --- | --- |
| MATH 2009 GR 1 A WET WEEK REAL-WORLD ON-LEVEL READERS | 9780021062065 | 6 |
| MATH 2009 GR 1 MAPS AND MAIL REAL-WORLD ON-LEVEL READERS | 9780021059492 | 6 |
| MATH 2009 GR 1 HEALTHY SNACKS REAL-WORLD ON-LEVEL READERS | 9780021059515 | 6 |
| MATH 2009 GR 1 WHAT DO THEY EAT REAL-WORLD ON-LEVEL READERS | 9780021059522 | 6 |
| MATH 2009 GR 1 I LIKE THAT TOO REAL-WORLD ON-LEVEL READERS | 9780021059539 | 6 |
| MATH 2009 GR 1 FINDING THE WAY REAL-WORLD ON-LEVEL READERS | 9780021059546 | 6 |
| MATH 2009 GR 1 ROCK COLLECTION REAL-WORLD ON-LEVEL READERS | 9780021059553 | 6 |
| MATH 2009 GR 1 GETTING AROUND THEN AND NOW REAL-WORLD ON-LEVEL READERS | 9780021062041 | 6 |
| MATH 2009 GR 1 LOOK AGAIN REAL-WORLD ON-LEVEL READERS | 9780021062058 | 6 |
| MATH 2009 GR 1 DOUBLE THE NUMBER REAL-WORLD ON-LEVEL READERS | 9780021062072 | 6 |
| MATH 2009 GR 1 FOLLOWING A COIN REAL-WORLD ON-LEVEL READERS | 9780021062089 | 6 |
| MATH 2009 GR 1 SHAPES IN NATURE REAL-WORLD ON-LEVEL READERS | 9780021062096 | 6 |
| MATH 2009 GR 1 HOW FAST, HOW FAR REAL-WORLD ON-LEVEL READERS | 9780021062119 | 6 |
| MATH 2009 GR 1 A LEMONADE STAND REAL-WORLD ON-LEVEL READERS | 9780021062126 | 6 |
| MATH 2009 GR 1 BOOK 15 PLANTS GROW & CHANGE REAL-WORLD PROBLEM SOLVING | 9780021073436 | 6 |
Title
MATH 2009 GR 1 A WET WEEK REAL-WORLD ON-LEVEL READERS
Title
MATH 2009 GR 1 MAPS AND MAIL REAL-WORLD ON-LEVEL READERS
Title
MATH 2009 GR 1 HEALTHY SNACKS REAL-WORLD ON-LEVEL READERS
Title
MATH 2009 GR 1 WHAT DO THEY EAT REAL-WORLD ON-LEVEL READERS
Title
MATH 2009 GR 1 I LIKE THAT TOO REAL-WORLD ON-LEVEL READERS
Title
MATH 2009 GR 1 FINDING THE WAY REAL-WORLD ON-LEVEL READERS
Title
MATH 2009 GR 1 ROCK COLLECTION REAL-WORLD ON-LEVEL READERS
Title
MATH 2009 GR 1 GETTING AROUND THEN AND NOW REAL-WORLD ON-LEVEL READERS
Title
MATH 2009 GR 1 LOOK AGAIN REAL-WORLD ON-LEVEL READERS
Title
MATH 2009 GR 1 DOUBLE THE NUMBER REAL-WORLD ON-LEVEL READERS
Title
MATH 2009 GR 1 FOLLOWING A COIN REAL-WORLD ON-LEVEL READERS
Title
MATH 2009 GR 1 SHAPES IN NATURE REAL-WORLD ON-LEVEL READERS
Title
MATH 2009 GR 1 HOW FAST, HOW FAR REAL-WORLD ON-LEVEL READERS
Title
MATH 2009 GR 1 A LEMONADE STAND REAL-WORLD ON-LEVEL READERS
Title
MATH 2009 GR 1 BOOK 15 PLANTS GROW & CHANGE REAL-WORLD PROBLEM SOLVING