PreK–12 educators will see school pricing in their cart after logging in.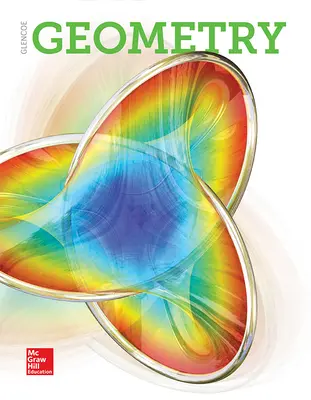 Geometry 2018, Student Edition
MHID: 0079039944 | ISBN 13: 9780079039941
Payment Options: During checkout, you can pay with a P.O. (simply enter the number), Credit Card, or PayPal.
Product Details:
Hardbound Student Edition is aligned to the Content Standards.
| Title | ISBN 13 | Price |
| --- | --- | --- |
| Glencoe Geometry, South Carolina Student Bundle, 1-year subscription (1YR Print 1YR Digital) | 9780076885466 | $122.00 |
| CUS Geometry, Student Bundle, PA Edition, 1-year subscription | 9780077033064 | $131.96 |
| Glencoe Geometry 2018, Student Bundle (1 YR Print + 1 YR Digital), 1-year subscription | 9780079057327 | $135.96 |
| Glencoe Geometry, South Carolina Student Bundle with ISG, 1-year subscription (1YR Print 1YR Digital 1YR ISG) | 9780076885442 | $142.00 |
| Glencoe Geometry, South Carolina Student Bundle, 6-year subscription (1YR Print 6YR Digital) | 9780076885459 | $145.32 |
| Glencoe Geometry, South Carolina Student Bundle with ALEKS via my.mheducation, 1-year subscription (1-1-1) | 9780076902026 | $148.64 |
| Glencoe Geometry, South Carolina Student Bundle with 1YR Standalone ALEKS, 1-year subscription (1YR Print 1YR Digital 1YR ALEKS) | 9780076885183 | $148.64 |
| CUS Geometry, Student Bundle, PA Edition, 5-year subscription | 9780077033156 | $149.68 |
| Glencoe Geometry 2018, Student Bundle (1 YR Print + 3 YR Digital), 3-year subscription | 9780079056962 | $150.00 |
| Glencoe Geometry 2018, Student Bundle (Print SE - 5YR Digital), 5-year subscription | 9780076854738 | $154.20 |
| CUS Geometry, Student Bundle, PA Edition, 6-year subscription | 9780077033279 | $157.16 |
| Glencoe Geometry 2018, Student Bundle w ISG (1-1-1), 1-year subscription | 9780078978814 | $158.24 |
| Glencoe Geometry 2018, Student Bundle (1 YR Print + 6 YR Digital), 6-year subscription | 9780079056955 | $161.92 |
| Glencoe Geometry, Student Bundle w/Standalone ALEKS, 1-year subscription (1-1-1) | 9780079062130 | $165.60 |
| Glencoe Geometry 2018, Student Bundle w ISG (2-2-2), 2-year subscription | 9781266306808 | $165.36 |
| Glencoe Geometry, South Carolina Student Bundle with 1YR ALEKS via my.mheducation, 6-year subscription (1-6-1) | 9780076902019 | $173.28 |
| Glencoe Geometry, South Carolina Student Bundle with 1YR Standalone ALEKS, 6-year subscription (1YR Print 6YR Digital 1YR ALEKS) | 9780076885541 | $173.28 |
| Glencoe Geometry, Student Bundle w ISG, 3-year subscription (1-3-3) | 9780076946341 | $172.72 |
| Glencoe Geometry, South Carolina Student Bundle with ISG, 6-year subscription (1YR Print 6YR Digital 6YR ISG) | 9780076885435 | $181.32 |
| Glencoe Geometry, Student Bundle w ISG, 5-year subscription (1-5-5) | 9780076946334 | $187.64 |
| Glencoe Geometry, Student Bundle w/Standalone ALEKS, 6-year subscription (1-6-1) | 9780079062123 | $193.04 |
| Glencoe Geometry 2018, Student Bundle + ISG (1 YR Print + 6 YR ISG + 6 YR Digital), 6-year subscription | 9780079057396 | $202.00 |
| Glencoe Geometry, South Carolina Student Bundle with Standalone ALEKS, 6-year subscription (1YR Print 6YR Digital 6YR ALEKS) | 9780076885534 | $206.64 |
| Glencoe Geometry, South Carolina Student Bundle with ALEKS via my.mheducation, 6-year subscription (1-6-6) | 9780076901982 | $206.64 |
| Glencoe Geometry 2018, Student Bundle w/Standalone ALEKS, 5-year subscription (1-5-5) | 9780076982011 | $212.40 |
| Glencoe Geometry 2018, Student Bundle (1 YR Print, 7 YR Digital), 7-year subscription | 9780079036162 | $214.64 |
| Glencoe Geometry, Student Bundle w/Standalone ALEKS, 6-year subscription (1-6-6) | 9780079062116 | $230.20 |
| Glencoe Geometry 2018, Student Bundle w/ISG (1 YR Print/ 7 YR ISG/ 7 YR Digital), 7-year subscription | 9780079036155 | $238.24 |
| Glencoe Geometry 2018, Student Bundle, 8-year subscription | 9781266542466 | $238.16 |
| Glencoe Geometry, South Carolina Student Bundle with ISG and ALEKS via my.mheducation, 6-year subscription (1-6-6-6) | 9780076901593 | $242.64 |
| Glencoe Geometry, South Carolina Student Bundle with ISG and Standalone ALEKS, 6-year subscription (1YR Print 6YR Digital 6YR ISG 6YR ALEKS) | 9780076885503 | $242.64 |
| Glencoe Geometry 2018, Student Bundle w/ISG, 8-year subscription | 9781266542039 | $264.28 |
| Glencoe Geometry 2018, Student Bundle w/ISG and Standalone ALEKS, 6-year subscription (1-6-6-6) | 9780079003751 | $270.32 |
| Glencoe Geometry 2018, Student Print Set (5 Hardcover Student Editions) | 9780079056900 | $582.20 |
| Glencoe Geometry 2018, Student Print Set (10 Hardcover Student Editions) | 9780079056917 | $1128.80 |
| Glencoe Geometry 2018, Student Print Set (25 Hardcover Student Editions) | 9780079056948 | $2524.92 |