PreK–12 educators will see school pricing in their cart after logging in.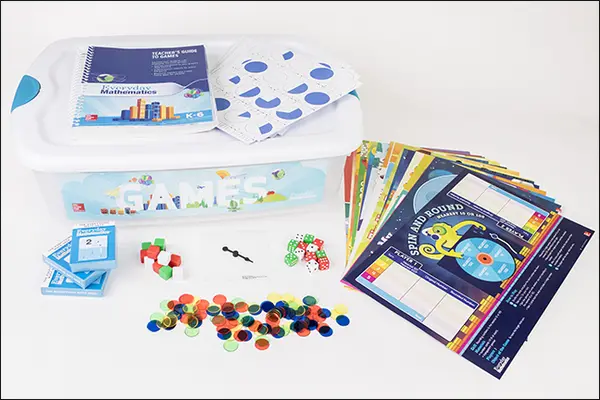 EM4 Classroom Games Kit Grade 5
MHID: 0076728226 | ISBN 13: 9780076728220
Payment Options: During checkout, you can pay with a P.O. (simply enter the number), Credit Card, or PayPal.
Product Details:
There are seven different Classroom Games Kits--one for each grade Kindergarten through Grade 6.  Each kit contains a Teacher's Guide to Games that includes games for all grades in the Everyday Mathematics curriculum.  Each kit has the materials needed to play the games in that specific grade, including card decks, dice, and gameboards for the most popular games.
| Title | ISBN 13 | Quantity |
| --- | --- | --- |
| Everyday Mathematics, Grades PK-6, Dice, Dot (Package of 12) | N/A | 2 |
| Everyday Mathematics, Grades PK-3, Dice, Blank (Package of 16) | N/A | 1 |
| Everyday Mathematics, Grades PK-6, Plastic Sleeves, Package of 5 | 9780075794820 | 1 |
| EVERYDAY MATH GAMES KIT (NUMBER WORLD) SHIPPER INSERT | N/A | 2 |
| EVERYDAY MATH GAMES KIT/NUMBER WORLDS TUB SHIPPER GRADES EC-6 | N/A | 1 |
| Everyday Mathematics, Grades K-6, Everything Math Deck (1-Pack) | 9780076561056 | 5 |
| Everyday Mathematics 4, Grade K, Spinner - Transparent | N/A | 5 |
| Everyday Mathematics 4, Grades K-4, Counters; translucent; multi-colored, 4 colors | 9780021433650 | 1 |
| Everyday Mathematics 4: Grades K-6 Teacher's Guide to Games | 9780076728053 | 1 |
| Everyday Mathematics 4: Grade 5 Classroom Games Kit Cardstock Pages | 9780076727544 | 1 |
| Everyday Mathematics 4: Grade 5 Classroom Games Kit Poster | 9780076727964 | 1 |
| Everyday Mathematics 4: Grade 5 Classroom Games Kit Gameboards | 9780076728152 | 1 |
| P/N EM4 Games Kit Program Sticker | N/A | 2 |
| P/N EM4 Games and Activities Upsell Brochure | N/A | 1 |
| P/N EM4 Games Kit Grade 5 Sticker | N/A | 2 |
| Everyday Math, Number Worlds Kit Tub K-6 | N/A | 1 |
Title
Everyday Mathematics, Grades PK-6, Plastic Sleeves, Package of 5
Title
EVERYDAY MATH GAMES KIT (NUMBER WORLD) SHIPPER INSERT
Title
EVERYDAY MATH GAMES KIT/NUMBER WORLDS TUB SHIPPER GRADES EC-6
Title
P/N EM4 Games Kit Program Sticker
Title
P/N EM4 Games and Activities Upsell Brochure
Title
P/N EM4 Games Kit Grade 5 Sticker
Title
Everyday Math, Number Worlds Kit Tub K-6