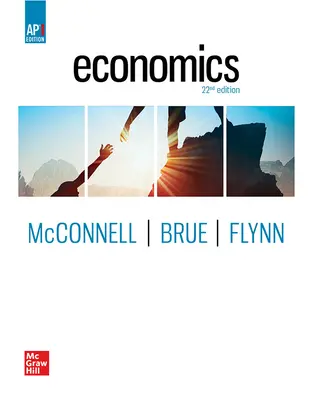 McConnell, Economics, 2021, 22e
The Classic Text is Still The Best

The 22nd edition of McConnell's Economics is fully aligned to the current Advanced Placement® Microeconomics and Macroeconomics Curriculum Frameworks with a streamlined focus on AP content and easy visual cues to distinguish coverage for each course. Decades of teaching success is reflected in the authors' clear treatment of economic concepts, balanced coverage, and patient explanations. 


This new AP edition takes a student-centered approach through an accessible presentation and engaging delivery of core content. Illustrative connections help students approach the material, apply it in a meaningful way, and harness a deep understanding of the role of economics in their daily lives. Economics interweaves AP Topics, Learning Objectives, and Skills throughout. 

The text, paired with the dynamic digital resources, delivers accessible and adaptive support to help students engage with the content, keep pace with the course, and excel on the AP Exam.  

Powerful Digital Resources, AP-aligned Instruction 

• An interactive eBook and assignable, adaptive SmartBook® with practice and assessments support the core text. 

• Chapter-level interactivities, videos illustrating concepts and processes, and discussion ideas enhance instruction. 

• Unit Reviews reinforce learning and promote content and skills mastery. 

• AP-style test practice reflects the actual Exam, and real-time progress reports help students monitor their own progress.