PreK–12 educators will see school pricing in their cart after logging in.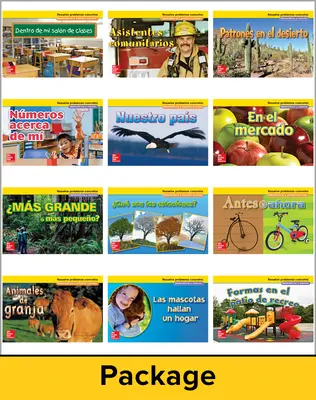 McGraw-Hill My Math, Grade K, Real-World Problem Solving Readers Deluxe Package (Spanish)
MHID: 0021073732 | ISBN 13: 9780021073733
Payment Options: During checkout, you can pay with a P.O. (simply enter the number), Credit Card, or PayPal.
Product Details:
Grade K, Spanish version. Contains 6 readers for each chapter in the Student Edition.
| Title | ISBN 13 | Quantity |
| --- | --- | --- |
| SPAN MATH 2009 GR K PLAYGROUND SHAPES REAL-WORLD LEVELED READERS | 9780021070459 | 6 |
| SPAN MATH 2009 GR K COMMUNITY HELPER REAL-WORLD LEVELED READERS | 9780021070367 | 6 |
| SPAN MATH 2009 GR K OUR COUNTRY REAL-WORLD LEVELED READERS | 9780021070398 | 6 |
| SPAN MATH 2009 GR K INSIDE MY CLASSROOM REAL-WORLD LEVELED READERS | 9780021070350 | 6 |
| SPAN MATH 2009 GR K DESERT PATTERNS REAL-WORLD LEVELED READERS | 9780021070374 | 6 |
| SPAN MATH 2009 GR K NUMBERS ON ME REAL-WORLD LEVELED READERS | 9780021070381 | 6 |
| SPAN MATH 2009 GR K AT THE GROCERY STORE REAL-WORLD LEVELED READERS | 9780021070411 | 6 |
| SPAN MATH 2009 GR K BIGGER OR SMALLER? REAL-WORLD LEVELED READERS | 9780021070428 | 6 |
| SPAN MATH 2009 GR K WHAT ARE THE SEASONS? REAL-WORLD LEVELED READERS | 9780021070435 | 6 |
| SPAN MATH 2009 GR K THEN AND NOW REAL-WORLD LEVELED READERS | 9780021070442 | 6 |
| SPAN MATH 2009 GR K ANIMALS ON THE FARMS REAL-WORLD LEVELED READERS | 9780021070466 | 6 |
| SPAN MATH 2009 GR K PETS FIND A HOME REAL-WORLD LEVELED READERS | 9780021070473 | 6 |
| GENERIC GR K-6 LEVELED READER DELUXE DIVIDER | N/A | 1 |
| GENERIC GR K-6 LEVELED READER DELUXE SHIPPER | N/A | 1 |
| GENERIC GR K-6 LEVELED READER DELUXE TRAY | N/A | 1 |
Title
SPAN MATH 2009 GR K PLAYGROUND SHAPES REAL-WORLD LEVELED READERS
Title
SPAN MATH 2009 GR K COMMUNITY HELPER REAL-WORLD LEVELED READERS
Title
SPAN MATH 2009 GR K OUR COUNTRY REAL-WORLD LEVELED READERS
Title
SPAN MATH 2009 GR K INSIDE MY CLASSROOM REAL-WORLD LEVELED READERS
Title
SPAN MATH 2009 GR K DESERT PATTERNS REAL-WORLD LEVELED READERS
Title
SPAN MATH 2009 GR K NUMBERS ON ME REAL-WORLD LEVELED READERS
Title
SPAN MATH 2009 GR K AT THE GROCERY STORE REAL-WORLD LEVELED READERS
Title
SPAN MATH 2009 GR K BIGGER OR SMALLER? REAL-WORLD LEVELED READERS
Title
SPAN MATH 2009 GR K WHAT ARE THE SEASONS? REAL-WORLD LEVELED READERS
Title
SPAN MATH 2009 GR K THEN AND NOW REAL-WORLD LEVELED READERS
Title
SPAN MATH 2009 GR K ANIMALS ON THE FARMS REAL-WORLD LEVELED READERS
Title
SPAN MATH 2009 GR K PETS FIND A HOME REAL-WORLD LEVELED READERS
Title
GENERIC GR K-6 LEVELED READER DELUXE DIVIDER
Title
GENERIC GR K-6 LEVELED READER DELUXE SHIPPER
Title
GENERIC GR K-6 LEVELED READER DELUXE TRAY