PreK–12 educators will see school pricing in their cart after logging in.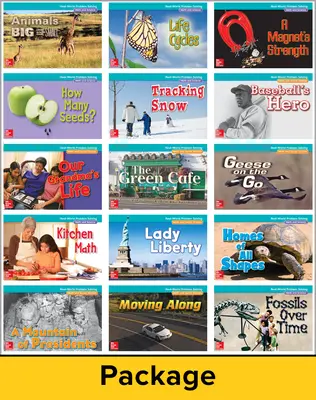 McGraw-Hill My Math, Grade 2, Real-World Problem Solving Readers Package (On Level)
MHID: 0021073821 | ISBN 13: 9780021073825
Payment Options: During checkout, you can pay with a P.O. (simply enter the number), Credit Card, or PayPal.
Product Details:
Grade 2, On-Level. Contains 1 reader for each chapter in the Student Edition.
| Title | ISBN 13 | Quantity |
| --- | --- | --- |
| MATH 2009 GR 2 A MOUNTAIN OF PRESIDENTS REAL-WORLD ON-LEVEL READERS | 9780021062188 | 1 |
| MATH 2009 GR 2 LIFE CYCLES REAL-WORLD ON-LEVEL READERS | 9780021059560 | 1 |
| MATH 2009 GR 2 A MAGNET'S STRENGTH REAL-WORLD ON-LEVEL READERS | 9780021059577 | 1 |
| MATH 2009 GR 2 HOW MANY SEEDS REAL-WORLD ON-LEVEL READERS | 9780021059584 | 1 |
| MATH 2008 GR 2 TRACKING SNOW REAL-WORLD ON-LEVEL READERS | 9780021059591 | 1 |
| MATH 2009 GR 2 BASEBALL'S HERO REAL-WORLD ON-LEVEL READERS | 9780021059614 | 1 |
| Our Grandma's Life | 9780021059621 | 1 |
| MATH 2009 GR 2 THE GREEN CAFE REAL-WORLD ON-LEVEL READERS | 9780021062133 | 1 |
| MATH 2009 GR 2 GEESE ON THE GO REAL-WORLD ON-LEVEL READERS | 9780021062140 | 1 |
| MATH 2009 GR 2 KITCHEN MATH AND SCIENCE REAL-WORLD ON-LEVEL READERS | 9780021062157 | 1 |
| MATH 2009 GR 2 LADY LIBERTY REAL-WORLD ON-LEVEL READERS | 9780021062164 | 1 |
| MATH 2009 GR 2 HOMES OF ALL SHAPES REAL-WORLD ON-LEVEL READERS | 9780021062171 | 1 |
| MATH 2009 GR 2 MOVING ALONG REAL-WORLD ON-LEVEL READERS | 9780021062195 | 1 |
| MATH 2009 GR 2 FOSSILS OVER TIME REAL-WORLD ON-LEVEL READERS | 9780021062218 | 1 |
| MATH 2009 GR 2 BOOK 14 ANIMALS BIG AND SMALL REAL-WORLD PROBLEM SOLVING | 9780021071494 | 1 |
Title
MATH 2009 GR 2 A MOUNTAIN OF PRESIDENTS REAL-WORLD ON-LEVEL READERS
Title
MATH 2009 GR 2 LIFE CYCLES REAL-WORLD ON-LEVEL READERS
Title
MATH 2009 GR 2 A MAGNET'S STRENGTH REAL-WORLD ON-LEVEL READERS
Title
MATH 2009 GR 2 HOW MANY SEEDS REAL-WORLD ON-LEVEL READERS
Title
MATH 2008 GR 2 TRACKING SNOW REAL-WORLD ON-LEVEL READERS
Title
MATH 2009 GR 2 BASEBALL'S HERO REAL-WORLD ON-LEVEL READERS
Title
MATH 2009 GR 2 THE GREEN CAFE REAL-WORLD ON-LEVEL READERS
Title
MATH 2009 GR 2 GEESE ON THE GO REAL-WORLD ON-LEVEL READERS
Title
MATH 2009 GR 2 KITCHEN MATH AND SCIENCE REAL-WORLD ON-LEVEL READERS
Title
MATH 2009 GR 2 LADY LIBERTY REAL-WORLD ON-LEVEL READERS
Title
MATH 2009 GR 2 HOMES OF ALL SHAPES REAL-WORLD ON-LEVEL READERS
Title
MATH 2009 GR 2 MOVING ALONG REAL-WORLD ON-LEVEL READERS
Title
MATH 2009 GR 2 FOSSILS OVER TIME REAL-WORLD ON-LEVEL READERS
Title
MATH 2009 GR 2 BOOK 14 ANIMALS BIG AND SMALL REAL-WORLD PROBLEM SOLVING