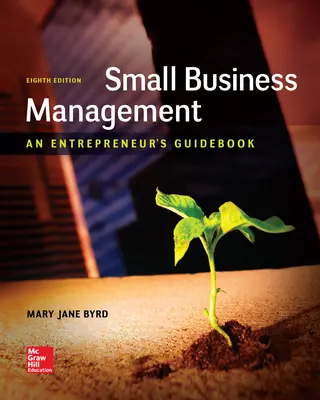 Small Business Management: An Entrepreneur's Guidebook
8th Edition
By Mary Jane Byrd and Leon Megginson
ISBN10: 1259538982
ISBN13: 9781259538988
Copyright:
2018
Product Details

+
– Connect: A highly reliable, easy-to-use homework and learning management solution that embeds learning science and award-winning adaptive tools to improve student results.
- Employs a pragmatic "how-to" perspective, and illustrates many practical examples and applications from the business world.
- It explains how to achieve optimum benefits from the limited resources available to small firms, as well as how to plan for growth and succession in a business, and explores arguments both for and against owning a small business.
Program Details
Part 1: The Dynamic Role of Small Business
Chapter 1: Starting Your Small Business
Chapter 2: Family-Owned Businesses
Chapter 3: Forms of Ownership of Small Businesses
Chapter 4: Maintaining Good Government Relations and Business Ethics
Part 2: How to Plan and Organize a Business
Chapter 5: Create, Buy, or Franchise a Small Business
Chapter 6: Planning, Organizing, and Managing a Small Business
Chapter 7: How to Obtain the Right Financing for Your Business
Part 3: How to Market Goods and Services
Chapter 8: Developing Marketing Strategies
Chapter 9: Promoting and Distributing
Part 4: How to Organize, Manage, and Operate the Business
Chapter 10: How to Obtain and Manage Human Resources and Diversity in Small Companies
Chapter 11: How to Maintain Relationships with Your Employees and Their Representatives
Chapter 12: Obtaining and Laying Out Operating Facilities
Chapter 13: Purchasing, Inventory, and Quality Control
Part 5: Basic Financial Planning and Control
Chapter 14: Basic Financial Planning
Chapter 15: Budgeting and Controlling Operations and Taxes
Chapter 17: Risk Management, Insurance, and Crime Prevention