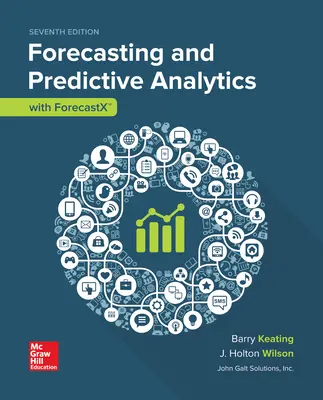 Forecasting and Predictive Analytics with Forecast X (TM)
7th Edition
By Barry Keating and J. Holton Wilson and John Solutions Inc.
ISBN10: 1259903915
ISBN13: 9781259903915
Copyright:
2019
Product Details

+
• Offers the most practical forecasting book on the market with the most powerful software: ForecastX.
• Presents a broad-based survey of business forecasting methods, including subjective and objective approaches
• Includes major updates to predictive analytics, chapter learning objectives, and ForecastX software.
• Delivers practical how-to forecasting techniques and dozens of real-world data sets while holding theory and math to a minimum.
Program Details
1: Introduction to Business Forecasting and Predictive Analytics
2: The Forecast Process, Data Considerations, and Model Selection
3: Extrapolation 1. Moving Averages and Exponential Smoothing
4: Extrapolation 2. Introduction to Forecasting with Regression Trend Models
5: Explanatory Models 1. Forecasting with Multiple Regression Causal Models
6: Explanatory Models 2. Time-Series Decomposition
7: Explanatory Models 3. ARIMA (Box-Jenkins) Forecasting Models
8: Predictive Analytics: Helping to Make Sense of Big Data
9: Classification Models: The Most Used Models in Analytics
10:Ensemble Models and Clustering
11: Text Mining
12: Forecast/Analytics Implementation