Intervenciones tempranas de la lectura
Grade Levels: K-3
As an integrated curriculum, Intervenciones tempranas de la lectura provides an efficient framework for teaching students to read. Rather than being taught in isolation, one skill at time, multiple strands are taught in unison on a daily basis, and each strand is tightly sequenced with the text. The design adds an element of relevancy that increases the effectiveness of the instruction.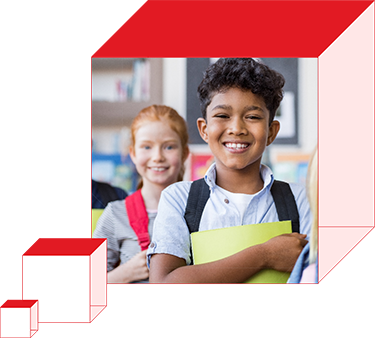 About the Program
Students begin with: alphabetic principal, reading connected text, reading for meaning. Later, students focus on decoding multisyllabic words, fluency, and comprehension skills.
Focused Instruction:
Provides complete systematic and sequential phonics and phonemic awareness instruction
Features detailed lesson plans with teacher dialogue in Spanish and teacher directions in English
Focuses on comprehensive instruction and skill development for sequencing, retelling, story grammar, making predictions, and main idea
SRA 2Inform makes collecting and interpreting student data easy so teachers can effectively respond to student needs.
Accelerated Development:
Accelerates the transition to reading in English by targeting daily lessons in the five elements of reading
Delivers appropriate levels of scaffolding to ensure student independent success
Includes placement test and frequent assessments to monitor progress and keep learning on track
Program Components
Intervenciones tempranas de la lectura Libros decodificables (Decodable Books, 56 titles)

Intervenciones tempranas de la lectura, Staff Development Guide
Intervenciones tempranas de la lectura, Placement and Assessment Guide
Early Interventions in Reading Online Spanish Teacher 3-year subscription

Intervenciones tempranas de la lectura Edición del estudiante (Student Edition)

Intervenciones tempranas de la lectura Libro de actividades A (Activity Book A)

Intervenciones tempranas de la lectura Libro de actividades B (Activity Book B)

Intervenciones tempranas de la lectura Libro de actividades C (Activity Book C)
Narrow by
Clear All Filters
Products
To learn about the specific purchase options for this program, please contact our Customer Service team at 800-338-3987
Additional Details & Resources
Research Base
The Effects of Theoretically Different Instruction and Student Characteristics on the Skills of Struggling Readers
This study investigated the effectiveness of combining enhanced classroom instruction and intense supplemental intervention for struggling readers in first grade. Further, it compared two supplemental interventions derived from distinct theoretical orientations, examining them in terms of effects on academic outcomes and whether children's characteristics were differentially related to an instructional intervention.
The Case for Early Intervention in Reading
This report shows that the latest research points to a critical truth: Early intervention in the primary grades can prevent reading problems for most children and significantly reduce reading disabilities. Early intervention allows students to get help before reading problems become entrenched and complicated by self-concept issues.
Other Scientific Research