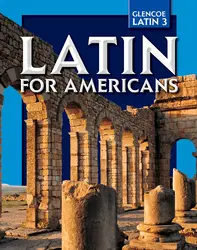 Latin for Americans, Level 3, Student Edition
Copyright: 2007
Publication Date: March 3, 2006
MHID: 0078742552
ISBN 13: 9780078742552
Price :

$83.88

Qty :

Total :

$83.88
The purchase quantity range should be
1
-
29
for this product.
Pricing subject to change at any time. We only ship to US locations
Key Features
Capture your students' attention with this colorful visual program that enhances the content.
Give an overview of the Roman literary heritage with a focus on Latin literature, including Pliny, Cicero, Aulus Gellius, and Ovid.
Increase your students' confidence in both Latin and English with expanded vocabulary and world studies.
Enhance your lessons. The Teacher Annotated Edition contains everything you need for stimulating presentations in this all-in-one resource.
Latin for Americans, Level 3, Student Edition
The font used on this Web site will not support macrons.
Latin for Americans Level 3
Unit I Pliny's Letters
Pliny's Life
April Showers Bring Verse Flowers (I, 13)
A Perfect Wife (IV, 19)
Oratorical Twins (VII, 20)
Working Hours in Vacation (IX, 36)
Fame (IX, 3)
Pliny's Kindness to a Servant (V, 19)
Three Strikes and Out for Regulus (II, 20, 1-22)
A Home by the Seaside (II, 17, 1-5, 8-9, 11-12, 29)
Over Sea and Over Land (X,17; X, 18)
More Carelessness and Waste in Building (X, 39, 1-4, 6; X, 40)
Hunting with a Notebook (I, 6)
Buying a Home in the Country (I, 24)
Why Don't You Write? (III, 17)
Neglect of a Great Man's Tomb (VI, 10)
I Miss You (VII, 5)
Is the Praise of Friends a Fault? (VII, 28)
Congratulations (X, 1)
Fire Department Needed (X, 33; X, 34)
Roman Efficiency: A Water Supply (X, 90; X, 91)
What Shall We Do About the Christians? (X, 96; X, 97)
Unit II Short Selections from Aulus Gellius
Aulus Gellius
A Filibuster in the Senate (IV, 10)
Scipio, a Man Beyond Reproach (IV, 18)
A Promise Must be Kept (VI, 18; 1-10)
Crow Eats Man (IX, 11)
Reconciliation, a Sign of Greatness (XII, 8)
How to Give a Dinner Party (XIII, 11, 1-5)
Which is Right? (XIV, 5)
Newfangled Education Not Wanted (XV, 5)
Secret Writing (XVII, 9, 1-5, 16-17)
Saturnalia Dinner Away from Home (XVII, 2, 1-5, 9-10, 12, 15-16)
Take It or Leave It (I, 19)
The Tale of a Snake (VII, 3)
The First Public Library in Athens (VII, 17)
The Ring Finger (X, 10)
Boys, Young Men, and Old Men (X, 28)
The Etiquette of Swearing (XI, 6)
How to Write Plays (XIII, 8)
Can You Speak Twenty-Five Languages? (XVII, 17)
Unit III Cicero Against Catiline
Cicero's Life
Cicero's Style
Catilines' Conspiracy
First Oration Against Catiline
The Government of Rome
The Ciceronian Sentence
Second Oration Against Catiline
Third Oration Against Catiline
Fourth Oration Against Catiline
Unit IV Sallust's Catiline (Selections)
Roman Politics
Sallust's Life
The Superiority of the Mind
Catiline's Character
Rise and Decline of Rome
Catiline Speaks to His Men
Cherchez La Femme
Catiline and Manlius Speak Up
The Scum of the Earth
Lentulus and the Allobroges
Documents Seized -- Caesar Involved?
Caesar and Cato
Unit V Cicero for Archias (Entire)
Archias
Cicero Is Indebted to Archias
A New Style of Speaking
Archias Comes to Rome
Archias Enrolled as a Roman Citizen
The Census Records
The Value of Literature
Natural Ability and Training
Poets Are Sacred
No Fame Without Poets
Poets Give Immortality
The Statesman's Reward Is Immortal Fame
Be Kind to the Poet
Unit VI Cicero Against Verres and Antony
Verres and Antony
The Second Action Against Verres
The Second Speech Against Antony
Unit VII Cicero's Letters
Introducing Cicero's Letters
The Campaign for the Consulship
It's a Boy! (A. I, 2)
The Trial of Clodius (A. I, 16, 1-2, 5, 9-10, 12)
Clodius' Threats (A. II, 19, 4-5)
On the Way to Exile (A. III, 3)
Nothing to Write (F. XIV, 2, 1)
The Shows Were Poor (F. VII, 1, 2-3)
A Tragedy About Britain? (Q. Fr. II, 16, 4-5)
The Best Lawyer In -- Samarobriva (F. VII, 16, 3)
Trebatius Is No Channel Swimmer (F. VII, 10, 1-3)
The Panthers Protest (F. II, 11, 2)
Get Well! (F. XVI, 6)
Peace or War (A. VIII, 13)
Come Back to Rome (A. IX, 6A)
Cicero the Peacemaker (A. IX, 11A)
Tullia's Illness (F. XIV, 19)
Tullia Has Arrived (F. XIV, 11)
Have Everything Ready (F. XIV, 20)
My Day (F. IX, 20, 3)
Only Solitude Brings Comfort (A. XII, 16)
Mother-in-Law Trouble and a Boy in College (A. XII, 32)
What a Father Likes to Hear (F. XII, 16, 1-2)
Young Cicero Puts on the Charm (F. XVI, 21, 1-4, 6-8)
Unit VIII Cicero's Philosophical Works
Introducing Cicero's Philosophical Works
Justice (Off. I, 4, 20, 23,41)
Sense of Duty (Off. I, 58)
Civic Courage (Off. I, 77-78)
Choice of a Career (Off. I, 117-119)
Personal Appearance (Off. I, 30)
Honorable Careers for Gentlemen (Off. I, 150-151)
Knowledge and Courage and Their Value in Society(Off. I, 157-158)
Honor Among Thieves (Off. II, 40)
The Responsibility of Wealth (Off. II, 54, 60, 61)
Cancellation of Debts (Off. II, 84)
The Activities of Old Age (Sen. 15, 17-18)
A Busy Old Age (Sen. 20, 24, 26)
Occupations in Old Age (Sen. 50, 51, 56)
Authority, The Reward of Old Age (Sen. 62-64)
The Meaning of Friendship (Am. 20, 22)
The Ultimate Friendship (Am. 24)
The Friendship of Laelius and Scipio (Am. 102-104)
Unit IX Two Thousand Years of Latin
Plautus
Catullus
Livy (XXI)
Horace
Sulpicia
Phaedrus
Petronius
Quintilian
Martial
Apuleius
Hadrian
Macrobius
The Vulgate
Bede
Paulus Diaconus
Hildegard von Bingen
Caesar of Heisterbach
Petrarch
Coluccio Salutati
Sulpicia
Leonardo Bruni
Poggio Braccionlini
Lorenzo Valla
Pius II (Enea Silvio Piccolomini)
Unit X Ovid
Ovid's Life
Pyramus and Thisbe
Midas
Daedalus
Niobe
Philemon and Baucis
Daphne and Apollo
Appendix
Vocabulary
Subject Index
Grammar/Vocabulary Index
Forum Romanum
Transmission of Latin and Greek Works Before Printing