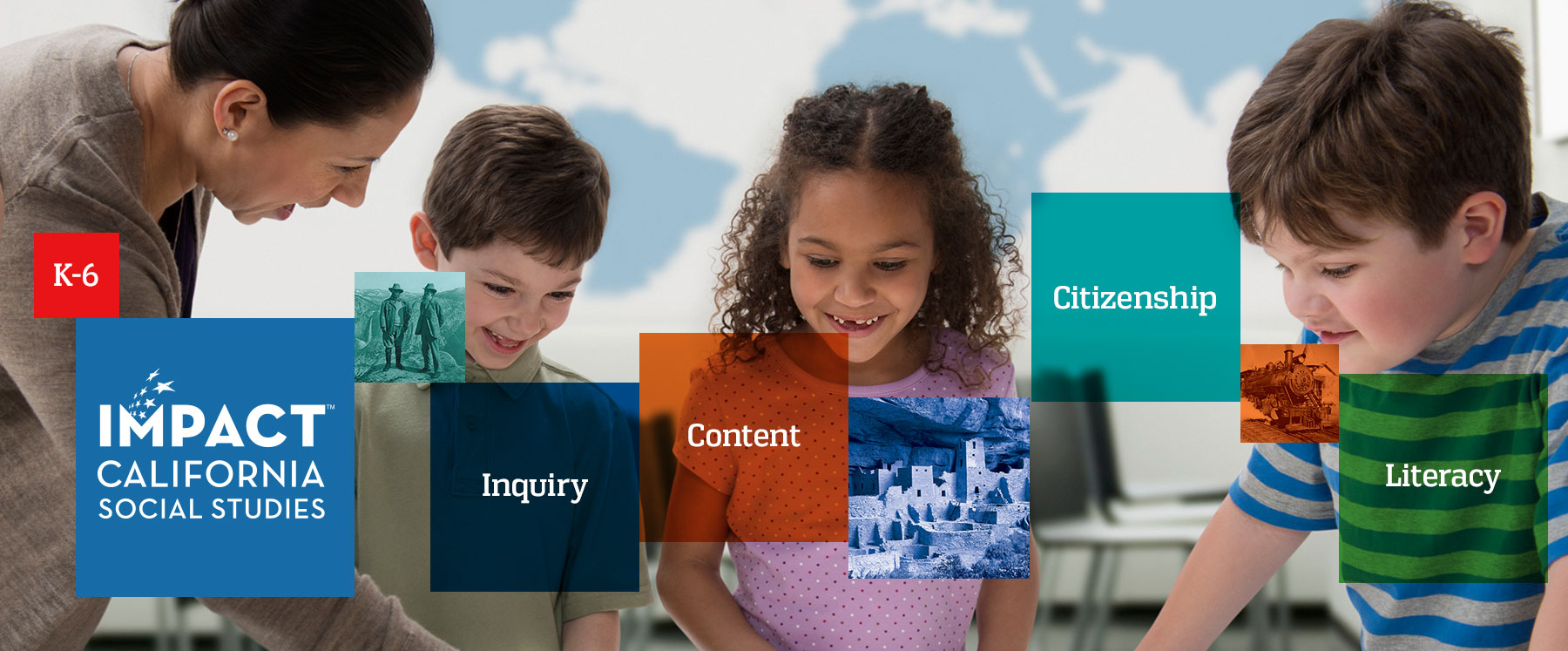 Experience the World. Shape the Future.
Created to meet vision of the California History-Social Science Framework and Standards.
Social studies should help your students connect someone else's past to their present, and ultimately help them to shape their own futures.
The incredible power of connection inspires important questions, drives understanding and promotes the kind of critical thinking skills that motivate students to become active citizens.
Our goal is to help you spark the kind of engagement that turns curiosity, knowledge, and critical thinking into empowered citizenship. That's IMPACT.
Flexible Resources for IMPACT Grades K-5
IMPACT's flexible content provides teachers with a custom path to use the IMPACT digital and print resources that best suit their classroom environment – limited tech, blended, or 1:1 – and individual teaching style. IMPACT Online offers a wealth of resources to bring social studies concepts to life—in one easy-to-use platform.
Created by a team of the country's foremost social studies education experts.
Dr. Walter Parker
Professor of Social Studies Education at University of Washington, Seattle
Dr. James Banks
Director of the University of Washington, Seattle Center for Multicultural Education
Dr. Emily Schell
Executive Director of the California International Social Studies Project and Professor at San Diego State University
Dr. Daniel Lewis
Dibner Senior Curator of the History of Science and Technology at the Huntington Library
Dr. Douglas Fisher
Professor of Educational Leadership at San Diego State University
Dr. Kevin Colleary
Professor at Fordham University School of Education
Dr. William Deverell
Professor at University of Southern California and Director of the Huntington Library USC Institute on California and the West
Dr. Elizabeth Logan
Associate Director, Huntington USC Institute for California and the West