Getting Started this Semester: Instructor Checklist
---
July 30, 2018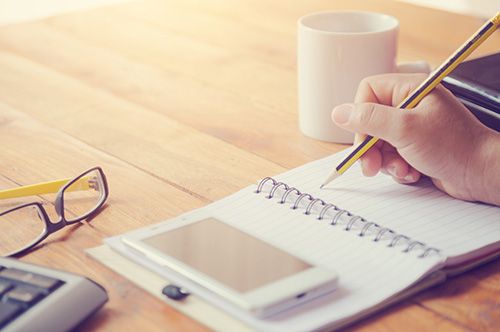 Whenever a new semester approaches, the likelihood of error rises exponentially. As instructors, we are often jolted from a brief vacation into the hustle and bustle of teaching classes, traveling in traffic, grading essays, juggling meetings, and learning new names. Shifting from rest to full-blown commotion is the kind of shock that can yield disorientation and absentmindedness. As a result, I often spend the second week of the semester, tying up loose ends and solving problems that might have been dealt with earlier.
To prevent that frantic game of catch-up, here's a checklist that all instructors (both seasoned and new) can use to prepare for the coming semester.
Class Schedule:
Confirm with the department secretary your teaching schedule.
Did all your classes fill / make?
If anything was dropped, see if there are new classes being added to your schedule or available for you to pick up.
Do you need to request or confirm time for your class in a computer lab or computer classroom?
Instructor Orientation and Training:
Have you marked the instructor orientation on your calendar? Where and when will it be?
Is there a training session for any online software? Can it be done virtually or is it face-to-face?

School LMS (Blackboard/Canvas/D2L/etc)
Publisher resources
Discipline-specific (labs, computer classrooms)

Confirm how you and your students will be evaluated by the department.

In-class evaluations
Rubric assessment
Randomized assignment sampling
Student-Teacher evaluations
Commuting, Parking, and IDs:
Have you plotted your commute? Commuting traffic can change things significantly.
Where on campus are your classrooms located?
Where will you be parking?
Do you have your faculty ID/parking pass/credentials?
Before Class Starts:
Do you have an office or office space? Where will it be located?
Cleaning up office clutter – do you need to declutter or organize things from last semester?
Do you have access to the latest textbook and/or any supplementary online materials?
Have you received and updated the course syllabus?
Did you update the dates and (if needed) policies on your syllabus? Don't forget to include the holidays and school breaks!
Have you setup or copied over your course shells in your LMS (Blackboard/Canvas/D2L/etc.)?
For any online assignments (especially those copied over from previous semesters) did you change the due dates?
Is your grade book and point system correct?
Does your curriculum need to be approved by a coordinator?
If used, do you have the department grading rubric?
Classroom and Office Setup:
Have you checked out the classroom(s) you'll be teaching in?
Does the in-room technology work?

SMART board
Projector
Audio / Video
Lab Computers
Computer Connections / Hookups

Do you have access to office space and the copier? Do you need a code or keycard to gain access?
First Day of Class:
Have you printed copies of your attendance rosters?
Are all your students listed in your LMS roster?
Building Maintenances' phone number – if you're the early morning class don't get locked out!
Have you prepared your first-day lesson(s)?

Attendance Check
Introductions
Syllabus Explanation
Preliminary Overview of Course Content
Technology Requirements for the Course
Grading Policies
Plagiarism / Cheating Policy
Overview of Key Projects or Major Assignments

Do you have all relevant materials?

Publisher materials / textbook
Syllabus Copies
Handouts
Extra Dry Erase Markers
Notebook and pen (if desired)
Laptop (if needed)
First Week of Class:
Do you know what the drop / add period is for this semester?
Do you know how to drop or add students, both via the registrar and online, to your class if needed?
Are all the students (especially the newly added) able to log in to your LMS course shell?
Set the Tone for the Class

Will participation be a requirement? Or will the class be more lecture-based?
Do you want the class to be informal discussion or lecture-based and more formal Q&A?
Will there be group work or projects?
Will there be oral presentations?
Will you use polling (virtual or old-fashion hand raising) in class?
Will students need to have access to any personal technology (Smartphones, laptops, recording devices, etc.) to complete their assignments?

First In-Class Activity (if applicable)

Do you have enough materials (i.e. paper, pens, pencils, etc. if students didn't bring them)?
Set the tone for how these assignments will work – formal vs informal grading, solo or group activities, peer-reviewed or just read by the instructor?

First Assignment (if applicable)

Confirming with students when it's due
Review the assignment parameters and expectations
Making sure students know the submission process
Call out any nuances you'd like students to keep in mind, i.e. only typed submission accepted, font size, rough drafts required, show steps/work in solving the problem, etc.
More from McGraw-Hill Higher Education
---
Professor Ray Dademo
Professor Ray Dademo is an adjunct professor of English at Rutgers University, Montclair State University, and Middlesex County College. He holds an MFA in Nonfiction Writing from Columbia University and a BA in English from Fordham University. His pedagogy involves the use of cinematic literacy as an entry point for composition studies. He has recently co-authored an article for the CEA Critic, titled "Narrating the Moviegoing Experience: Reframing Film for First-Year Composition."