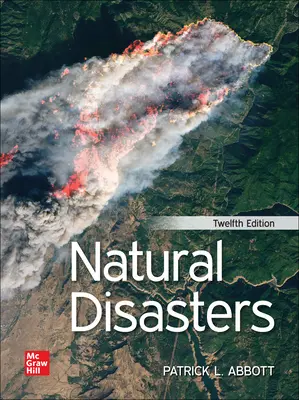 Natural Disasters
12th Edition
By Patrick Leon Abbott
ISBN10: 1264091168
ISBN13: 9781264091164
Copyright:
2023
Product Details

+
Natural Disasters, 12th edition focuses on explaining how the normal processes of Earth concentrate their energies and deal heavy blows to humans and their structures. Students have a natural curiosity about natural disasters and why they occur.
Read more +
Program Details
Prologue: Energy Flows
Chapter 1: Natural Disasters and the Human Population
Chapter 2: Internal Energy and Plate Tectonics
Chapter 3: Earthquake Geology and Seismology
Chapter 4: Plate Tectonics and Earthquakes
Chapter 5: Earthquakes throughout the United States and Canada
Chapter 6: Volcanic Eruptions: Plate Tectonics and Magmas
Chapter 7: Volcano Case Histories: Killer Events
Chapter 8: Tsunami versus Wind-Caused Waves
Chapter 9: External Energy Fuels Weather and Climate
Chapter 10: Tornadoes, Lightning, Heat, and Cold
Chapter 11: Hurricanes
Chapter 12: Climate Change
Chapter 13: Floods
Chapter 14: Wildfire
Chapter 15: Mass Movements
Chapter 16: Coastal Processes and Hazards
Chapter 17: Impacts with Space Objects
Chapter 18: The Great Dyings



Affordability
Find out more about our affordable course material programs.


Reduce course material costs for your students while still providing full access to everything they need to be successful. It isn't too good to be true--it's Inclusive Access.


Provide your students with learning that fits anytime, anywhere in their busy lifestyles at a price that fits their budgets. The McGraw-Hill eBook and ReadAnywhere app combine affordable pricing with high-quality course material, and mobile access--your students win.


When your students want a book, but don't want to keep it, McGraw-Hill's Textbook Rental program provides students with our latest editions at our most affordable hardcover prices.


Want more information? Contact your Learning Technology Representative.