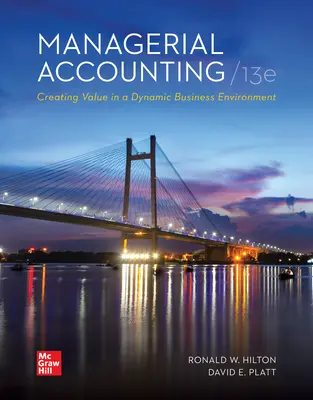 Managerial Accounting: Creating Value in a Dynamic Business Environment
13th Edition
By Ronald Hilton and David Platt
ISBN10: 1264100698
ISBN13: 9781264100699
Copyright:
2023
Product Details

+
- Emphasis on teaching students to use accounting information to best manage an organization, focus on critical thinking.
- Connect is the easy-to-use assignment and digital learning solution that empowers students to achieve better outcomes and instructors to become more efficient.
- SmartBook 2.0 identifies and closes knowledge gaps through a continually adapting reading and questioning experience that helps students master key concepts.
Read more +
Program Details
Chapter 1: The Changing Role of Managerial Accounting in a Dynamic Business Environment
Chapter 2: Basic Cost Management Concepts
Chapter 3: Product Costing and Cost Accumulation in a Batch Production Environment
Chapter 4: Process Costing and Hybrid Product-Costing Systems
Chapter 5: Activity-Based Costing and Management
Chapter 6: Activity Analysis, Cost Behavior, and Cost Estimation
Chapter 7: Cost-Volume-Profit Analysis
Chapter 8: Variable Costing and the Measurement of ESG and Quality Costs
Chapter 9: Financial Planning and Analysis: The Master Budget
Chapter 10: Standard Costing and Analysis of Direct Costs
Chapter 11: Flexible Budgeting and the Management of Overhead and Support Activity Costs
Chapter 12: Responsibility Accounting and the Balanced Scorecard
Chapter 13: Investment Centers and Transfer Pricing
Chapter 14: Decision Making: Relevant Costs and Benefits
Chapter 15: Target Costing and Cost Analysis for Pricing Decisions
Chapter 16: Capital Expenditure Decisions
Chapter 17: Allocation of Support Activity Costs and Joint Costs


Appendix I: The Sarbanes-Oxley Act, Internal Controls, and Management Accounting
Appendix II: Compound Interest and the Concept of Present Value
Appendix III: Inventory Management


References for "In Their Own Words"
Glossary
Index of Companies and Organizations
Index of Subjects