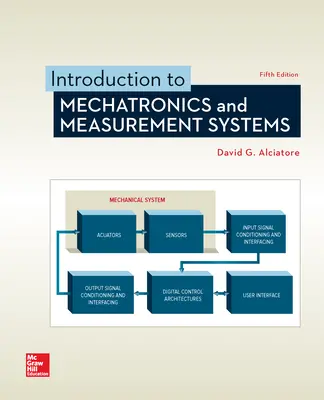 Introduction to Mechatronics and Measurement Systems
5th Edition
By David Alciatore
ISBN10: 1259892344
ISBN13: 9781259892349
Copyright:
2019
Product Details

+
This text provides comprehensive coverage of the field of mechatronics for mechanical, electrical and aerospace engineering majors. The author presents a concise review of electrical circuits, solid-state devices, digital circuits, and motors. Mechatronics design considerations are presented throughout the text and in Design Example. The text's numerous illustrations, examples, class discussion items, and chapter questions provide an opportunity to understand and apply concepts.
Read more +
Program Details
Lists
Class Discussion Items
Examples
Design Examples
Threaded Design Examples

Preface

Chapter 1
Introduction
1.1 Mechatronics
1.2 Measurement Systems
1.3 Threaded Design Examples

Chapter 2
Electric Circuits and Components
2.1 Introduction
2.2 Basic Electrical Elements
2.3 Kirchhoff's Laws
2.4 Voltage and Current Sources and Meters
2.5 Thevenin and Norton Equivalent Circuits
2.6 Alternating Current Circuit Analysis
2.7 Power in Electrical Circuits
2.8 Transformer
2.9 Impedance Matching 47
2.10 Practical Considerations

Chapter 3
Semiconductor Electronics
3.1 Introduction
3.2 Semiconductor Physics as the Basis for Understanding Electronic Devices
3.3 Junction Diode
3.4 Bipolar Junction Transistor
3.5 Field-Effect Transistors

Chapter 4
System Response
4.1 System Response
4.2 Amplitude Linearity
4.3 Fourier Series Representation of Signals
4.4 Bandwidth and Frequency Response
4.5 Phase Linearity
4.6 Distortion of Signals
4.7 Dynamic Characteristics of Systems
4.8 Zero-Order System
4.9 First-Order System
4.10 Second-Order System
4.11 System Modeling and Analogies

Chapter 5
Analog Signal Processing Using Operational Amplifiers
5.1 Introduction
5.2 Amplifiers
5.3 Operational Amplifiers
5.4 Ideal Model for the Operational Amplifier
5.5 Inverting Amplifier
5.6 Noninverting Amplifier
5.7 Summer
5.8 Difference Amplifier
5.9 Instrumentation Amplifier
5.10 Integrator
5.11 Differentiator
5.12 Sample and Hold Circuit
5.13 Comparator
5.14 The Real Op Amp

Chapter 6
Digital Circuits
6.1 Introduction
6.2 Digital Representations
6.3 Combinational Logic and Logic Classes
6.4 Timing Diagrams
6.5 Boolean Algebra
6.6 Design of Logic Networks
6.7 Finding a Boolean Expression Given a Truth Table
6.8 Sequential Logic
6.9 Flip-Flops
6.10 Applications of Flip-Flops
6.11 TTL and CMOS Integrated Circuits
6.12 Special Purpose Digital Integrated Circuits
6.13 Integrated Circuit System Design

Chapter 7
Microcontroller Programming and Interfacing
7.1 Microprocessors and Microcomputers
7.2 Microcontrollers
7.3 The PIC16F84 Microcontroller
7.4 Programming a PIC
7.5 PicBasic Pro
7.6 Using Interrupts
7.7 The Arduino Prototyping Platform
7.8 Interfacing Common PIC Peripherals
7.9 Interfacing to the PIC
7.10 Serial Communication
7.11 Method to Design a Microcontroller-Based System
7.12 Practical Considerations

Chapter 8
Data Acquisition
8.1 Introduction
8.2 Reconstruction of Sampled Signals
8.3 Quantizing Theory
8.4 Analog-to-Digital Conversion
8.5 Digital-to-Analog Conversion
8.6 Virtual Instrumentation, Data Acquisition, and Control
8.7 Practical Considerations

Chapter 9
Sensors
9.1 Introduction
9.2 Position and Speed Measurement
9.3 Stress and Strain Measurement
9.4 Temperature Measurement
9.5 Vibration and Acceleration Measurement
9.6 Pressure and Flow Measurement
9.7 Semiconductor Sensors and Microelectromechanical Devices

Chapter 10
Actuators
10.1 Introduction
10.2 Electromagnetic Principles
10.3 Solenoids and Relays
10.4 Electric Motors
10.5 DC Motors
10.6 Stepper Motors
10.7 RC Servo Motors
10.8 Selecting a Motor
10.9 Hydraulics
10.10 Pneumatics

Chapter 11
Mechatronic Systems—Control Architectures and Case Studies
11.1 Introduction
11.2 Control Architectures
11.3 Introduction to Control Theory

Appendix A
Measurement Fundamentals
A.1 Systems of Units
A.2 Significant Figures
A.3 Statistics
A.4 Error Analysis

Appendix B
Physical Principles

Appendix C
Mechanics of Materials
C.1 Stress and Strain Relations

Index
Connect
By prompting students to engage with key concepts, while continually adapting to their individual needs, Connect activates learning and empowers students to take control resulting in better grades and increased retention rates. Proven online content integrates seamlessly with our adaptive technology, and helps build student confidence outside of the classroom.
Learn More
SmartBook
Available within Connect, SmartBook actively tailors content to the individual student- The more a student interacts with SmartBook, the better it gets to know what they know and what they don't know, helping students to maximize study time. By providing students with a safe place to make mistakes, showing them the areas they need to work on most, and by giving them consistent, personalized feedback at the exact moment they need it, SmartBook helps them to bridge their knowledge gaps and come to class prepared.
Learn More
How to Access Instructor Tools for your Course
Your text has great instructor tools – like presentation slides, instructor manuals, test banks and more. Follow the steps below to access your instructor resources or watch the step-by-step video.
To get started, you'll need to visit connect.mheducation.com to sign in. (If you do not have an account, you'll need to request one from your MH rep. To find your rep – visit the Find Your Rep page).
Then, under "Find a Title," you'll search by title, author or subject.
Select your desired title and create a course. (Note – you do not have to create assignments, just a course instance)
Then go to your Connect course homepage.
In the top navigation, select library to access the instructor resources that accompany the title.
Accessibility Rubric
Creating accessible products is a priority for McGraw-Hill. We have put in place processes to make accessibility and meeting the WCAG AA guidelines part of our day-to-day development efforts and product roadmaps.
Please review our accessibility information for this specific product.
In future editions, this rubric will be reformatted to increase accessibility and usability.
McGraw-Hill sites may contain links to websites owned and operated by third parties. These links are provided as supplementary materials, and for learners' information and convenience only. McGraw-Hill has no control over and is not responsible for the content or accessibility of any linked website.
For further information on McGraw‐Hill and Accessibility, please visit our accessibility page or contact us at accessibility@mheducation.com