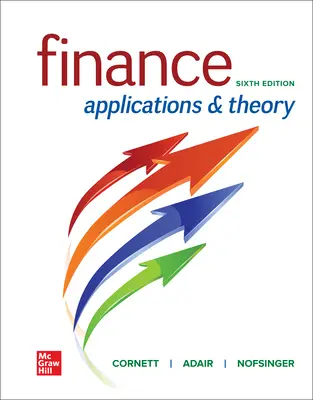 Finance: Applications and Theory
6th Edition
By Marcia Cornett and Troy Adair and John Nofsinger
ISBN10: 1264101589
ISBN13: 9781264101580
Copyright:
2023
Product Details

+
- Provides the core concepts for the undergraduate corporate finance course.
- Focuses on how companies invest in real assets, raise the money to pay for the investments, and how those assets affect the value of the firm.
-Emphasizes three themes: finance is about connecting core concepts, can be taught using a personal perspective, and focuses on solving problems and decision making.
-Impact of the global pandemic and the new environment have been incorporated throughout.
Read more +
Program Details
Part One: Introduction
Chapter 1: Introduction to Financial Management
Part Two: Financial Statements
Chapter 2: Reviewing Financial Statements
Chapter 3: Analyzing Financial Statements
Part Three: Valuing of Future Cash Flows
Chapter 4: Time Value of Money 1: Analyzing Single Cash Flows
Chapter 5: Time Value of Money 2: Analyzing Annuity Cash Flows

Part Four: Valuing of Bonds and Stocks
Chapter 6: Understanding Financial Markets and Institutions
Chapter 7: Valuing Bonds
Chapter 8: Valuing Stocks

Part Five: Risk and Return
Chapter 9: Characterizing Risk and Return
Chapter 10: Estimating Risk and Return

Part Six: Capital Budgeting
Chapter 11: Calculating the Cost of Capital
Chapter 12: Estimating Cash Flows on Capital Budgeting Projects
Chapter 13: Weighing Net Present Value and Other Capital Budgeting
Part Seven: Working Capital Management and Financial Planning
Chapter 14: Working Capital Management and Policies
Chapter 15: Financial Planning and Forecasting
Part Eight: Capital Structure Issues
Chapter 16: Assessing Long-Term Debt, Equity, and Capital Structure
Chapter 17: Sharing Firm Wealth: Dividends, Share Repurchases, and Other Payouts
Chapter 18: Issuing Capital and the Investment Banking Process
Part Nine: Other Topics in Finance
Chapter 19: International Corporate Finance
Chapter 20: Mergers and Acquisitions and Financial Distress