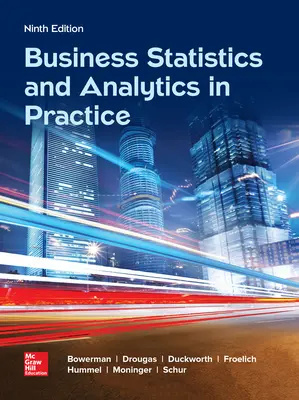 Business Statistics and Analytics in Practice
9th Edition
By Bruce Bowerman and Anne M. Drougas and William M. Duckworth and Amy G. Froelich and Ruth M. Hummel and Kyle B. Moninger and Patrick J. Schur
ISBN10: 1260187497
ISBN13: 9781260187496
Copyright:
2019
Product Details

+
A modern, practical and unique framework for teaching an introductory course in Business Statistics.
Employs realistic examples, continuing case studies and a business improvement theme to teach the material.
Connect: A highly reliable, easy-to-use homework and learning management solution that embeds learning science and award-winning adaptive tools to improve student results.
Program Details
Chapter 1 An Introduction to Business Statistics and Analytics
Chapter 2 Descriptive Statistics and Analytics: Tabular and Graphical Methods
Chapter 3 Descriptive Statistics and Analytics: Numerical Methods
Chapter 4 Probability and Probability Models
Chapter 5 Predictive Analytics I: Trees, k-Nearest Neighbors, Naive Bayes', and Ensemble Estimates
Chapter 6 Discrete Random Variables
Chapter 7 Continuous Random Variables
Chapter 8 Sampling Distributions
Chapter 9 Confidence Intervals
Chapter 10 Hypothesis Testing
Chapter 11 Statistical Inferences Based on Two Samples
Chapter 12 Experimental Design and Analysis of Variance
Chapter 13 Chi-Square Tests
Chapter 14 Simple Linear Regression Analysis
Chapter 15 Multiple Regression and Model Building
Chapter 16 Predictive Analytics II: Logis¬tic Regression, Discriminate Analysis, and Neural Networks
Chapter 17 Time Series Forecasting and Index Numbers
Chapter 18 Nonparametric Methods
Chapter 19 Decision Theory
Chapter 20 (Online) Process Improvement Using Control Charts for Website
Appendix A Statistical Tables
Appendix B (Online) Chapter by Chapter MegaStat Appendices