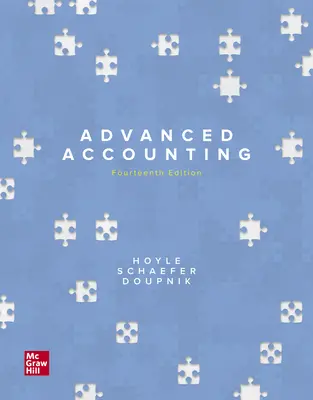 Advanced Accounting
14th Edition
By Joe Ben Hoyle and Thomas Schaefer and Timothy Doupnik
ISBN10: 1260247821
ISBN13: 9781260247824
Copyright:
2021
Product Details

+
Connect: A highly reliable, easy-to-use homework and learning management solution that embeds learning science and award-winning adaptive tools to improve student results.
NEW! SmartBook 2.0 provides the most popular adaptive reading tool available to hold students accountable for assignments, improve retention and decrease knowledge gaps.
Hoyle Advanced Accounting provides students with a well-balanced appreciation of the accounting profession.
Program Details
Ch. 1 The Equity Method of Accounting for Investments
Ch. 2 Consolidation of Financial Information
Ch. 3 Consolidations—Subsequent to the Date of Acquisition
Ch. 4 Consolidated Financial Statements and Outside Ownership
Ch. 5 Consolidated Financial Statements — Intra-Entity Asset Transactions
Ch. 6 Variable Interest Entities, Intra-Entity Debt, Consolidated Cash Flows, and Other Issues
Ch. 7 Consolidated Financial Statements — Ownership Patterns and Income Taxes
Ch. 8 Segment and Interim Reporting
Ch. 9 Foreign Currency Transactions and Hedging Foreign Exchange Risk
Ch. 10 Translation of Foreign Currency Financial Statements
Ch. 11 Worldwide Accounting Diversity and International Standards
Ch. 12 Financial Reporting and the Securities and Exchange Commission
Ch. 13 Accounting for Legal Reorganizations and Liquidations
Ch. 14 Partnerships: Formation and Operation
Ch. 15 Partnerships: Termination and Liquidation
Ch. 16 Accounting for State and Local Governments (Part 1)
Ch. 17 Accounting for State and Local Governments (Part 2)
Ch. 18 Accounting and Reporting for Private Not-for-Profit Entities
Ch. 19 Accounting for Estates and Trusts