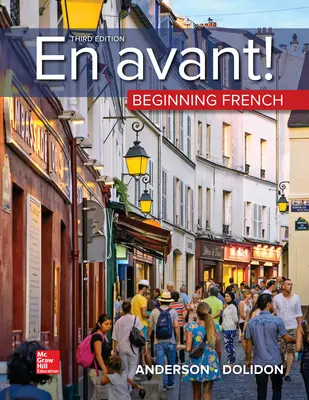 En avant! Beginning French (Student Edition)
3rd Edition
By Bruce Anderson and Annabelle Dolidon
ISBN10: 1259999823
ISBN13: 9781259999826
Copyright: 2020
Product Details

+
Students learn best when they are connecting with the language as used in real-world settings, with each other as a community and with authentic culture. En avant! sparks the curiosity that builds these connections as students advance toward communicative and cultural competence in the introductory classroom.
Program Details
Chapitre 1 Pour commencer
Chapitre 2 Comment sont-elles?
Chapitre 3 Qu'est-ce que tu aimes faire?
Chapitre 4 En famille
Chapitre 5 Bon appétit!
Chapitre 6 On est à la mode!
Chapitre 7 Le week-end dernier
Chapitre 8 L'image de soi
Chapitre 9 Chez nous
Chapitre 10 Ça se fête!
Chapitre 11 Trouver son chemin
Chapitre 12 En ville
Chapitre 13 Bonnes vacances!
Chapitre 14 Ici, on parle français!
Chapitre 15 Engagez-vous!
Chapitre 16 Une célébration des arts