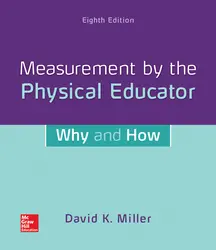 Measurement by the Physical Educator: Why and How
8th Edition
Product Details

+
Measurement by the Physical Educator: Why and How, helps the physical education, exercise science, or kinesiology major develop the necessary confidence and skills to measure and assess student' knowledge and physical performance in physical education classes. Beyond just providing measurement techniques, this instructive, readable text also teaches the reason for the measurement and how to apply the results of assessment to the design of learning activities.
Program Details
Preface xi
Chapter 1 Measurement, Evaluation, Assessment, and Statistics
Chapter 2 Describing and Presenting a Distribution of Scores
Chapter 3 Investigating the Relationship between Scores
Chapter 4 Investigating the Difference in Scores
Chapter 5 What Is a Good Test?
Chapter 6 Construction of Knowledge Tests
Chapter 7 Assessment and Grading
Chapter 8 Construction and Administration of Psychomotor Tests
Chapter 9 Agility
Chapter 10 Balance
Chapter 11 Cardiorespiratory Fitness
Chapter 12 Flexibility
Chapter 13 Muscular Strength, Endurance, and Power
Chapter 14 Anthropometry and Body Composition
Chapter 15 Physical Fitness
Chapter 16 Older Adults
Chapter 17 Special- Needs Populations
Chapter 18 Sports Skills
APPENDIXES
A Values of the Correlation Coefficient (r)
B Critical Values of t (Two- Tailed Test)
C F- Distribution
D Values of the Studentized Range (q)
REFERENCES AND ADDITIONAL READING
INDEX