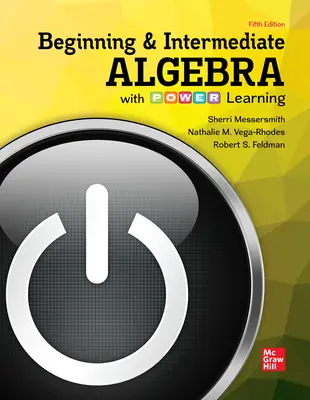 Beginning and Intermediate Algebra with P.O.W.E.R. Learning
5th Edition
By Sherri Messersmith and Nathalie Vega-Rhodes and Robert Feldman
ISBN10: 126009751X
ISBN13: 9781260097511
Copyright:
2021
Product Details

+
The 5th edition of Beginning and Intermediate Algebra by Sherri Messersmith and Nathalie Vega-Rhodes represents the most evolved version of the P.O.W.E.R. series textbooks yet. To each chapter we have added a new Get Ready chapter opener that contains prerequisite/corequisite lessons, with exercises, to prepare students to learn the concepts coming up in the chapter.
Read more +
Program Details
Beginning & Intermediate Algebra with POWER Learning
Chapter 1 The Real Number System and Geometry
1.1 Review of Fractions
1.2 Exponents and Order of Operations
1.3 Geometry Review
1.4 Sets of Numbers and Absolute Value
1.5 Addition and Subtraction of Real Numbers
1.6 Multiplication and Division of Real Numbers
1.7 Algebraic Expressions and Properties of Real Numbers
Chapter 2 Rules of Exponents
2.1A Basic Rules of Exponents: The Product Rule and Power Rules
2.1B Basic Rules of Exponents: Combining the Rules
2.2A Integer Exponents: Real-Number Bases
2.2B Integer Exponents: Variable Bases
2.3 The Quotient Rule
2.4 Scientific Notation
Chapter 3 Linear Equations and Inequalities in One Variable
3.1 Solving Linear Equations Part I
3.2 Solving Linear Equations Part II
3.3 Applications of Linear Equations
3.4 Applications Involving Percents
3.5 Geometry Applications and Solving Formulas
3.6 Applications of Linear Equations to Proportions, Money Problems, and d=rt
3.7 Linear Inequalities in One Variable
3.8 Compound Inequalities in One Variable
Chapter 4 Linear Equations in Two Variables and Functions
4.1 Introduction to Linear Equations in Two Variables
4.2 Graphing by Plotting Points and Finding Intercepts
4.3 The Slope of a Line
4.4 The Slope-Intercept Form of a Line
4.5 Writing an Equation of a Line
4.6 Introduction to Functions
Chapter 5 Solving Systems of Linear Equations
5.1 Solving Systems by Graphing
5.2 Solving Systems by the Substitution Method
5.3 Solving Systems by the Elimination Method
5.4 Applications of Systems of Two Equations
5.5 Solving Systems of Three Equations and Applications
5.6 Solving Systems of Linear Equations Using Matrices
Chapter 6 Polynomials
6.1 Review of the Rules of Exponents
6.2 Addition and Subtraction of Polynomials
6.3 Multiplication of Polynomials
6.4 Division of Polynomials
Chapter 7 Factoring Polynomials
7.1 The Greatest Common Factor and Factoring by Grouping
7.2 Factoring Trinomials of the Form x2+bx+c
7.3 Factoring Trinomials of the Form ax2+bx+c (a≠1)
7.4 Factoring Special Trinomials and Binomials
7.5 Solving Quadratic Equations by Factoring
7.6 Applications of Quadratic Equations
Chapter 8 Rational Expressions
8.1 Rational Expressions and Functions
8.2 Multiplying and Dividing Rational Expressions
8.3 Finding the Least Common Denominator
8.4 Adding and Subtracting Rational Expressions
8.5 Simplifying Complex Fractions
8.6 Solving Rational Equations
8.7 Applications of Rational Equations
8.8 Variation
Chapter 9 More Equations and Inequalities
9.1 Absolute Value Equations
9.2 Absolute Value Inequalities
9.3 Linear and Compound Linear Inequalities in Two Variables
Chapter 10 Radicals and Rational Exponents
10.1 Finding Roots
10.2 Rational Exponents
10.3 Simplifying Expressions Containing Square Roots
10.4 Simplifying Expressions Containing Higher Roots
10.5 Adding, Subtracting, and Multiplying Radicals
10.6 Dividing Radicals
10.7 Solving Radical Equations
10.8 Complex Numbers
Chapter 11 Quadratic Equations
11.1 Review of Solving Equations by Factoring
11.2 The Square Root Property and Completing the Square
11.3 The Quadratic Formula
11.4 Equations in Quadratic Form
11.5 Formulas and Applications
Chapter 12 Functions and Their Graphs
12.1 Relations and Functions
12.2 Graphs of Functions and Transformations
12.3 Quadratic Functions and Their Graphs
12.4 Applications of Quadratic Functions and Graphing Other Parabolas
12.5 Quadratic and Rational Inequalities
12.6 The Algebra of Functions
Chapter 13 Exponential and Logarithmic Functions
13.1 Inverse Functions
13.2 Exponential Functions
13.3 Logarithmic Functions
13.4 Properties of Logarithms
13.5 Common and Natural Logarithms and Change of Base
13.6 Solving Exponential and Logarithmic Equations
Chapter 14 Conic Sections, Nonlinear Systems, and Nonlinear Inequalities
14.1 The Circle
14.2 The Ellipse and the Hyperbola
14.3 Nonlinear Systems of Equations
14.4 Second-Degree Inequalities and Systems of Inequalities
Chapter 15 Sequences and Series (online only)
15.1 Sequences and Series
15.2 Arithmetic Sequences and Series
15.3 Geometric Sequences and Series
15.4 The Binomial Theorem
Appendix A Prealgebra Topics (online only)
Appendix B Beginning Algebra Review (online only)
Appendix C Additional Topics (online only)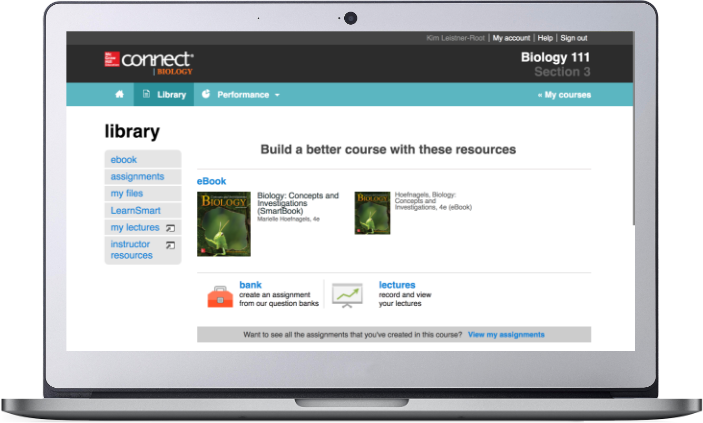 By prompting students to engage with key concepts, while continually adapting to their individual needs, Connect activates learning and empowers students to take control resulting in better grades and increased retention rates. Proven online content integrates seamlessly with our adaptive technology, and helps build student confidence outside of the classroom.
Learn more
SmartBook® 2.0
Available within Connect, SmartBook 2.0 is an adaptive learning solution that provides personalized learning to individual student needs, continually adapting to pinpoint knowledge gaps and focus learning on concepts requiring additional study. SmartBook 2.0 fosters more productive learning, taking the guesswork out of what to study, and helps students better prepare for class. With the ReadAnywhere mobile app, students can now read and complete SmartBook 2.0 assignments both online and off-line. For instructors, SmartBook 2.0 provides more granular control over assignments with content selection now available at the concept level. SmartBook 2.0 also includes advanced reporting features that enable instructors to track student progress with actionable insights that guide teaching strategies and advanced instruction, for a more dynamic class experience.
Learn more
How to Access Instructor Tools for your Course
Your text has great instructor tools – like presentation slides, instructor manuals, test banks and more. Follow the steps below to access your instructor resources or watch the step-by-step video.
To get started, you'll need to visit connect.mheducation.com to sign in. (If you do not have an account, you'll need to request one from your MH rep. To find your rep – visit the Find Your Rep page).
Then, under "Find a Title," you'll search by title, author or subject.
Select your desired title and create a course. (Note – you do not have to create assignments, just a course instance)
Then go to your Connect course homepage.
In the top navigation, select library to access the instructor resources that accompany the title.
Accessibility Rubric
Creating accessible products is a priority for McGraw-Hill. We have put in place processes to make accessibility and meeting the WCAG AA guidelines part of our day-to-day development efforts and product roadmaps.
Please review our accessibility information for this specific product.
In future editions, this rubric will be reformatted to increase accessibility and usability.
McGraw-Hill sites may contain links to websites owned and operated by third parties. These links are provided as supplementary materials, and for learners' information and convenience only. McGraw-Hill has no control over and is not responsible for the content or accessibility of any linked website.
For further information on McGraw‐Hill and Accessibility, please visit our accessibility page or contact us at accessibility@mheducation.com