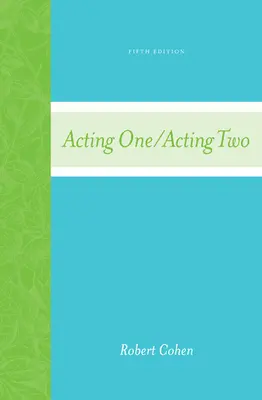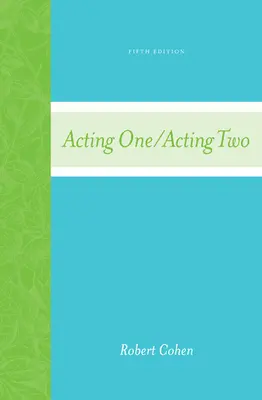 Acting One/Acting Two
,
5th Edition
ISBN10: 0073288543 | ISBN13: 9780073288543
Purchase Options:
* The estimated amount of time this product will be on the market is based on a number of factors, including faculty input to instructional design and the prior revision cycle and updates to academic research-which typically results in a revision cycle ranging from every two to four years for this product. Pricing subject to change at any time.
Instructor Details
The new, fifth edition of Robert Cohen's Acting One, the text used to teach acting on more campuses than any other, has now been combined for the first time with his Acting Two, (the second edition of his previously-titled Advanced Acting). Together, Acting One/Acting Two provides a comprehensive and fully integrated system of all acting, from the most realistic to the most stylized. Part One (Acting One) covers basic skills such as talking, listening, tactical interplay, physicalizing, building scenes, and making powerful acting choices. Part Two (Acting Two) provides a series of exercises that encourage the student actor's self-extension into radically different styles (historical, literary, fantastical) and characterizations; then coaches the student through scenework in a variety of historical periods (Greek, Commedia, Elizabethan, Molière, Restoration, Belle Epoque), as well as modern hyper-realistic theatrical forms such as the theatres of alienation and the absurd, and exemplary recent dramas by Tony Kushner, Margaret Edson, August Wilson and Doug Wright.
Preface ACTING ONE Introduction PART I. PREPARATION FOR ACTING Lesson 1: Preparing to Act Relaxation / Exercise 1-1 Relaxation / Trust / Exercise 1-2 Spine Lengthening / Exuberance / Exercise 1-3 BAM-POW, Dance, Sing / Discipline / Criticism / A Playful Attitude / Freedom / Preparation Lesson 2: What Is Acting? Exercise 2-1 Pledge Your Allegiance to a Flag PART II. THE ACTOR'S APPROACH Lesson 3: Goal and Obstacle Fundamental Principle / Exercise 3-1 Reaching / Exercise 3-2 Reaching for Goals / Exercise 3-3 Overcoming an Obstacle / Self-Consciousness / Exercise 3-4 Doing vs. Being / Projection / Exercise 3-5 Resonating / Exercise 3-6 Resonating (A Continuation) / Exercise 3-7 Goals Lesson 4: Acting with the 'Other' The Other / Exercise 4-1 Making Your Partner Smile / Interactive Dynamics / Exercise 4-2 Vulnerability / Exercise 4-3 Discovery / The Character / Tactics / Exercise 4-4 Using Tactics / Exercise 4-5 One Two Three Four Five Six Seven / Monologues / Exercise 4-6 Inventing the Other Lesson 5: Beginning to Act Contentless Scene / Exercise 5-1 Contentless Scene I / Intensifiers / Exercise 5-2 Intensifying / Physicalizers / Exercise 5-3 Varying Locale or Action / Exercise 5-4 Contentless Scene II Lesson 6: Tactics Punishment and Reward / Playing Tactics / Exercise 6-1 Frighten Your Partner / Exercise 6-2 Building Intensity / Exercise 6-3 Try to Make Your Partner Cry / Exercise 6-4 Movement and Contact / Exercise 6-5 Encourage Your Partner / Alternating Tactics / Exercise 6-6 Mixing Tactics / The Middle Ranges / Exercise 6-7 Eliminating the Extremes Lesson 7: Expectations Expecting Victory / Exercise 7-1 Playing Bored / Positive Goals / Exercise 7-2 Enthusiasm / Exercise 7-3 Try the Impossible / Eye Contact / Exercise 7-4 Tactics and Expectations Lesson 8: GOTE A Basic Method / "Get Your Character's GOTE" / Exercise 8-1 The GOTEsheet PART III. THE ACTOR'S TASK Lesson 9: Preparing a Role Finding Your Role / Finding Your "Character" / Editing a Scene / Memorization Methods / Cues / Studying the Part / Exercise 9-1 The Gentleman Caller I Lesson 10: Rehearsing Rehearsals / Undirected Rehearsals / Rehearsal Alternatives / Exercise 10-1 The Gentleman Caller II Lesson 11: Staging the Scene Stage Directions / Creating the Locale / Movement and Stage Business / Interesting Positions / Reaching the Audience / Exercise 11-1 Setting the Stage Lesson 12: Choices The Need for Choices / Good Choices / Exercise 12-1 Bold Choices Lesson 13: Performing Stage Fright / Classroom Performance / Play for Results--In the Other Character! Lesson 14: Evaluation and Improvement Helpful Criticism / Reworking / Exercise 14-1 Scene Presentation PART IV. THE ACTOR'S INSTRUMENT Lesson 15: The Actor's Voice Breathing / Exercise 15-1 Breathing from the Abdomen / Phonation: Making Sounds / Exercise 15-2 Sounding / Resonance / Exercise 15-3 Exploring Resonance / Pitch / Exercise 15-4 Exploring Your Pitch Range / A Stageworthy Voice / Exercise 15-5 Speaking with Resonance Lesson 16: Stage Speech Good Diction / Speech Sounds / Exercise 16-1 Vowels / Exercise 16-2 Repeating Syllables / Exercise 16-3 Consonants / Exercise 16-4 Speeches Lesson 17: Using Your Voice Liberation / Exercise 17-1 Rude Chants / Exercise 17-2 Rude Cheering / Exercise 17-3 Fancy Talk / Exercise 17-4 Address a Group / Purposefulness / Exercise 17-5 Adding Purpose Lesson 18: The Actor's Body Agility / Exercise 18-1 Fast Warm-Up / Alignment / Exercise 18-2 Improving Alignment / Walking / Exercise 18-3 Sixteen Walks / Exercise 18-4 Walk and Talk / Sitting and Standing / Exercise 18-5 Walk, Talk, Sit / Velocity: Accelerating, Decelerating, and Constant / Exercise 18-6 Acceleration/Deceleration / Counterpoise / Exercise 18-7 Contraposto / Exercise 18-8 Contraction/Extension / The Dynamics of Effort / Exercise 18-9 Distinct Movements / Exercise 18-10 To Be or Not to Be / Exercise 18-11 Walking and Kicking Lesson 19: Voice and Body Integration Coordination / Exercise 19-1 Commands / Exercise 19-2 Speeches with Business / Exercise 19-3 Physical Punctuation / Exercise 19-4 Physical Rhythms / Exercise 19-5 Verbal Rhythms / Pointing / Exercise 19-6 Pointing / Tempo / Exercise 19-7 Speech/Movement Timing / Actors with Disabilities Lesson 20: Imagination and Creativity Imagination / Creativity / Creativity and Imagination / Using Your Fantasies / Exercise 20-1 Cold/Hot / Exercise 20-2 Age Regression/Advancement / Exercise 20-3 Facing an Imagined Death / Exercise 20-4 Facing Love / Lesson 21: Emotion and Acting Theory Exercise 21-1 Playing (with) Real Emotion I / Self-Consciousness / Exercise 21-2 Playing (with) Real Emotion II / Conclusion PART V. THE ACTOR'S TECHNIQUE Lesson 22: Phrasing Diction / Open-Mouthed Speaking / Exercise 22-1 A Acting with Your Teeth / Exercise 22-1 B / Exercise 22-1 C / Developing Diction / Exercise 22-2 Repeated Sentences / Exercise 22-3 Shaw Speech / Emphasis / Exercise 22-4 Change of Emphasis / Exercise 22-5 Punctuate with Emphasis / Inflection / Exercise 22-6 Inflections / Phrasing Lesson 23: Attack The First Word / Physical Attack / Turn-Taking / Exercise 23-1 Turn-Taking Dialog / Preparing Strong Attacks / Exercise 23-2 Action Cues Lesson 24: Follow-Through The Hook / Questions as Questions / Statements as Questions / Exercise 24-1 Making Questions / Statements as Statements / Exercise 24-2 Argument-Enders / Trail-offs Lesson 25: Line Linkage Analyzing Dialog / Rising End-Inflections / Falling End-Inflections / Attack Inflections / Pauses / Long Speeches / Exercise 25-1 Line Linking / Exercise 25-2 The Long Speech / Line Linking in Practice Lesson 26: Scene Structure Breaking Down a Script / Choosing a Scene to Do in Class / Structural Characteristics / Transitions / Scene Breakdown / Exercise 26-1 Scene Structure in Action Lesson 27: Building a Scene Building and Topping / Exercise 27-1 Standard Build I / Exercise 27-2 Standard Build II / Exercise 27-3 Standard Build III / Cutting Back / Getting on Top / Pacing a Build / Complex Builds / Exercise 27-4 I Detest Monday / Exercise 27-5 I Detest January / Exercise 27-6 Come Here / Exercise 27-7 Building Molière Lesson 28: Creating a Monologue Going It Alone / The Monologue to Someone Else / The Soliloquy / Playing a Monologue or Soliloquy / Exercise 28-1 Prepare a Monologue / L'Envoi ACTING TWO Introduction Terminology: Style, Character, and performance / Acting Two's Structure / A Word About Gender / Part I. Extensions of Yourself Lesson 1: Style Exercise 1-1 Baby Talk / Exercise 1-2 Baby Moves / Lesson 2: Stylized Exchanges Exercise 2-1 Pig Latin / Exercise 2-2 Speaking in (Foreign) Tongues / Exercise 2-3 Contemporary Greetings / Exercise 2-4 Making Elizabethan Greetings / Exercise 2-5 Ad-Libbing Elizabethan Greetings / Exercise 2-6 Ad-Libbing Elizabethan Insults / Exercise 2-7 Hamlet's Greeting to the Players Lesson 3: Roses Are Red Rhyme and Verse / Exercise 3-1 Roses Are Red / Exercise 3-2 Roses Are Redder--Take One / Eye Contact--And Looking Elsewhere / Exercise 3-3 Roses Are Redder--Take Two / Exercise 3-4 Roses Are Redder--Take Three / Thinking Your Character's Thoughts / Exercise 3-5 Roses Are Redder--Take Four / Playing the Play Lesson 4: Playing God Exercise 4-1 Playing God / Playing a Character Lesson 5: Characterization Exercise 5-1 Reciprocal Characterization: Richard and Hastings / Exercise 5-2 Intrinsic Characterization: Richard and Hastings / Intrinsic Characterizations: Extensions and Stereotypes / Centering / Exercise 5-3 Centering / Character Postures and Walks / Exercise 5-4 Character Walks / Character Voices / Exercise 5-5 Finding Your Voices / Character Descriptions / Exercise 5-6 Playing Out Character Descriptions / Animal Imagery / Exercise 5-7 Animate (Animalize) Your Character / Intrinsic and Reciprocal Characterization / Exercise 5-8 Character Greetings Lesson 6: More God Exercise 6-1 A Stanza, by God Lesson 7: The Battle of the Sexes: Noah and His Wife Scene 7-1 Noah and His Wife Lesson 8: Performance: Being Public in Private Exercise 8-1 A Performative God / Performative Aspects of Dramatic Scenes / Exercise 8-2 Performing Your Greetings and Insults / The Audience in the Theatre / Scene 8-3 The Performative Context: Oedipus and Creon / Exercise 8-4 The Performative Context: Shakespeare / Exercise 8-5 the Performative Context: Chekhov Part II. The Scenes Lesson 9: Greek Tragedy Scene 9-1 Politician vs. Prophet: Oedipus and Teiresias / More Greek Scenes / Lesson 10: The Commedia Commedia Styles and Scripts / Commedia Performances / Commedia and Renaissance Ideals / Acting Commedia: Machiavelli's Clizia / Exercise 10-1 Commedia: Direct Address / Commedia Lazzi / Scene 10-1 Nicomaco and Sofronia / Stock Characters / More Commedia Scenes Lesson 11: Shakespeare and the Elizabethan Theatre Scene 11-1 The Past Made Vivid: Richard and Ann / Scansion / Verse Variations / Playing the Verse / Rhetoric / Playing and Building the Rhetoric / The Public Environment / Scene 11-2 A Merry War: Beatrice and Benedick / Shakespeare and Commedia / More Elizabethan Scenes Lesson 12: The Theatre of Molière Scene 12-1 Physical Comedy / Jourdain and the Philosopher / Molière and Commedia / Costume and Deportment / French Verse / Scene 12-2 Quarreling in Couplets: Alceste and Celimène / Lesson 13: Restoration Comedy Exercise 13-1 Restoration Speeches / Scene 13-1 Sexual Banter/ Lesson 14: The Belle Epoque George Bernard Shaw / Exercise 14-1 Shaw's Political Speeches / Anton Chekhov / Scene 14-1 Chekhov's Symphony of Feeling Oscar Wilde / Scene 14-2 Wilde's Comedy of (Male) Manners / Exercise 14-3 Wilde's Comedy of (Female) Manners Lesson 15: The Hypertheatre Eugene Ionesco: Theater of the Absurd / Exercise 15-1 Theatre of Absurd: Mr. and Mrs. Martin Bertolt Brecht: Theater of Distancing / Scene 15-2 Distancing in Szechuan / Verfremdung in Everyday Life Lesson 16: Contemporary Styles Clashing Cultures / 16-1 Prior and Harper / Clashing Subcultures / 16-2 Boy Willie and Grace / Clashing Professions / 16-3 Vivian and Jason / Solo performer, Multiple Roles L'Envoi A Glossary of Acting Terms Index