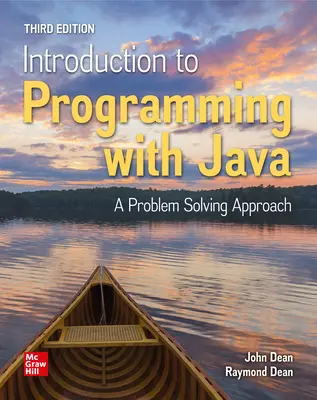 Introduction to Programming with Java: A Problem Solving Approach
3rd Edition
By John Dean and Ray Dean
ISBN10: 1259875768
ISBN13: 9781259875762
Copyright:
2021
Product Details

+
The book transitions through a selected set of procedural programming fundamentals to object-oriented fundamentals. This edition adds new language features and end-of-chapter GUI sections that include animation.
The third edition introduces several new Java language features, most of the end-of-chapter GUI sections and the final GUI chapters use JavaFX, and almost all end-of-chapter exercises are new.
---
Instructors: choose ebook for fast access or receive a print copy.
---
Program Details
Chapter 1. Introduction to Computers and Programming
Chapter 2. Algorithms and Design
Chapter 3. Java Basics
Chapter 4. Control Statements
Chapter 5. Using PreBuilt Methods
Chapter 6. Object-Oriented Programming
Chapter 7. Object-Oriented Programming-Additional Details
Chapter 8. Software Engineering
Chapter 9. Arrays
Chapter 10. Arrays Lists and an INtroduction to the Java Collections Framework
Chapter 11. Recursion
Chapter 12. Type Details and Alternative Coding Mechanisms
Chapter 13. Aggregation, Composition, and Inheritance
Chapter 14. Inheritance and Polymorphism
Chapter 15. Exception Handling
Chapter 16. Files, Buffers, Channels, and Paths
Chapter 17. GUI Programming Basics
Chapter 18. GUI Programming-Layout Panes, Additional GUI Components
Chapter 19. GUI Programming-Additional GUI Components, Additional Listeners, Animation
Appendix 1. ASCII Character Set
Appendix 2. Operator Precedence
Appendix 3. Java Reserved Words
Appendix 4. Packages and Modules
Appendix 5. Java Coding-Style Conventions
Appendix 6. Javadoc with Tags
Appendix 7. UML Diagrams
Appendix 8. Number Systems and Conversions Between Them