Case Study: Connect® Sociology - Southwestern Michigan University
---
Digital Product in Use:
McGraw-Hill Connect® Sociology
---
Program in Use:
Sociology: A Brief Introduction by Richard T. Schaefer, 11th edition
---
LMS Integration
Blackboard
---
Course Name:
SOCI 201 – Principles of Sociology
---
Course Type:
Face-to-face, Blended/Hybrid, Flipped classroom
---
Credit Hours:
Three
---
Instructor Name:
Mary D. Young-Marcks, PhD
---
Enrollment:
25 students per section; 4 sections; 200 year (university total)
---
Case Study Terms:
Spring 2013 (without Connect Sociology) and Spring 2015 (with Connect Sociology)
---
After Implementing Connect Sociology, 15% More Students Passed, 19% More Students Earned A's and B's, and 6% More Students Stayed in the Course
Prior to implementing Connect Sociology, students passed Dr. Mary Young-Marcks courses at a rate of 69%. After implementing Connect Sociology, students passed at a rate of 84%. Not surprisingly, 19% more students earned A's and B's than before, and the retention rate for her course increased from 91% to 97%. Young-Marcks says, "I have seen a dramatic increase in A's and B's with very few withdrawals."
Implementation of McGraw-Hill Connect
Course grade is determined by the following:
38% – Connect Homework
12% – SmartBook®
29% – Final Exam
14% – Presentation and Forum
7% – Cultural Homework
Dr. Mary Young-Marcks wanted to help her students pass the course at a higher rate by earning better grades. She says, "Using Connect requires students to read or to be engaged in class materials, where previously students would not read the text . . . or even have the book!"
Students complete online timed quizzes using Connect. "Testing is done," Young-Marcks says, "But not during class time saving hours of review (before and after) and the testing time itself." The quizzes are 30 questions drawn from the materials in the book and students are given 45 minutes to complete the quiz. Occasionally, Young-Marcks gives a quiz in class to reinforce discussion points. "But, overall, time is saved for other discussions. Because of the nature of the class, Principles of Sociology, topical and current materials are brought in to class, so my instruction time is better utilized that way."
Young-Marcks is able to determine who has viewed the chapters and taken the quizzes by using the reports in Connect. "Now my class time can be interactive, and I can allow more time for discussion because I know who has done the reading. Also, I'm able to follow up with those who haven't." Additionally, she and her students are able to get through more chapters now. "Before Connect, I could rarely get to the Global, Racial, and Gender topics."
Students also appreciate the opportunity to use Connect Sociology. One student says, "I feel like all the work on Connect really made us think!" Another student agrees and comments, "Connect was very helpful, along with critique cards!"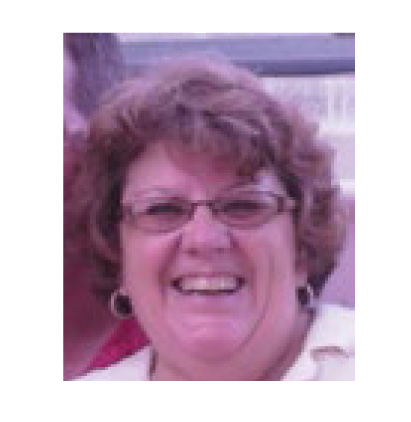 "Prior to using Connect, my pass rate was 69%. After implementing Connect, my pass rate climbed to 84% for all sections."
– Mary D. Young-Marcks
Since implementing Connect Sociology, Young-Marcks has seen an increase in students who earn A's and B's in her classes.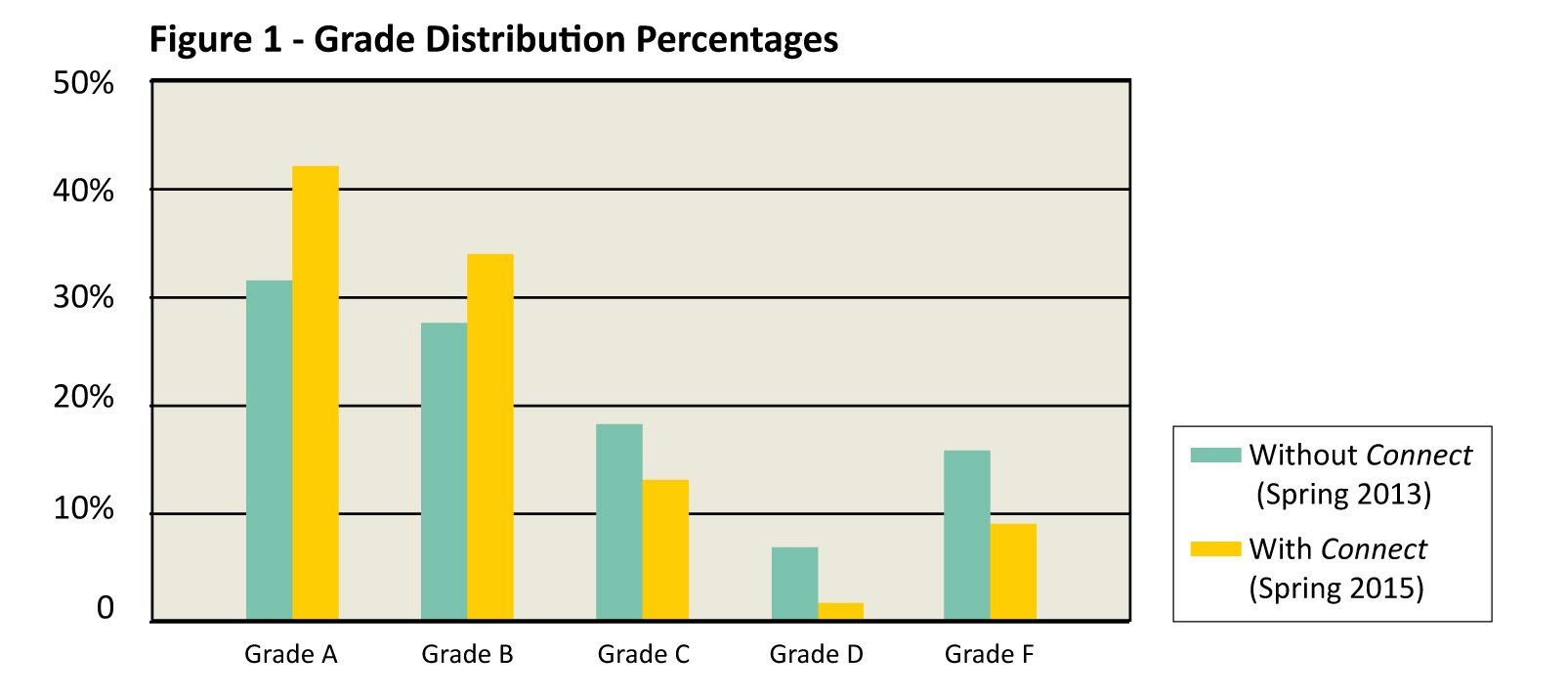 Not surprisingly, student pass rates have also improved (Figure 2).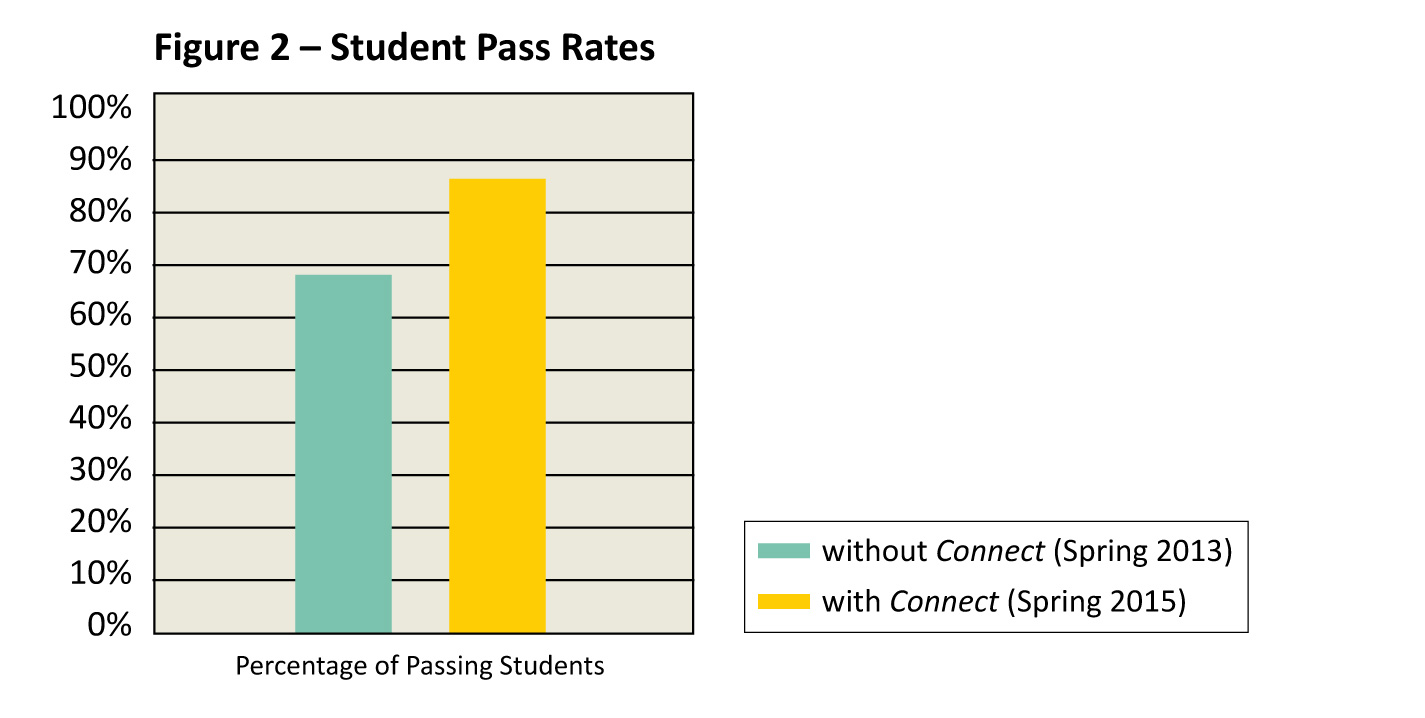 Additionally, 6% more students have stayed in the course than before Young-Marcks implemented Connect Sociology (Figure 3).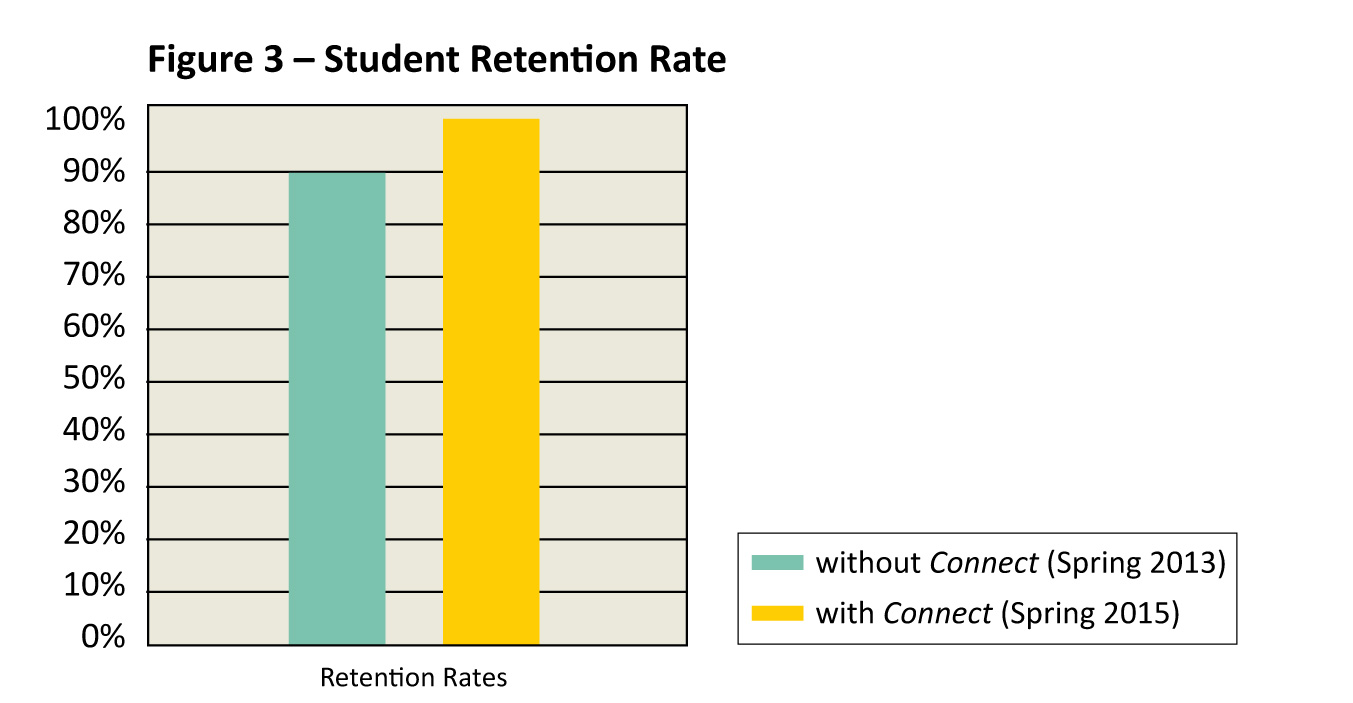 Young-Marcks is pleased with her students' progress and enjoys being able to spend less time grading and more time selecting topics for interactive class discussion. Prior to using Connect Sociology, she spent five hours per semester giving and grading quizzes. Now, all of that is done by Connect (Figure 4). She says, "I'm spending less time grading than before."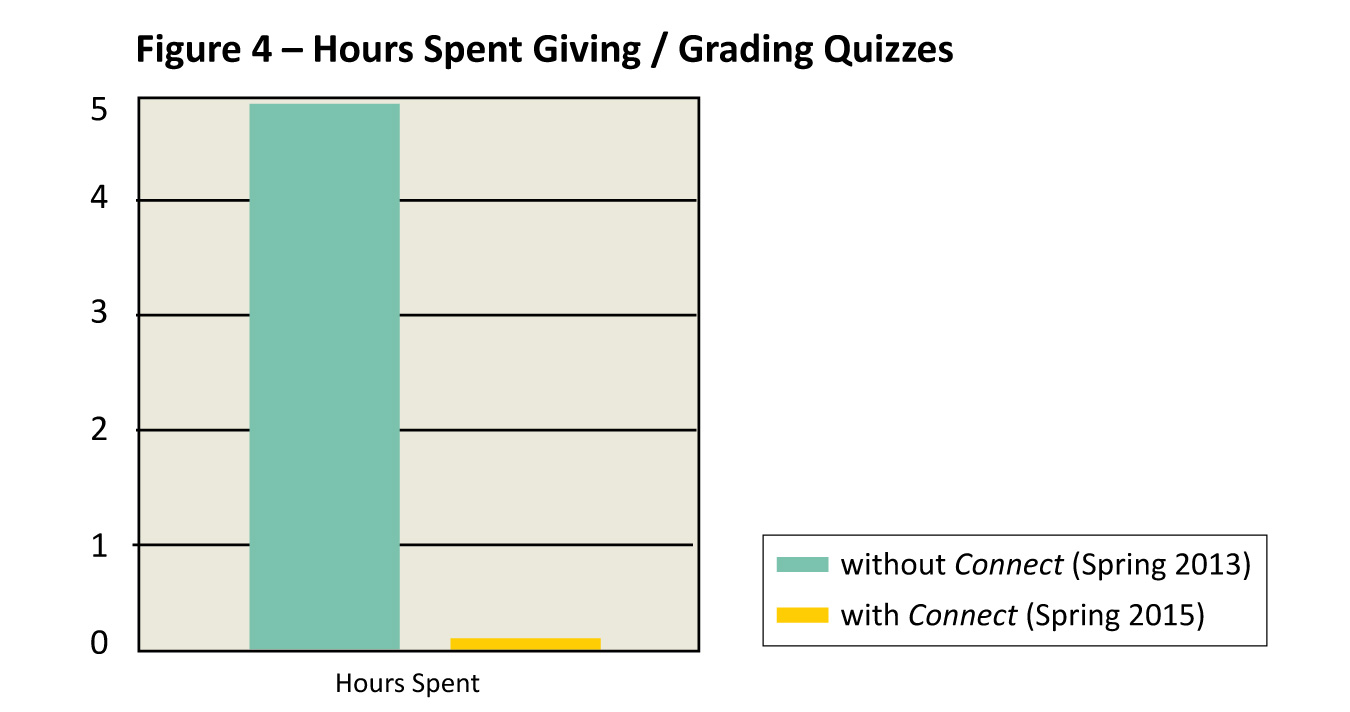 Instructor's implementation goals:
Increase students' pass rates

Help students' improve their grades

Encourage more students to stay in the course
Issues for instructor before using Connect:
Students were not reading the textbook

Students were not engaged in the class discussions

Unable to monitor students' efforts to learn
Benefits to instructor after using Connect:
More students are passing the course

More students are earning A's and B's

Able to reach out to students who are not reading the material in Connect Sociology by reviewing Connect reports
Course Description:
The purpose of this course is to provide students with an introduction to the basic principles of sociology. The course is a part of the Social Science curriculum and as such is open to both first and second year students. Upon completion of the course, students will be able to apply sociological perspectives to current issues, problems, and/ or institutions, apply scientific method and orientation, analyze the components of social structure, and analyze the cause and effects of historical and current social culture.
Institution Profile:
Southwestern Michigan College, a public community college that serves over 3,300 students, has a main campus near Dowagiac, Michigan, and another campus located just outside the city limits of Niles, Michigan. SMC offers Associate in Applied Science degrees, certificate programs, and bachelor's degrees on the Dowagiac campus through partnerships with Michigan State University, Ferris State University and Bethel College.
"I no longer have to go over basic concepts. I can now engage the students in activities above and beyond a textbook's content."
Connect Sociology has a positive impact on students' grades, pass rates, and retention rates at Southwestern Michigan College. On average, 19% more students earned A's and B's, 15% more students passed the course, and 6% more students stayed in the course. Young-Marcks appreciates that she is able to bring in more topical and current materials for more interactive class discussions.