Case Study: Psychology - Bridge Valley Community and Technical College
---
Digital Product in Use:
Connect® Psychology
---
Course Name:
General Psychology
---
Course Type:
Hybrid, ONline
---
Credit Hours:
Three
---
Textbook in Use:
Perspectives and Connections by Feist and Rosenberg, 3e
---
Instructor Name:
Lana Andrean
---
Enrollment:
300-400 students/year
---
Case Study Term:
Fall 2010 (without Connect)
Fall 2014 (with Connect)
---
"Connect and SmartBook allow the student to be in control of their own learning environment. These enhancements appeal to the technology-based world they live in."
Connect Improves Student Performance and Instructor Efficacy
---
Assistant Professor Lana Andrean was interested in providing a more active learning experience for students in her General Psychology class. Her search for the best teaching tool to achieve that goal led her to Connect; as a result of implementing it, she has seen the course evolve in a very positive way, in terms of course growth and an increase in passing rates. Says Andrean, "Student performance has improved beginning with one section at 83% passing rate in fall of 2010 without Connect, and moving forward to six sections (three hybrid; three online) at 92% passing rate in fall of 2014 with Connect. I am pleased with the technology and various options McGraw Hill has to offer…. by fall of 2014, the final exam score average increased by 20%".
Professor Andrean incorporated SmartBook into chapter assignments across the course. She was able to devise exams and media offerings that more comprehensively integrate chapter material and support targeted learning of the content. Students have responded positively to this targeted approach, with improved outcomes in terms of attendance, retention and final grades since implementation of Connect. Implementation of Connect has also decreased the amount of time Professor Andrean must devote to grading, in addition to giving her clear and immediate insight into students' needs based on performance data.
Bridge Valley Community and Technical College is a two-year institution serving 2,227 students at two campuses in South Charleston, WVA and Montgomery, WVA. The College offers 22 associate degrees and 17 Applied Science Degree certificates. Bridge Valley also has articulation agreements for students in nursing, business, computer/information technology and paralegal studies.
Course Description:
General Psychology surveys the discipline of psychology, including its various concepts. Topics covered by the course include the origins of psychology; the growth and development of human behavior; language; conditioning; and learning. The curriculum utilizes significant and timely research to examine real-world applications within our diverse, ever-evolving society.
Course Grade
The grade is determined by the following:
40% Connect Homework (SmartBook)
40% Connect Exams
20% PowerPoint Presentation (File Attachment Assignment in Connect)
Implementation of McGraw-Hill Connect
Professor Andrean requires the students to complete the SmartBook chapter assignment prior to class (average time required 30 minutes) with a 40 question exam covering the chapter taken in the computer lab classroom during class. "The students love SmartBook because it covers specific content that will be on their exam for that particular chapter." She also is able to utilize available YouTube videos to present additional content. "I find a relevant, short, and precise YouTube video (e.g., Pavlov's Dogs in Classical Conditioning) for a web activity assignment. Then the material all ties together for better understanding."
To build her exams, she "reviews the SmartBook chapter content and practice questions and then selects exam questions from the testbank that tie it all together." To save time and further support effective student study time, she uses chapter exam questions to create study guides for the final comprehensive exam, which she has found to be quite effective in boosting student performance. She states, "I use the chapter exams that have been taken throughout the semester as a study guide and allow the students to use teamwork to review for the final. This eliminates preparing a study guide, and they can visually see what questions they missed on the exam. The final result is that the students feel more confident and are more at ease for the comprehensive exam."
Professor Andrean reports: "Everything is at the student's fingertips. All they have to do is apply themselves. My goal is for the students not to memorize and dump, but to retain the information…. I believe Connect to be a total package as far as reaching students to meet their highest potential in whatever capacity they learn best."
Since incorporating Connect, student engagement has improved; according to Andrean, "Attendance has increased and students enjoy the interactive activities while gaining knowledge they will use later. 92% of students (compared to 89% without Connect) stay in attendance through the semester." She adds, "I have more time in class to engage students in discussion and activities with the help of Connect and PsychInteractive." Furthermore, the number of online classes she teaches has increased four-fold, and those have grown to full capacity.
Student performance has also improved. Professor Andrean reports that scores for both the first test of the course and the final comprehensive exam rose. The pass rate for the course increased from 83% to 89%, and the number of 'A' grades earned increased as well.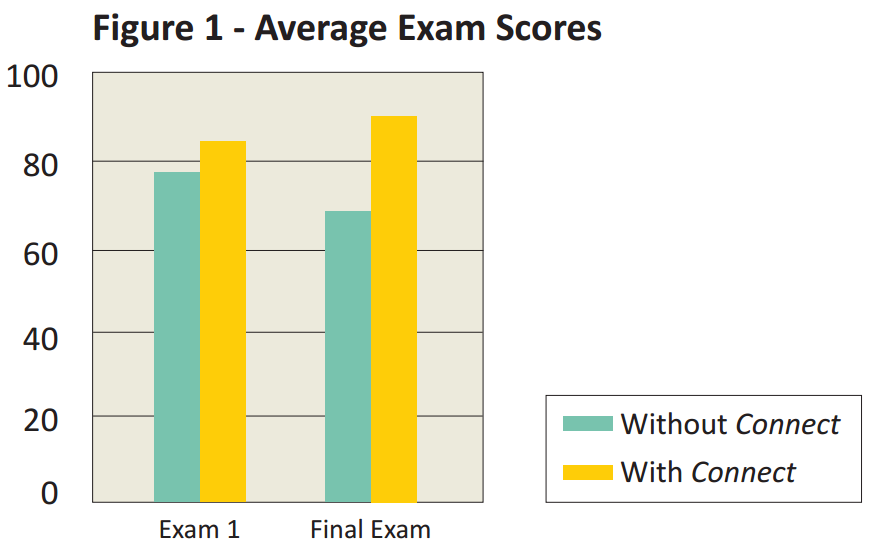 After implementing Connect, Professor Andrean saw the amount of time she spent grading decrease dramatically, from four days to one day a week, and the amount of time she spent reviewing homework was halved, from four days to two days. This allows her more time to review Connect reports, which in turn allows her to identify and intervene with at-risk students. "I analyze overall time and effort contributed by the student. I send out smoke signals to those that may not be completing the assignments by reiterating the points associated with the assignment".
She observes that students are generally very receptive to online learning, as it reflects the technology-based culture to which they are accustomed. For her, positive changes in student outcomes, as well as increased enrollment in the course, both coinciding with her implementation of Connect are confirmation of its effectiveness.
"When my students are happy, I am happy, the dean is happy, and the college is happy…"
Since implementing Connect, Professor Andrean has seen an increase in the number of students enrolled in and remaining in her course, as well as the numbers of students passing with higher exam scores and grades in the course. She is firmly convinced that the ability to tailor exams and assignments to material being covered, as well as the control over the learning process that Connect affords students, is the driving force behind Connect's benefits for her students.