McGraw-Hill Offers Micro-Credentials to Help Bridge Workforce Skills Gap Among College Students
Published March 4, 2019
---
Available through the McGraw-Hill SIMnet® platform, badges recognize student competencies in using Microsoft® Office applications
NEW YORK (March 4, 2019) – As part of its effort to keep college students engaged in their courses and help them garner the skills they need to successfully enter the workforce, McGraw-Hill announced the launch of a new micro-credentialing program for Microsoft® Office applications.
McGraw-Hill is working with Accredible, a company that produces digital certificates and badges for leading higher education institutions, to enable no-cost credentialing through the McGraw-Hill SIMnet® platform. SIMnet is the premier solution for online Microsoft Office training and assessment within higher education.
For more information about SIMnet, visit: https://www.mheducation.com/highered/simnet.html
"We are thrilled to further expand our commitment to help more students succeed and to prepare them for the workforce," said Scott Virkler, Chief Product and Operating Officer for McGraw-Hill's higher education group. "Micro-credentialing creates a common currency for recognizing critical skills that employers and students both understand and value. These badges and certificates are great motivational tools to keep students engaged and progressing through course material. And, for those already in the workforce, micro-credentialing provides an opportunity for employees to develop new and different skills over the course of their careers."
Aligned with industry standards, McGraw-Hill color-coded belts are awarded to students for mastery of Microsoft Office skills, which are top computer and information skills needed in the workforce today. Students can then post these digital certificates of achievement through social media and add them to their resumes to showcase their accomplishments and reach the employers who have available positions.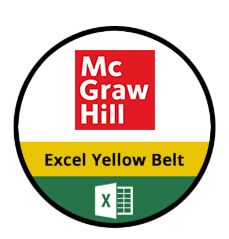 "Badges give students recognition for the skills they've learned and achievements they've accomplished," said Casey Wilhelm, an instructor who uses the badging program at North Idaho College in Coeur d'Alene, Idaho. "SIMnet badges provide verified evidence to employers that a student has demonstrated specific competencies using Microsoft Office applications in a project-based environment."
About McGraw-Hill
McGraw-Hill is a learning science company that delivers personalized learning experiences that help students, parents, educators and professionals drive results. Headquartered in New York City, McGraw-Hill has offices across North America, Asia, Australia, Europe, the Middle East and South America, and makes its learning solutions for PreK-12, higher education, professionals and others available in more than 60 languages. Visit us at mheducation.com or find us on Facebook, Instagram, LinkedIn or Twitter.
Contact
Tyler Reed
McGraw-Hill
(646) 766-2951
tyler.reed@mheducation.com