Celebrating the uniqueness of every educator
Published November 13, 2021
---
This week is McGraw Hill Educator Week!
In November of last year, we held our first week-long celebration of educators. We were so moved by the dedication and heroics of those who supported children and families throughout the COVID-19 pandemic and wanted to thank them in unison. As an education company, we have the privilege of supporting millions of teachers and instructors around the world with our materials and services. And I know each of our 3,700 McGraw Hill employees has had a unique experience with a teacher who has helped them find their path – as I'm sure you all have as well. Needless to say, we admire them!
This year, we celebrate the uniqueness that makes each individual educator special, and the unique paths that educators have taken to the classroom. No two teachers are exactly alike, and those differences are what help them make the connections with learners that transform lives.
Take Corwyn Collier, a high school history teacher in Maple Heights, Ohio. Corwyn served in the Army National Guard and was deployed to Iraq in 2009 where he was hit and injured by a roadside bomb. While he recovered in Walter Reed Hospital, his path turned toward teaching.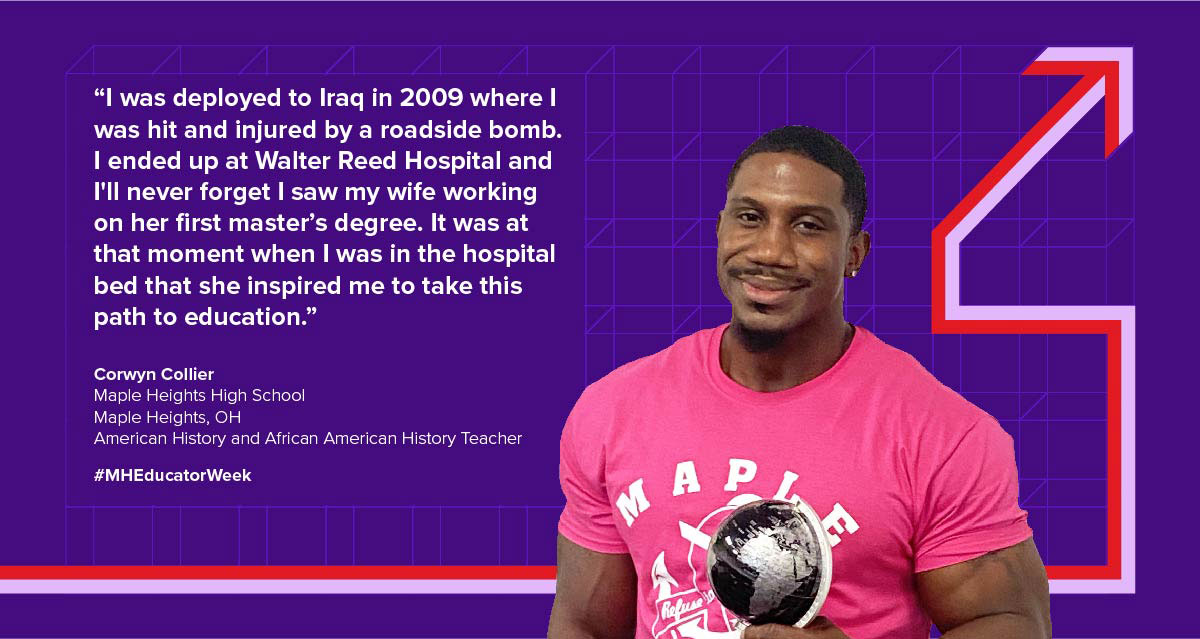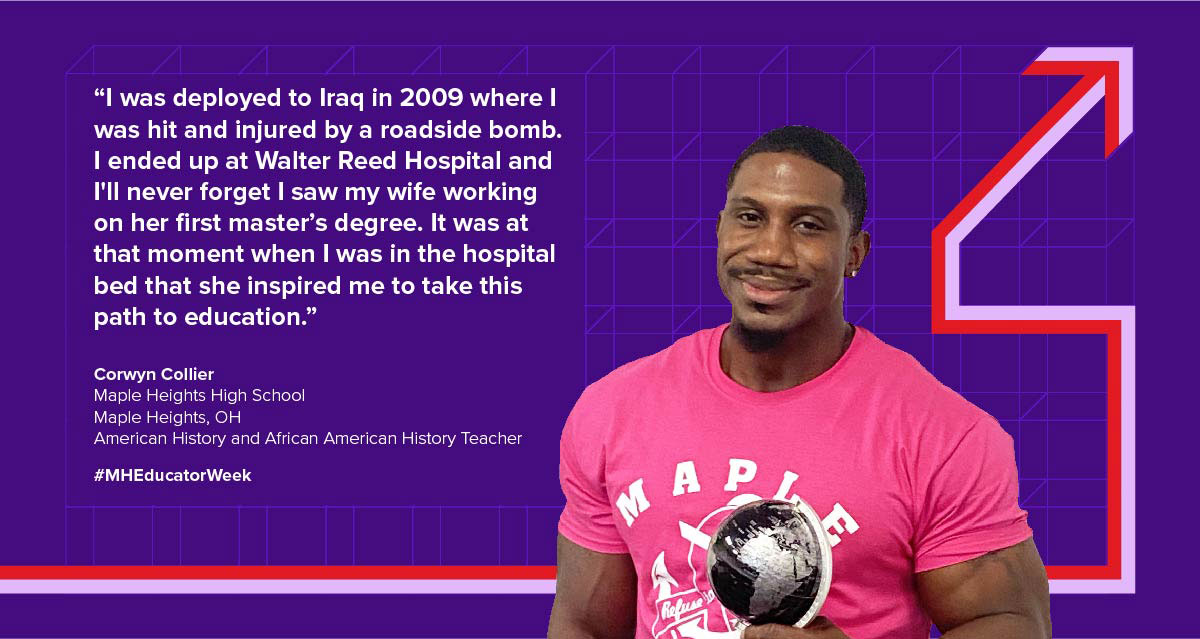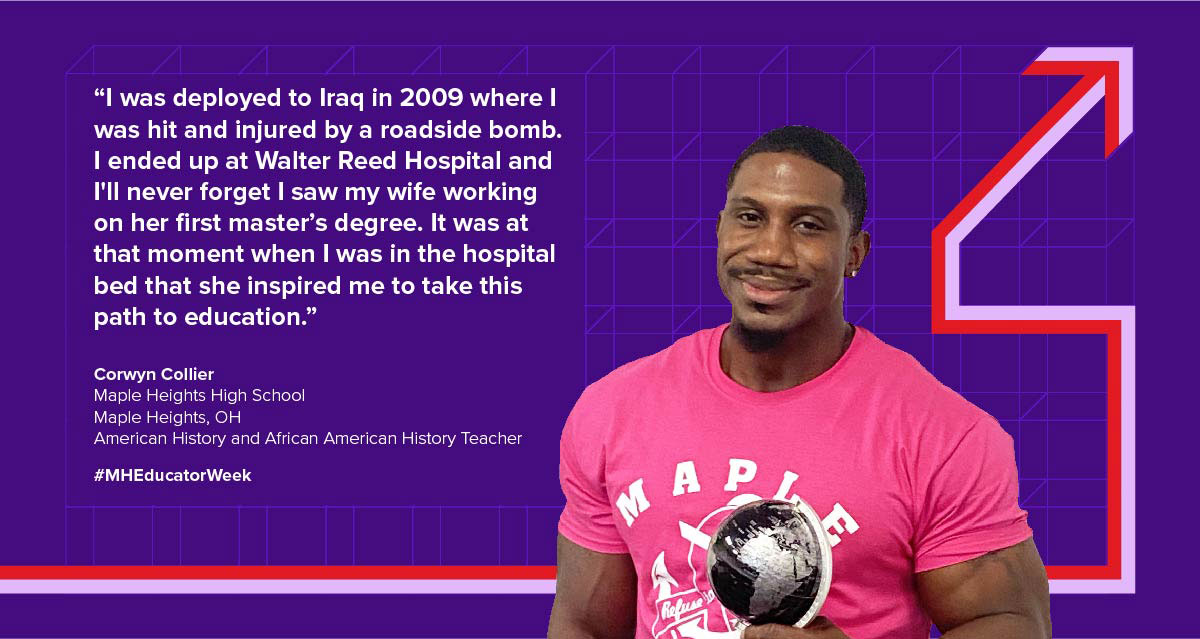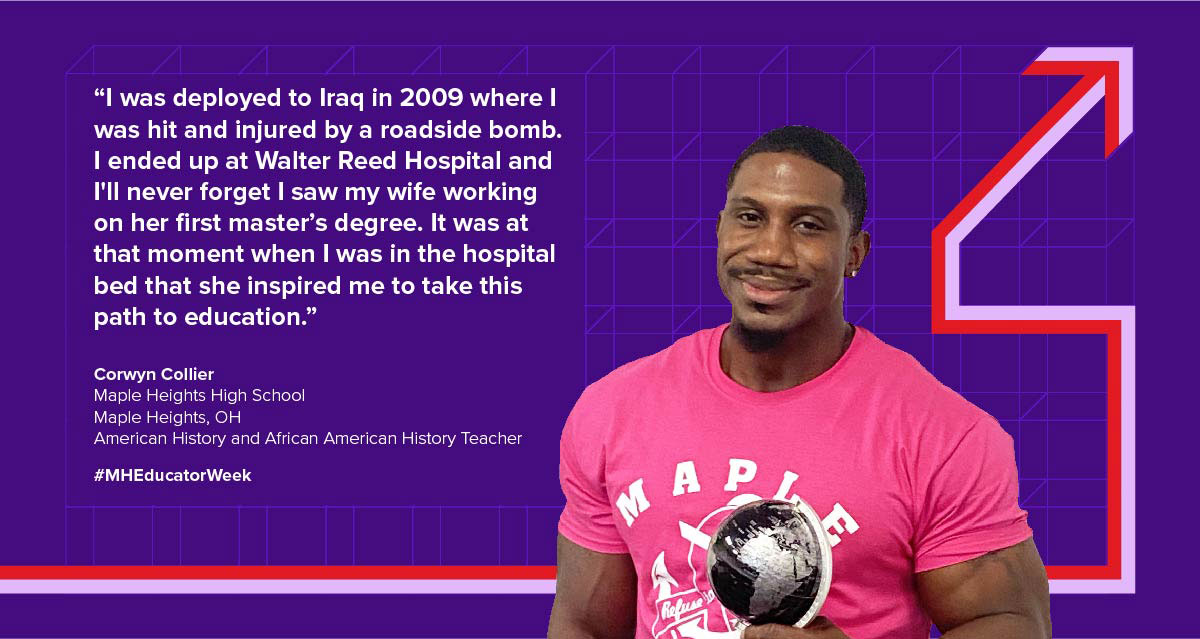 "I'll never forget I saw my wife working on her first master's degree," he said in an interview we did prior to Educator Week. "It was at that moment when I was in the hospital bed that she inspired me to take this path to education. My wife is a dedicated individual and her interaction with kids had always inspired me. As I was reflecting on her, it made me realize that some of the biggest influences in my life were my teachers. I knew I was blessed with a second chance of life, and I wanted to be what my teachers were to me to the next generation."
Corwyn is truly a unique teacher, bringing his unique past into the classroom to help him make social studies come alive.
"I want my students to see more than a teacher," he said. "But as someone that they can feel vulnerable with and realize that I'm there for them. I like creating fun and unique lessons that are relatable to the world they live in. The more a student can connect the past to the present the easier it is for them to retain the information and form their own opinions critically. One of the most unique approaches that helps as an American History teacher is to be a former war vet who can speak about his experiences and compare them to the past."
Thanks, Corwyn, for telling us your story.
During McGraw Hill Educator Week this week, we'll be highlighting educators' unique paths and unique teaching styles on TwitterC, InstagramC, FacebookC and LinkedInC.
And please venture over to Facebook to post on our bulletin board about a unique teacher or instructor who had an impact on your own life's path.
Happy Educator Week!
Related Links: