Dr. Jill Biden on Austin Community College's ALEKS-powered math lab: "I hope other community colleges see this and adopt it."
Published March 25, 2015
---
Earlier this month at SXSWedu, Dr. Jill Biden, second lady of the United States, delivered a keynote address about the important role that U.S. community colleges play in preparing a large number of students for success in the workforce. The remarks were delivered as part of SXSWedu's Getting to College Graduation Summit, sponsored by the Bill and Melinda Gates Foundation.
According to the Community College Research Center at Columbia University's Teachers College, approximately 45% of the nation's undergraduate students are enrolled in public two-year colleges. Of the importance of community colleges, Dr. Biden said, "[Community colleges] work with all students to help them become who they aspire to be. We all reap the benefits when our citizens are well educated and well trained. It means that our economies are more vibrant and our future is brighter."
However, many of the challenges facing the nation's higher education system—including low graduation and retention rates—are felt most acutely in the world of community colleges. In addition, nearly 50% of 2-year students enter remediation, with four in 10 students never completing these remedial courses. With community colleges playing such a critical role in the nation's higher education system, the need for innovation—and innovation that targets students in developmental courses—is high.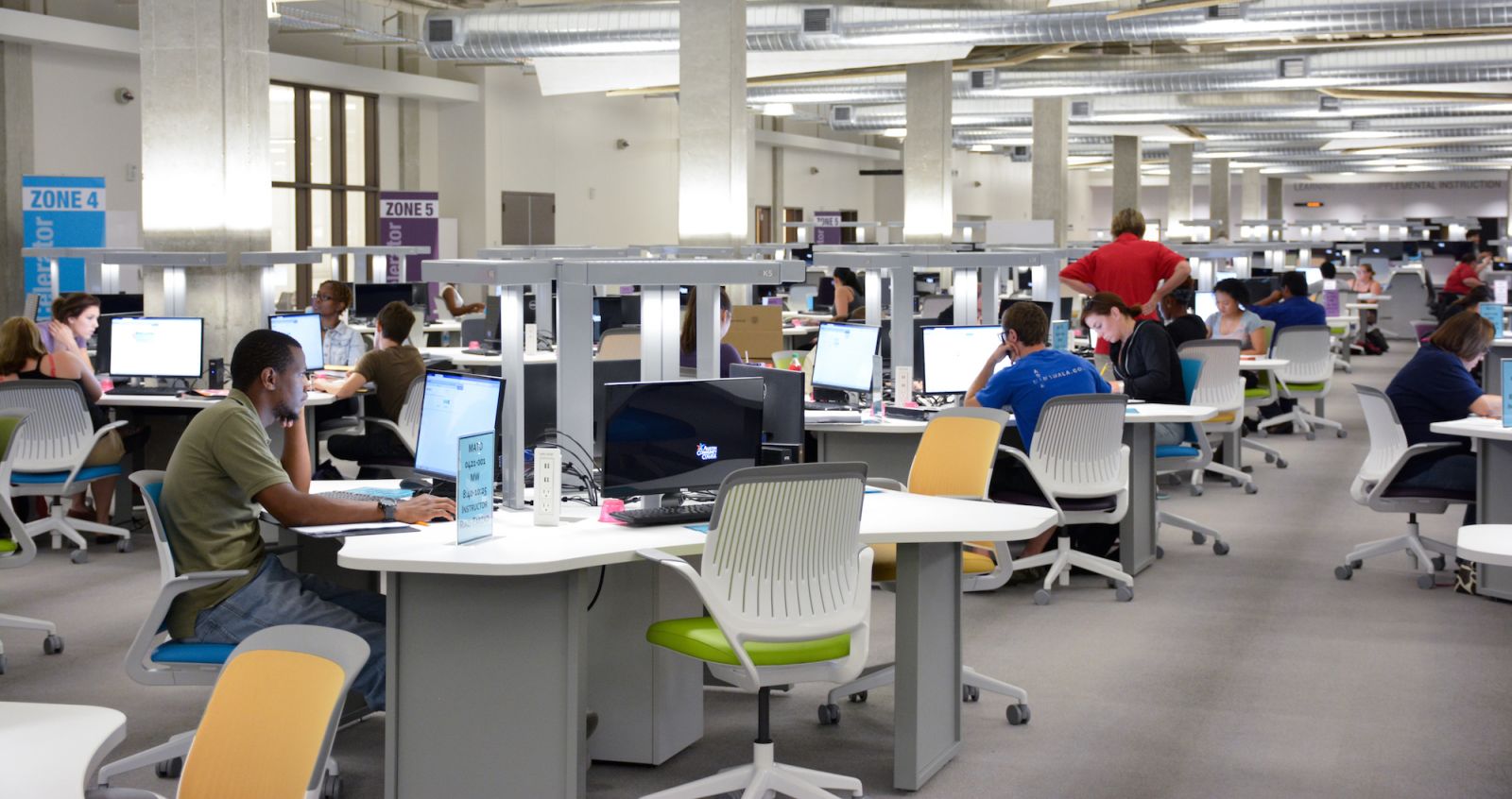 The day before making her remarks at SXSWedu, Dr. Biden and U.S. Under Secretary of Education Dr. Ted Mitchell
paid a visit to Austin Community College
, home of the ACCelerator, or the "world's largest math lab." The ACCelerator is a 600-seat facility contained within a state-of-the art learning center built on the former site of Austin's Highland Mall, in a 200,000 square foot space previously occupied by J.C. Penney. It has the capacity to serve half of the district's over 41,000 credit students in developmental math and is
powered by McGraw-Hill's ALEKS
adaptive math program.
ALEKS uses research-based artificial intelligence to rapidly and precisely determine each student's level of knowledge, pinpointing exactly what a student knows and doesn't know. ALEKS then instructs students on the topics they're most ready to learn, constantly updating each student's knowledge state and adapting to the student's individualized learning needs.
During her visit to the ALEKS-powered ACCelerator, Dr. Biden said: "I teach a lot of developmental students and a lot of returning students, and the one stumbling block does seem to be math and math anxiety—and 'can I do it?' This seems to be so empowering and positive, and students can see immediate success. So it gives them the confidence [to succeed]… I hope other community colleges come and see this and adopt it on their own campus."
As Under Secretary Mitchell wrote in a blog post, "The Austin Community College ACCelerator lab is just one example of innovative thinking by community college leaders, a strategic use of technology tools, and the hard work and dedication of students."
Watch a tour of the ACCelerator shown at EDUCAUSE 2014:
The ACCelerator and Austin Community College have garnered attention across the world of higher education for their innovative approach to improving student outcomes, with Inside Higher Ed reporting that "the semester-to-semester attrition rate for students dropping out of the new remedial math course is less than half that of the traditional version," a stat that Dr. Biden echoed in her speech at SXSWedu. Also, no less a source than The Atlantic has also written about Austin Community College's creative use of the former mall space.
At McGraw-Hill, we're proud of the recognition that Austin Community College has received for the ACCelerator, and we're inspired by the efforts of ACC and all of our customers who are creatively using our personalized learning technologies to help promote student success. We can't wait to bring you more stories like these in the future!