Austin Community College and McGraw-Hill Unveil World's Largest Adaptive "Math Emporium" at EDUCAUSE 2014
Published September 30, 2014
---
Powered by ALEKS, the 600-seat math lab is available to serve all incoming Austin Community College students beginning in the 2014-2015 school year
ORLANDO, Fla., Sept. 30, 2014 /PRNewswire/ -- (EDUCAUSE booth #411) -- Today at the 2014 annual EDUCAUSE conference, Austin Community College and McGraw-Hill unveiled the world's largest "math emporium," a 600-seat lab that has the capacity to serve half of the district's over 41,000 credit students in developmental math. Known as the ACCelerator, the emporium is contained within a state-of-the art learning center built on the former site of Austin's Highland Mall, in a 200,000 square foot space previously occupied by J.C. Penney. The ACCelerator is powered by McGraw-Hill's adaptive math program, ALEKS®.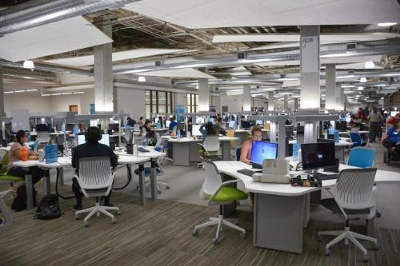 WATCH: Austin Community College and McGraw-Hill will host a live streaming demonstration of the ALEKS-powered math lab on Tuesday, Sept. 30, at 3:30 p.m. ET / 2:30 p.m. CT. View the livestream.
The emporium model for math education – sometimes called the "solution to the math problem" – reimagines how colleges approach developmental math education. While college freshmen who arrived unprepared for college-level math would historically have been required to complete extensive developmental math courses before moving on to credit-bearing coursework, the new emporium model allows each student to more efficiently and effectively address his or her specific knowledge deficiencies, ultimately allowing for a faster route to higher-level courses.
"Even just a few weeks into the new semester, we've already seen almost unbelievable growth in students' knowledge and understanding – and that's exactly the point," said Stacey Güney, director of the Highland Learning Center ACCelerator at Austin Community College. "The beauty of this model is that we see students mastering what we once might have considered a semester's worth of material by the end of September. Particularly for students who are a bit behind their peers, that kind of a leg up is absolutely invaluable, and will impact their educational career for years to come."
ALEKS uses research-based artificial intelligence to rapidly and precisely determine each student's level of knowledge, pinpointing exactly what a student knows and doesn't know. ALEKS then instructs students on the topics they're most ready to learn, constantly updating each student's knowledge state and adapting to the student's individualized learning needs. The solution is designed to be highly flexible for students and schools with varied technology capabilities.
ALEKS, which is already being used in colleges throughout the country, has been demonstrated to significantly improve math readiness and retention. In recent findings from the University of Northern Iowa, ALEKS was shown to increase retention among at-risk mathematics students from 40 percent to 75 percent in some courses.
"In today's increasingly competitive job market, a college education has become something of a prerequisite – and, for a huge number of students every year, the swift completion of a developmental requirement is the first vital step toward graduation," said Brian Kibby, president of McGraw-Hill's Higher Ed group. "The math emporium model is one of the most innovative and effective approaches to college remediation that we've ever seen, and the adaptive learning engine that powers ALEKS is uniquely suited to deliver just the kind of self-paced, individualized learning that this model calls for. We're incredibly proud of this latest collaboration with Austin Community College, and we couldn't be more excited to see the impact that it has on our students."
EDUCAUSE attendees can watch the livestream by visiting McGraw-Hill at EDUCAUSE booth #411. The company will also be tweeting live throughout the event via the @MHEducation Twitter handle, using the hashtag #ACCeducause.
About McGraw-Hill
McGraw-Hill delivers personalized learning experiences that improve outcomes for students, educators and professionals around the world. The Company has offices across North America, India, China, Europe, the Middle East and South America, and makes its learning solutions available in more than 60 languages. Visit us at mheducation.com or find us on Facebook or Twitter.