Helping kids start the school year off on the right foot with Operation Backpack®
Published September 9, 2022
---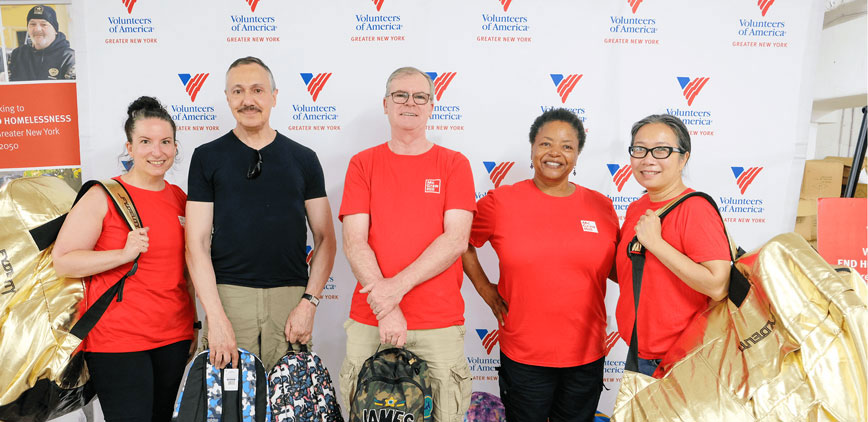 For much of this year, the ground floor of the Starrett-Lehigh Building in New York City has played host to a splashy art exhibition that has attracted visitors from around the globe. But for several weeks this summer, something just as noteworthy has been happening in a warehouse two floors above.
Scores of volunteers have been filling brand-new backpacks with fresh school supplies, which will join some 15,000 New York City children on their first day of school. Similar work is also happening around the country as part of Operation Backpack®, a Volunteers of America (VOA) initiative that provides much-needed school supplies to children who are at-risk or living in homeless or domestic violence shelters.
"As an organization, our mission is to break the cycle of homelessness, especially for families," says Paige O'Brien, manager of corporate and community engagement at Volunteers of America—Greater New York. "Research shows that breaking the cycle of intergenerational poverty starts with education." By giving a child the same supplies as their classmates who aren't living in a shelter, you can help set them up for success and feel confident and proud, she adds. It's also one less thing for the parent, caregiver or teacher to worry about providing.
Since 2016, McGraw Hill has been a part of the effort, with employees donating thousands of dollars each year and—crucially for VOA—manpower. This year, teams are working on-site in New York City; Irvine, California; and Columbus, Ohio. A typical shift lasts a few hours, and tasks run the gamut from filling backpacks to organizing supplies to wheeling backpacks to vans that will ferry them to shelters.
While there's not a lot of downtime in the warehouse, there's no shortage of joy, McGraw Hill volunteers say. Besides the excitement of seeing your coworkers, there's also the satisfaction of knowing you're doing your part to help a child start the school year with confidence.
Here's what that looked like during a recent afternoon volunteer event in New York City.
1:15 p.m.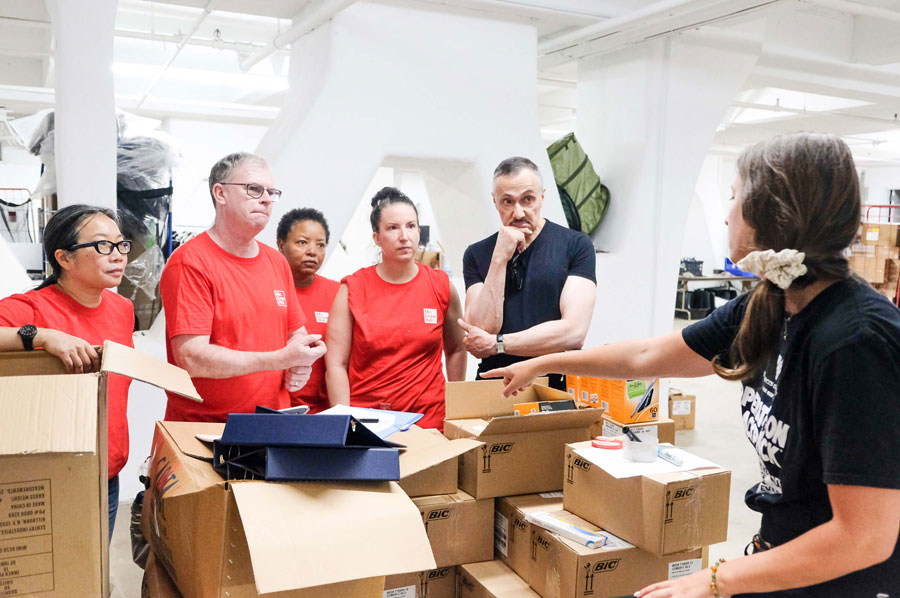 From left, Yin Wong, David O'Byrne, Jo Ann Craig, Marni Sabin and Howard Gutner start the shift with instructions from Paige O'Brien.
O'Brien stands in front of a wall of neatly organized backpacks. She holds up a form that lists the total number of backpacks and individual supplies needed (broken down by pre-K through 4th grade or 5th through 12th grades) and which shelter everything is going to. Taking a deep breath, she looks around at the group of McGraw Hill volunteers and starts running through the form. New York City public schools open exactly two weeks from today, and you can tell she's given these instructions before.
O'Brien doesn't mind the repeat performance. She and her coworkers are grateful for the assistance. She remembers how difficult it was to find volunteers two years ago, during the height of the pandemic, and how McGraw Hill employees were one of the ones who raised their hands. "I remember them being like, 'Yeah, of course we're coming, even if it's just two of us,'" she says. "It was the middle of a pandemic, but there was no question about it."
1:57 p.m.
In every movie about teams, there's a scene where the group works perfectly in lockstep while a peppy song plays in the background. That's pretty much what's happening in the warehouse. While Whitney Houston sings about wanting to dance with somebody, Howard Gutner, Jo Ann Craig and Marni Sabin count wide- and college-ruled journals, and David O'Byrne and Yin Wong carefully dole out 90 pencils. Minutes later, O'Brien wheels over a box of folders—reinforcements.
"It's controlled chaos," O'Byrne says with a smile. A project manager for McGraw Hill's School group, he's volunteered before for Operation Backpack®, filling backpacks in the warehouse and in McGraw Hill's office. Working in the warehouse is much more physical and hands-on. "But it's a good, satisfying feeling, because at the end of the day, you feel like you've done something," he adds.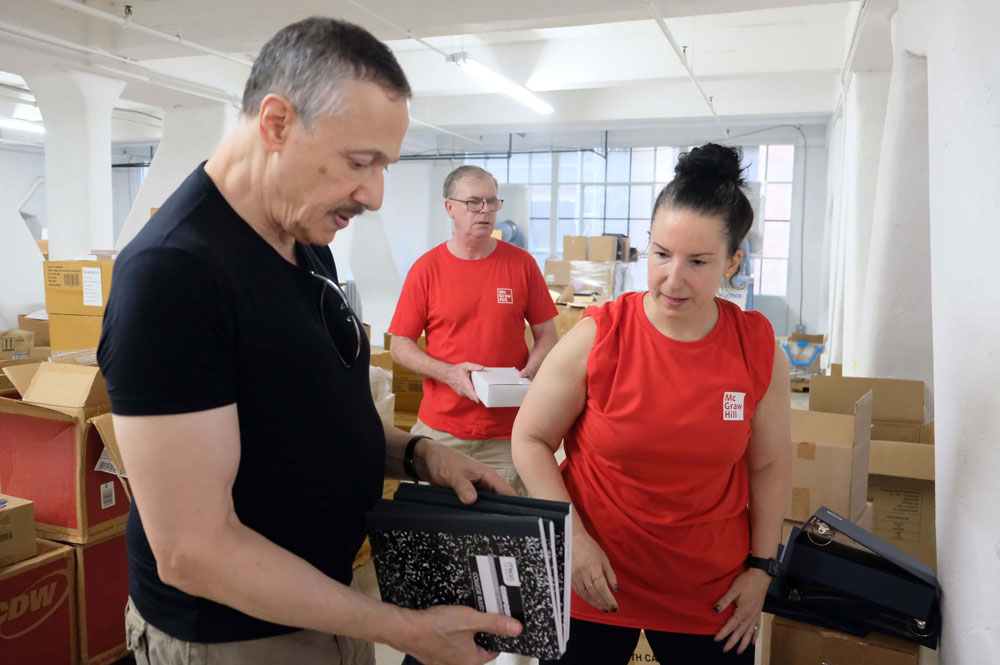 In just a few hours, the group filled hundreds of backpacks for kids living in New York City's homeless or domestic violence shelters.
Besides the joy of helping students, O'Byrne most looks forward to the chance to see his coworkers in person. "Howard [Gutner] and I used to see each other every day, multiple times a day," he says, nodding in his friend's direction.
Reconnecting with coworkers is also one of the reasons why Gutner, a senior academic designer for McGraw Hill's School group, looks forward to this event. He still has fond memories of volunteering in the summer of 2020. "We all pitched in, and everybody was working their best effort," he says. "It was great."
The annual event is also meaningful for Craig, senior manager, communications for McGraw Hill's Corporate Communications group. "I love being a witness to how generously our employees give and come together for the greater good of supporting underserved students in our communities," she says.
2:40 p.m.
"I love school supplies!" Wong says gleefully. She's not kidding. There's a drawer and a cabinet in her home devoted to the stuff. With her pencil counting finished for the time being, she turns her attention to the folders.
Wong's days of buying school supplies have officially ended; she dropped her son off at college a week ago. He went to public school in the city, which gave Wong, a senior product designer in McGraw Hill's School Shared Services, a first-hand look at the widening discrepancies between families, even in her gentrified neighborhood. That type of experience helps give today's work new meaning. "You have to do what you can to make all kids feel that they are empowered, that it's equitable, that they have the resources they need—period," she says.
3:35 p.m.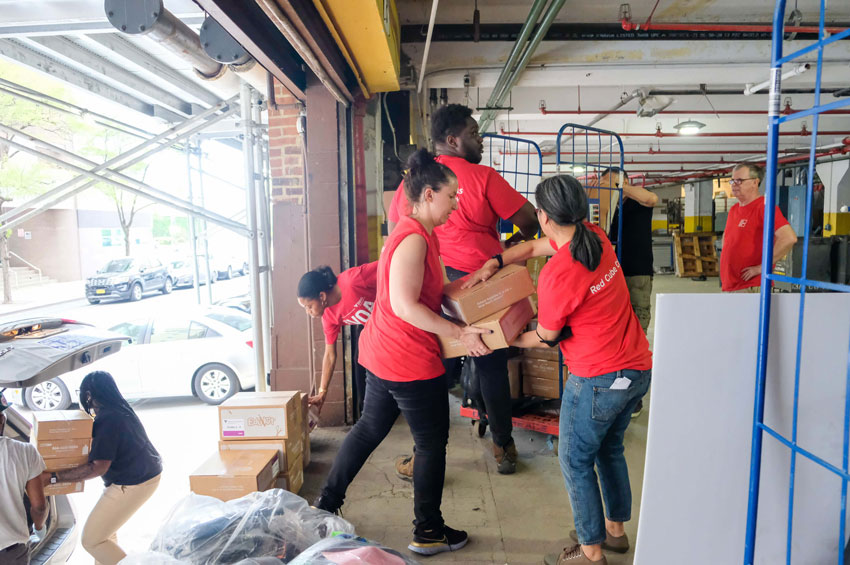 Volunteers didn't just pack backpacks, they also helped load them into cars bound for shelters.
The last of the backpacks and boxes of supplies are being loaded into the carts, which the team will bring down to the loading docks for pickup by a shelter van. It's hard to look at the hundreds of backpacks bound for their new owners and not feel a sense of pride.
"Thinking about the students and the teachers we're helping brings me to work every day," says Sabin, senior director of academic design for McGraw Hill's School group. But it also compelled her to sign up for the Operation Backpack® event for the second year in a row. "How can we make students successful? That's what I think about in my job every day. So this [event] is just another way to do that within the city."
A longtime volunteer—she used to coach gymnastics for a nonprofit in the city—Sabin understands that while monetary donations are important, there's also value in showing up. "If you don't have people to come and actually help do the work, then how would the kids get all these backpacks?" she points out.
4:02 p.m.
If O'Brien starts every volunteer shift by giving instructions, she likes to end the day by telling each team the total number of backpacks they filled. It's a concrete way for them to connect with the larger effort. "I'll say, 'On the first day of school in New York City, you can know that you make an impact in the lives of this many children because you were in the warehouse today," she says. "It's numbers, but the numbers translate to children."