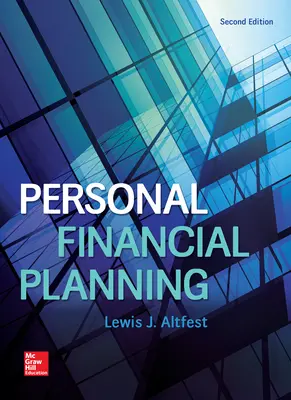 Personal Financial Planning
2nd Edition
By Lewis Altfest
ISBN10: 1259277186
ISBN13: 9781259277184
Copyright:
2017
Product Details

+
* This text goes beyond the traditional personal finance texts to teach students how to do actual financial planning and integrates the theory and practice of personal finance.
* This program combines a total portfolio management approach with an ongoing, integrated case study providing a unique take on this important subject.
* Provides a platform for further research and innovation within the discipline.
Read more +
---
Instructors: choose ebook for fast access or receive a print copy.
---
Program Details
PART I PLANNING BASICS
Chapter 1 Introduction to PFP
Chapter 2 Time Value of Money
Chapter 3 Beginning the Planning Process
PART II ONGOING HOUSEHOLD PLANNING
Chapter 4 Household Finance
Chapter 5 Financial Statements Analysis
Chapter 6 Cash Flow Planning
Chapter 7 Debt
PART III PORTFOLIO MANAGEMENT
Chapter 8 Non Financial Investments
Chapter 9 Financial Investments
Chapter 10 Risk Management
PART IV SPECIALIZED PLANNING
Chapter 11 Other Insurance
Chapter 12 Retirement Planning
Chapter 13 Educational Planning
PART V TAX AND ESTATE PLANNING
Chapter 14 Tax Planning
Chapter 15 Estate Planning
PART VI PLANNING ESSENTIALS
Chapter 16 Stocks, Bonds and Mutual Funds
Chapter 17 Background Topics
PART VII Integrated Decision Making
Chapter 18 Capital Needs Analysis
Chapter 19 Behavioral Financial Planning
Chapter 20 Completing the Process
PART VIII FURTHER SPECIALIZED TOPICS A. Special Circumstances Planning B. Career Basics C. Regulation Appendix A Modern Investment Theory Appendix B Employee Benefits Appendix C Behavioral Finance-Applications Appendix D Comprehensive Financial Plan-Dan and Laura *Web based
Chapter Goals
The goals of each chapter are stated at the beginning of that chapter. They are most often expressed in action-oriented terms to emphasize the usefulness of the material in daily situations.
Real-Life Planning
Almost every chapter starts with a minicase called "Real-Life Planning." It sets the stage for the educational material to follow. Students have found these "stories," largely based on the author's own experiences with clients and told in a nontechnical manner, an interesting, easy-to-relate-to way to begin the chapter.
Comprehensive Financial Plan
An actual comprehensive financial plan is provided on the website. It is based on the Dan and Laura case study presented by chapter, but this time in a more compact manner after final decisions have been made. Students should gain an appreciation for how an actual financial plan looks and, together with chapter presentations, how it is developed.
CFP® Certification Examination Questions
A broad list of former CFP® certification examination questions is provided. These demonstrate selected areas of emphasis for those contemplating taking the exam. They also present many practical questions that require students to demonstrate knowledge of the chapter's topics.
Instructor's Manual
Includes solutions for end-of-chapter questions, problems, and case studies.
Test bank
Word files containing 30–40 questions, including true-false, multiple choice, and essays, prepared by Aron Gottesman, Associate Professor of Finance, Pace University.
PowerPoint slides
PowerPoint slides for each chapter to use in classroom lecture settings, created by Aron Gottesman, Associate Professor of Finance, Pace University.
Detailed course syllabus
including recommended chapter coverage by individual class session provided by type of student (undergraduate, graduate finance major, non-finance major, CFP® prep, combined regular survey and CFP® prep, simpler approach, adult education).
Comments and suggestions
on introducing and conveying material is given by chapter. The comments are based on the author's more than 30 years of teaching the course.