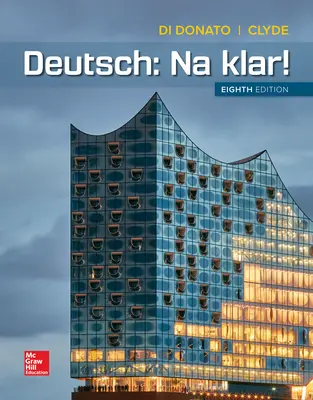 Deutsch: Na klar!
8th Edition
By Robert Di Donato and Monica Clyde
ISBN10: 1260016056
ISBN13: 9781260016055
Copyright: 2020
Product Details

+
Deutsch: Na Klar! gives students everything they need to build a solid foundation in Introductory German, with its unique integration of authentic materials and targeted listening and speaking activities, contemporary culture, and communicative building blocks.
Program Details
Preface
Einführung
Kapitel 1 Das bin ich
Kapitel 2 Wie ich wohne
Kapitel 3 Familie und Freunde
Kapitel 4 Mein Tag
Kapitel 5 Einkaufen
Kapitel 6 Wir gehen aus
Kapitel 7 Freizeit und Sport
Kapitel 8 Wie man fit und gesund bleibt
Kapitel 9 In der Stadt
Kapitel 10 Auf Reisen
Kapitel 11 Der Start in die Zukunft
Kapitel 12 Haus und Haushalt
Kapitel 13 Medien und Technik
Kapitel 14 Die öffentliche Meinung
Appendix A
Hin und her: Part 2
Appendix B
Grammar Tables
Vocabularies
German-English Vocabulary
English-German Vocabulary
Index