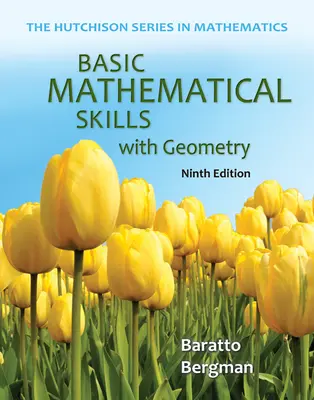 Basic Mathematical Skills with Geometry
9th Edition
By Stefan Baratto
ISBN10: 0073384445
ISBN13: 9780073384443
Copyright:
2014
Product Details

+
The book is designed for a one-semester course in basic math and is appropriate for lecture, learning center, laboratory, and self-paced settings. The authors use a three-pronged approach of communication, pattern recognition, and problem solving to help students become effective problem-solvers. Features such as Tips for Student Success, Check Yourself exercises, and Activities underscore this approach and the underlying philosophy of mastering math through practice. 
Read more +
---
Instructors: choose ebook for fast access or receive a print copy.
---
Program Details
Basic Mathematical Skills with Geometry, 9th edition, by Baratto, Bergman, and Hutchison
Preface
Applications Index
Chapter 1- Operations on Whole Numbers
1.1 The Decimal Place-Value System
1.2 Addition
1.3 Subtraction
Activity 1: Population Changes
1.4 Rounding, Estimation, and Order
1.5 Multiplication
1.6 Division
Activity 2: Restaurant Management
1.7 Exponential Notation and the Order of Operations
Activity 3: Population Growth
Chapter 1: Summary
Chapter 1: Summary Exercises
Chapter 1: Chapter Test
Chapter 2- An Introduction to Fractions
Chapter 2: Prerequisite Check
2.1 Prime Numbers and Divisibility
2.2 Factoring Whole Numbers
2.3 Fraction Basics
2.4 Simplifying Fractions
Activity 4: Daily Reference Values
2.5 Multiplying Fractions
Activity 5: Overriding a Presidential Veto
2.6 Dividing Fractions
Activity 6: Adding a Recipe
Chapter 2: Summary
Chapter 2: Summary Exercises
Chapter 2: Chapter Test
Chapters 1-2: Cumulative Review
Chapter 3- Adding and Subtracting Fractions
Chapter 3: Prerequisite Check
3.1 Adding and Subtracting Like Fractions
3.2 Common Multiples
3.3 Adding and Subtracting Unlike Fractions
Activity 7: Kitchen Subflooring
3.4 Adding and Subtracting Mixed Numbers
Activity 8: Sharing Costs
3.5 Order of Operations with Fractions
Activity 9: Aerobic Exercise
Chapter 3: Summary
Chapter 3: Summary Exercises
Chapter 3: Chapter Test
Chapters 1-3: Cumulative Review
Chapter 4- Decimals
Chapter 4: Prerequisite Check
4.1 Place Value and Rounding
4.2 Adding and Subtracting Decimals
4.3 Multiplying Decimals
Activity 10: Safe Dosages?
4.4 Dividing Decimals
Activity 11: The Tour de France
4.5 Converting Between Fractions and Decimals
Activity 12: Terminate or Repeat?
Chapter 4: Summary
Chapter 4: Summary Exercises
Chapter 4: Chapter Test
Chapters 1-4: Cumulative Review
Chapter 5- Ratios and Proportions
Chapter 5: Prerequisite Check
5.1 Ratios
Activity 13: Working with Ratios
5.2 Rates and Unit Pricing
Activity 14: Baseball Statistics
5.3 Proportions
5.4 Solving Proportions
Activity 15: Burning Calories
Chapter 5: Summary
Chapter 5: Summary Exercises
Chapter 5: Chapter Test
Chapters 1-5: Cumulative Review
Chapter 6- Percents
Chapter 6: Prerequisite Check
6.1 Writing Percents as Fractions and Decimals
6.2 Writing Decimals as Fractions and Percents
Activity 16: M&M's
6.3 Solving Percent Problems
Activity 17: A Matter of Interest
6.4 Percent Applications
Activity 18: Population Changes Revisited
Chapter 6: Summary
Chapter 6: Summary Exercises
Chapter 6: Chapter Test
Chapters 1-6: Cumulative Review
Chapter 7- Measurement
Chapter 7: Prerequisite Check
7.1 The U.S. Customary System of Measurement
Activity 19: Measurements
7.2 Metric Units of Length
Activity 20: Computers and Measurements
7.3 Metric Units of Weight and Volume
7.4 Converting Between Measurement Systems
Activity 21: Tool Sizes
Chapter 7: Summary
Chapter 7: Summary Exercises
Chapter 7: Chapter Test
Chapters 1-7: Cumulative Review
Chapter 8- Geometry
Chapter 8: Prerequisite Check
8.1 Lines and Angles
8.2 Perimeter and Area
Activity 22: Know the Angles
8.3 Circles and Composite Figures
Activity 23: Exploring Circles
8.4 Triangles
Activity 24: Composite Geometric Figures
8.5 Square Roots and the Pythagorean Theorem
8.6 Solid Geometry
Chapter 8: Summary
Chapter 8: Summary Exercises
Chapter 8: Chapter Test
Chapters 1-8: Cumulative Review
Chapter 9- Data Analysis and Statistics
Chapter 9: Prerequisite Check
9.1 Mean, Median, and Mode
Activity 25: Car Color Preferences
9.2 Describing Data Sets
Activity 26: Outliers in Scientific Data
9.3 Tables and Bar Graphs
9.4 Line Graphs and Pie Charts
Activity 27: Graphing Car Color Data
Chapter 9: Summary
Chapter 9: Summary Exercises
Chapter 9: Chapter Test
Chapters 1-9: Cumulative Review
Chapter 10- The Real Number System
Chapter 10: Prerequisite Check
10.1 Real Numbers and Order
10.2 Adding Real Numbers
Activity 28: Hometown Weather
10.3 Subtracting Real Numbers
Activity 29: Plus/Minus Ratings in Hockey
10.4 Multiplying Real Numbers
10.5 Dividing Real Numbers and the Order of Operations
Activity 30: Building Molecules
Chapter 10: Summary
Chapter 10: Summary Exercises
Chapter 10: Chapter Test
Chapters 1-10: Cumulative Review
Chapter 11- The Real Number System
Chapter 11: Prerequisite Check
11.1 From Arithmetic to Algebra
11.2 Evaluating Algebraic Expressions
Activity 31: Evaluating Net Pay
11.3 Simplifying Algebraic Expressions
Activity 32: Writing Equations
11.4 Solving Equations with the Addition Property
Activity 33: Graphing Solutions
11.5 Solving Equations with the Multiplication Property
11.6 Combining the Rules to Solve Equations
Chapter 11: Summary
Chapter 11: Summary Exercises
Chapter 11: Chapter Test
Chapters 1-11: Cumulative Review
Brief Glossary
Answers to Prerequisite Checks
Reading Your Text
Summary Exercises
Chapter Tests
Cumulative Reviews
Index