Case Study: Music/SmartBook - Central Piedmont Community College
---
Digital Product in Use:
Connect® Music/SmartBook
---
Course Name:
MUSC 110 Music Appreciation
---
Course Type:
Blended lecture and online
---
Credit Hours:
Three
---
Textbook in Use:
Music: An Appreciation, Brief Edition, 7th edition, by Roger Kamien
---
Instructor Name:
James Easteppe
---
Enrollment:
25 students per blended lecture section
75 students per online section
250/year (university total)
---
Case Study Term:
Fall 2011 (without Connect/SmartBook)
Spring/Fall 2014 (with Connect/SmartBook)
---
"Connect allows me to spend more time in lectures discussing listening in depth and less time on dates and vocabulary terms. It's really a great tool in the classroom and for students at home working online."
-Professor James Easteppe
Connect Music Engages More Students in Active Listening and Music Comprehension
---
Because Connect/SmartBook provided the opportunity for Professor Easteppe's students to learn vocabulary terms, composers' names, and dates outside of class in the homework assignments, Easteppe spends class time focusing on teaching the students how to actively listen to the music. Easteppe is thrilled. "With Connect, we are able to talk about our experiences while listening to a piece of music and discussing how the music works." Consequently, more students are learning more about how to listen to and engage with music.
Central Piedmont Community College educates over 75,000 students on six campuses located throughout Mecklenburg County in North Carolina. CPCC offers over 285 degree, diploma, and certificate programs in various areas including technical/vocational, health, culinary, hospitality, STEM-S, and professional careers as well as a comprehensive college transfer program.
Course Description:
This course is a basic survey of the music of the western world. Emphasis is placed on the elements of music, terminology, composers, form, and style within a historical perspective. Students should be able to demonstrate skills in basic listening and understanding of the art of music.
Course Grade:
The grade is determined by: Assignments (45%), Tests (30%), Concerts (15%), and an Exam (10%).
Implementation of McGraw-Hill Connect
Professor Easteppe teaches Music Appreciation in 8 week and 16 week courses that are blended or entirely online. In the classroom, 25 students enroll per class per semester. Online, 75 students per class per semester can enroll. After implementing Connect/SmartBook, Easteppe taught 132 students in a semester – a 38% increase in student enrollment!
All of the sections use Connect and there are two instructors assigned to the larger sections. One instructor designs assignments and runs the Blackboard shell while the other handles grading and discussion boards. Easteppe assures, "The grading burden is significantly less with Connect!"
Usually the class covers half a chapter to an entire chapter per week. The number of questions are based on the type of assignment. Listening assignments typically have anywhere from four to eight questions where general multiple choice assignments have an average of 20 questions.
When Connect/SmartBook are the first assignments students are given to be introduced to each unit, the overall grades improve for that unit. Easteppe notes, "The discussions are more in depth with students using vocabulary terms and citing composers and pieces – the students' overall understanding is higher. SmartBook presents the material to students and tailors the information to their specific educational needs."
Easteppe says, "I teach sections that have not used Connect and the student retention rate on information is appalling. Without Connect, average students did not do well on exams or listening assignments and concert critiques." Connect helps reinforce vocabulary terms, recollection of composers and pieces, and overall understanding of materials giving Easteppe more opportunity to talk about the music in class. "Connect is a must for anyone teaching music appreciation."
Easteppe also appreciates Connect because he now has more time to focus on in-class lectures and online discussion topics. "I waste less time grading papers and spend more time finding better and better multimedia elements to add to the class, concerts in the community, and current event articles that pertain to the class." When Easteppe didn't utilize Connect, he spent 60 minutes a week reviewing homework and 30 minutes a week giving quizzes. Now, with Connect, Easteppe spends 30 minutes a week reviewing homework and no time giving quizzes. He uses this saved time to research other ways to apply concepts and reinforce active learning in the classroom (Figure 1).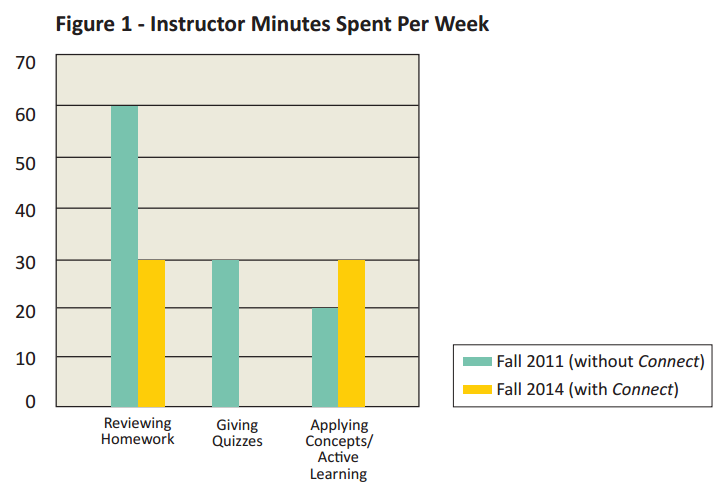 Connect also helps Easteppe save time on a daily basis (Figure 2). Before using Connect, Easteppe spent 120 minutes (2 hours) a day prepping for lecture and 240 minutes (4 hours) a day grading. Those tasks now take approximately 30 minutes a day thanks to Connect.
Additionally, more students continue in the course. Easteppe says, "My student retention rate has increased with the use of Connect and especially with the introduction of SmartBook. Students seem more engaged in the material. I have had students who could not pass the class continue to attend because they enjoyed discussing the material and using the SmartBook modules."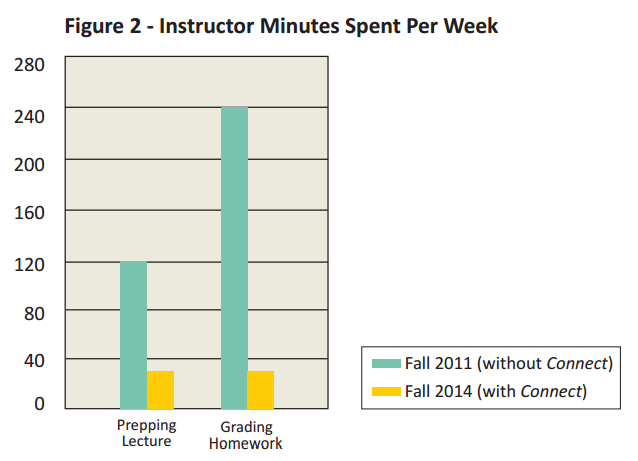 "I am able to work on more conceptual work. I can work with students on 'active' listening and how to describe music using the vocabulary terms they have learned within each unit. We are able to talk about our experiences while listening to a piece and how the music works."
"The listening review assignments have helped students to understand the abstract concepts of active listening. I have seen an increase in the use of the concepts and vocabulary used in listening assignments discussed in student concert critiques. Students seem to be more engaged in their listening and at concerts they attend."
Easteppe is able to teach more students a more comprehensive understanding of music in less time when he and his students use Connect. "The number of students engaging in discussions using terminology, citing pieces and composers, and topics from the text has increased. This student-led interactivity has led to a better in-class environment and better online discussion board forums."
Additionally, the time he spends with tasks associated with homework, quizzes, and grading decreases: "Connect has lowered the amount of time I spend grading by about half."