Spartanburg Community College
Connect® and SmartBook® Improve Content Retention Leading to an Overall Boost to Student GPAs
As Allied Health Program Director, Jeff Crisp wanted a program that allowed each student's learning to be adaptive so they would retain content long after the course ended, and their overall GPAs would improve. Crisp also wanted to see data that would show him how his students were progressing in class and would allow him to provide immediate feedback.
Connect and SmartBook help him achieve those goals. Crisp says, "The increase in overall GPA for this course has risen from 2.4 to 2.9, but the most positive outcome has been from students who have returned after my class and expressed how much my course and Connect has helped them in their programs of study."
Connect gives me the flexibility to assign lessons that are pre-made or to create my own based on the students' needs. Other instructors say they do not need to 're-teach' content because students who learn using Connect retain course content longer and improve their overall GPA significantly.
Jeff Crisp
Implementation
Course grade is determined by the following:
30% Connect Homework
60% Exams
10% Final Exam
Crisp has made SmartBook and Connect homework assignments mandatory for his course. He sets up SmartBook as a prerequisite for the homework assignments. For each chapter, students complete one SmartBook and four Connect assignments for 16 total chapters throughout the semester. "Students must read the material before they can attempt any of the homework assignments. This requirement has proven to be a very effective method for encouraging students to learn the content."
Crisp assigns four to five assignments per week. Two chapters per assignment are covered. He says, "I do not focus so much on the number of questions per assignment as much as I make sure the students can finish each assignment in a reasonable amount of time, which is 20 to 30 minutes." Crisp believes the interactive assignments are the best way to challenge the students and prove what the student is retaining. He integrates Connect with D2L, and the transition has been seamless. "We have been using deep integration for the last two years, and the experience for the student has improved tremendously—and it's a great time saver for me."
Crisp uses many of the reports available within Connect and SmartBook to see students' performance on assignments. Because he can monitor his students' progress, Crisp can cover more content. "The reports in Connect are an amazing tool! I can see when the students are grasping the simpler concepts in the assignments, and then I know when I can dive a little deeper into the content."
In Connect, Crisp uses: Assignment Results, Student Performance, Item Analysis, and At-Risk reports. In SmartBook, he uses Student Details, Module Details, Missed Questions, and Most Challenging Learning Objectives reports. "By viewing Student Performance results, I can customize my lecture time to address deficiencies in the students' understanding of the content. The Missed Questions report helps give me the detail I need to address deficiencies on a classroom and individual student basis."
Classroom discussions have improved by 50% because the level of discussion has been related to a deeper understanding of the content. Crisp checks attendance daily and says that the average number of absences has dropped from six per semester to two per semester. "Although the drop rate has remained fairly consistent, the attendance rate has improved significantly."
Results Achieved
Crisp's specific course objective was to improve overall GPA, and his goal was met. "The increase in overall GPA for this course has risen from 2.4 to 2.9"
(Figure 1).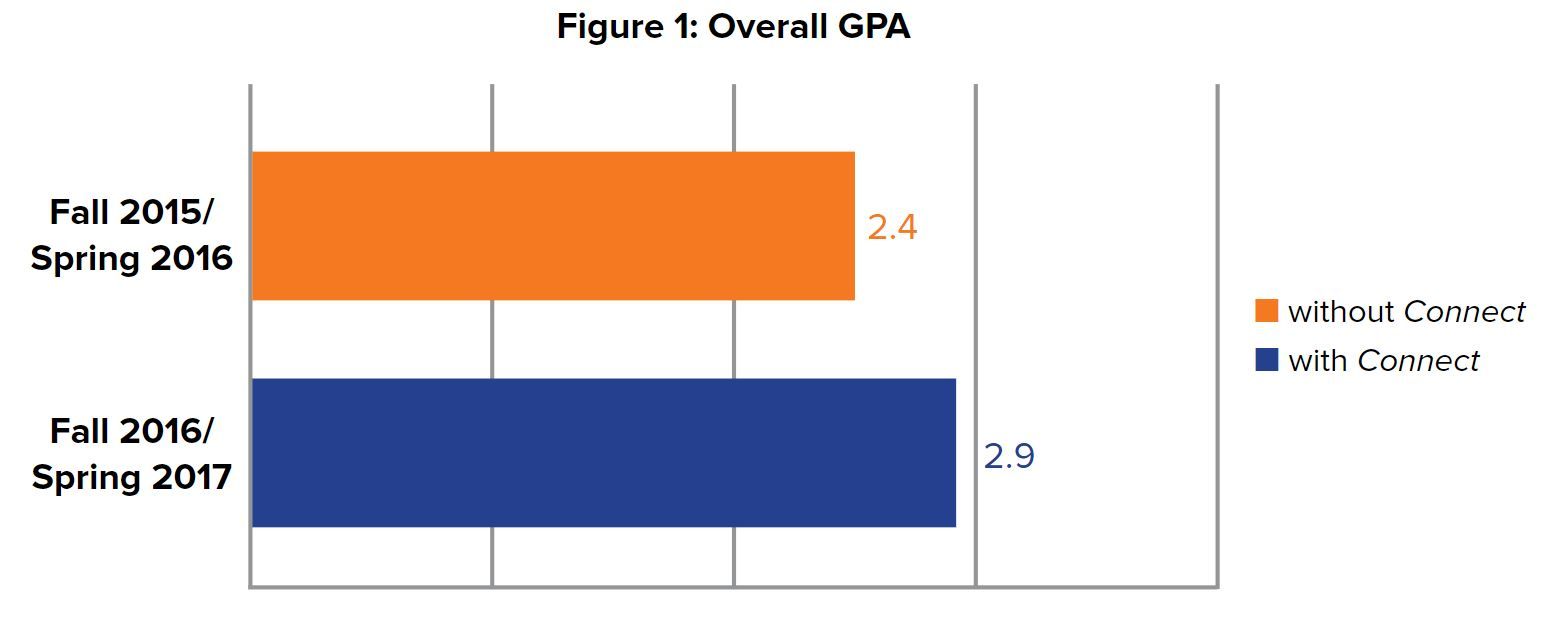 He says, "The grade distribution has shifted from one or two A's to 4 or 5 A's, and the average exam scores improved from 72% to 78%—an increase of 6%" (Figure 2).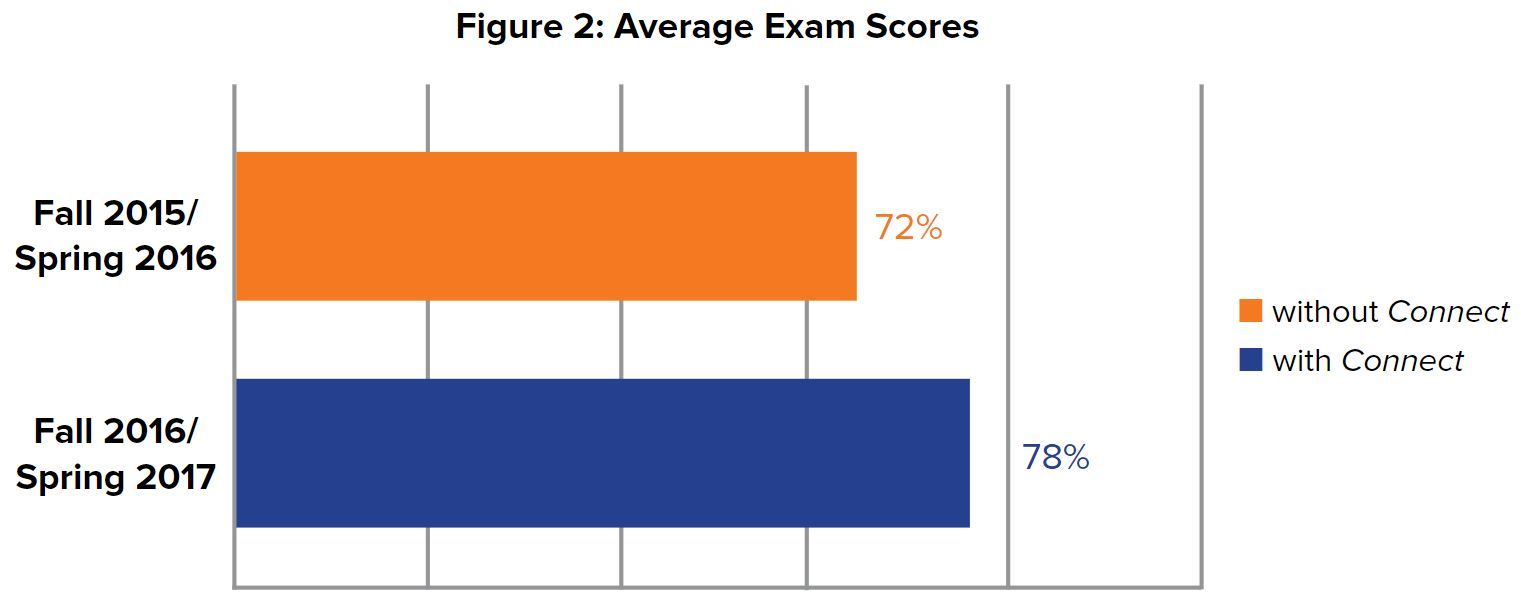 Additionally, Crisp's grading time has been cut in half. He was spending four hours a week grading, and now he spends two hours a week (Figure 3). Crisp says, "Time savings like this is priceless."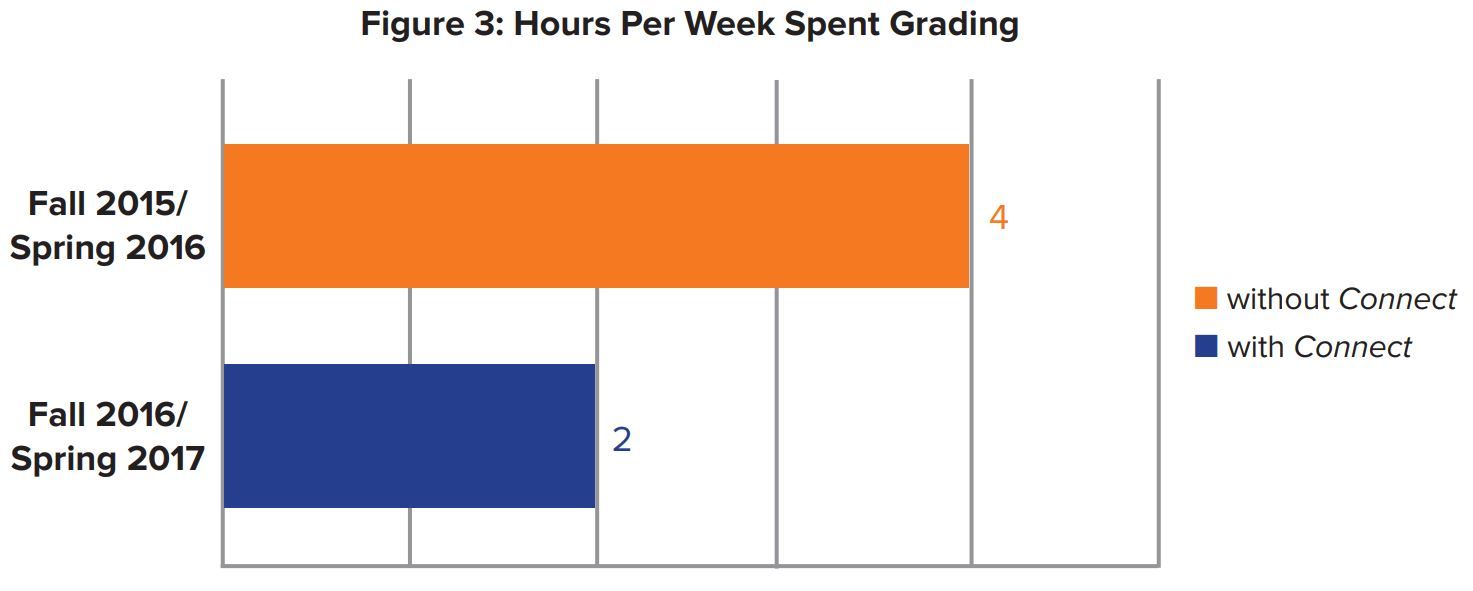 Crisp says Connect and SmartBook has made his job as a professor more fulfilling. "I have seen the improvements in the students' content retention and overall understanding. Connect has enabled me to customize my lectures and use class time to dig deeper into content and student engagement."
Overall, Crisp says he is pleased with Connect. "I plan on shouting its praises to anyone who will listen. I want to continue to learn and adapt as Connect learns and adapts to make the student experience the best it can be."
Conclusion
Crisp is pleased with Connect and SmartBook because his students' overall GPAs have improved from 2.4 to 2.9. He wanted to provide students with an opportunity to learn and interact with course content, and he wanted to provide himself with a way of tracking students' progress through the course. By requiring students to read the content in SmartBook before they complete the homework in Connect, students are engaging more in class discussions, improving their exam scores by 6%, increasing their GPAs by .5, and understanding course content more thoroughly.
By using SmartBook and Connect, I can monitor my students' progress and their ability to retain the material and cover more content. Classroom discussions have expanded to being about more in-depth questions, showing me that students are thinking critically and making permanent connections as a result of Connect and SmartBook.
---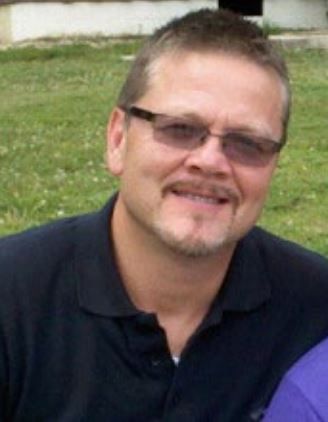 Jeff Crisp is the Allied Health Science Program Director at Spartanburg Community College, where he is responsible for hiring, training, and managing adjunct instructors. He also teaches Biology (for majors and non-majors), Anatomy and Physiology, and Medical Terminology courses and has given professional presentations at Spartanburg Community College, Clemson University, and Auburn University.
Digital Product in Use: Connect® Medical Terminology
LMS Integration: D2L
Course Name: Allied Health Science (AHS) 102 Medical Terminology
Course Type: Face-to-Face / Online / Flipped
Credit Hours: Three
Program in Use: Essentials of Medical Language, 3rd edition, by David M. Allan and Karen D. Lockyer
Instructor: Jeff Crisp
Enrollment: 15 students per section; 7 sections; 250 year (university total)
---
Instructor's implementation goals
Increase GPA
Increase students' retention of content
Teach students how to study and think critically
Reduce grading time
Track students' progress through the course
Assess and address student needs quickly
Issues for instructor before using Connect:
Students not retaining content from course to course
Weak classroom discussion
Lower student GPAs
Unable to identify and intervene when a student may be struggling in the course
Benefits to instructor after using Connect:
Cover more content with students
More in-depth questions during classroom discussions
Opportunity for students to think critically and make permanent connections
Less time grading
Reports show where students struggle
Customize lectures to address deficiencies in students' understanding of content
Increase in students' GPA in the course and overall
Cost savings for students
Improved attendance rates
Course Description:
Allied Health Science (AHS) 102 Medical Terminology is a course that covers medical terms, including roots, prefixes, and suffixes, with an emphasis on spelling, definitions, and pronunciation.
Institution Profile:
Spartanburg Community College, located in upstate South Carolina, is a two-year, public, educational institution that was founded in 1963. Almost 6,000 students on five different campuses throughout Spartanburg, Cherokee, and Union counties choose from among 70 programs of study and have the opportunity to pursue a bachelor's degree through SCC's University Transfer Program.