Case Study: Connect® Marketing - Virginia Tech
---
Digital Product in Use:
Connect® Marketing
---
LMS Integration:
ScholarLMS
---
Course Name:
Introduction to Marketing
---
Course Type:
Lecture
---
Credit Hours:
Three
---
Program in Use:
Marketing by Dhruv Grewal 4e
---
Instructor Name:
Donna Wertalik
---
Enrollment:
1 section, 610 students/section, 1,255 students/year (university total)
---
Case Study Term:
Fall 2014 and fall 2015
---
"Connect has reduced my prep time in lectures, impacted the enormous time I used to spend grading and has significantly increased the student outcome percentages of those having a deep understanding of marketing and the role it plays in every aspect of the world."
– Donna Wertalik
Students Excel at Turning Marketing Theory into Practice by Using Connect
Professor Donna Wertalik needed a tool that would help boost student performance while providing her the ability to track student success or challenges throughout the course. Before using Connect and SmartBook, students in Introduction to Marketing struggled to put marketing theory into practice. In addition, class attendance was at 70 percent, and only 45 percent of course evaluations were positive. Students lacked resources to facilitate them mastering the material and engaging in real world cases which in turn affected their success in the class.
"I was familiar with Connect as other colleagues on campus were using it, and I was looking for a turnkey solution" she says. She had previously adopted an online program that was creating a lot of extra work on her end, and she knew she needed a better solution. She approached her search from a marketing standpoint and felt McGrawHill Connect had strong marketing, branding, seamless integration and excellent support from her rep and the company. "I thought why drive a Ford when I can be driving a Jaguar."
Course grade is determined by the following:
20% – Connect quizzes
30% – SmartBook assignments and Connect homework
50% – Exams and personal branding project
Wertalik began assigning Connect with a strategy of increasing participation and learning results. She assigns the correlating SmartBook chapter covered in each 75 minute lecture, which take place twice a week, which is then due the night before the following class to keep students on track. Because she has over 600 students, she has found this approach works best for her. She says, "I would rather lecture through the topic and then have the students complete the SmartBook module. I can then see immediately if they mastered the topics." She usually sets the modules for an average of 30-45 minutes, she reports, however, "I do set some topics for more time, such as pricing, as I know I will not be able to get into that much detail during lecture."
Wertalik takes advantage of the SmartBook Missed Questions and Most Challenging Learning Objectives reports to help her understand where students need additional assistance and how much they understood. She says, "It's great to use this in class after assignments and ensure students are aware of deeper reasoning behind concepts they are having issues with based on these reports."
In addition to SmartBook, Connect has expanded the applied learning opportunities students have access to through video case studies and interactive drag and drop exercises. As a result, students are more engaged in the learning process which has increased their mastery of the concepts. Typically students complete two homework assignments each week which includes the video cases and interactive activities. Students take also take their quizzes in Connect saving Wertalik time spent administering and grading them. In addition to the SmartBook reports, Wertalik frequently uses the following Connect reports to analyze homework and quiz results.
Assignment Results: See assignment scores listed by student and color-coded into high, medium, and low score ranges, and customize results. Wertalik is able to assess student completion and identify any areas highlighted that reflect issues for students.

Student Performance: See an individual student's scores, status of assignments, and time spent on each assignment. Wertalik identifies which students may require additional help and where they are struggling.

Assignment Statistics: See this section's highest, lowest, and average scores on each assignment attempt, or compare multiple sections' scores. Wertalik can evaluate trends and outliers, and if needed, modify future assignments based upon data.
The most pronounced indication of Connect's benefits comes from the students themselves. Class evaluations intended to gauge students' understanding of the subject showed a nearly doubled response. While 45% of the students agreed that they had a deeper understanding of the subject before Connect was implemented, that number grew to 75 percent with Connect (Figure 1).
After Connect was implemented, student attendance went up 25 percent as well (Figure 2).
Instructor's implementation goals:
Encourage student interaction

Have a digital tool that was a turnkey solution

Reduce grading time
Issues for instructor before using Connect and SmartBook:
Existing digital tool required too much effort for the instructor.

Class attendance was low.

Class evaluations reflected too few positive impressions.
Benefits to instructor after using Connect and SmartBook:
Grading time dropped from 70 to 25 percent of her work.

Students' evaluations rose from 45 percent position to 75 percent positive.

Class attendance average increased to 95 percent

The percentage of Wertalik's time weekly dedicated to grading assignments dropped by 45% (Figure 3).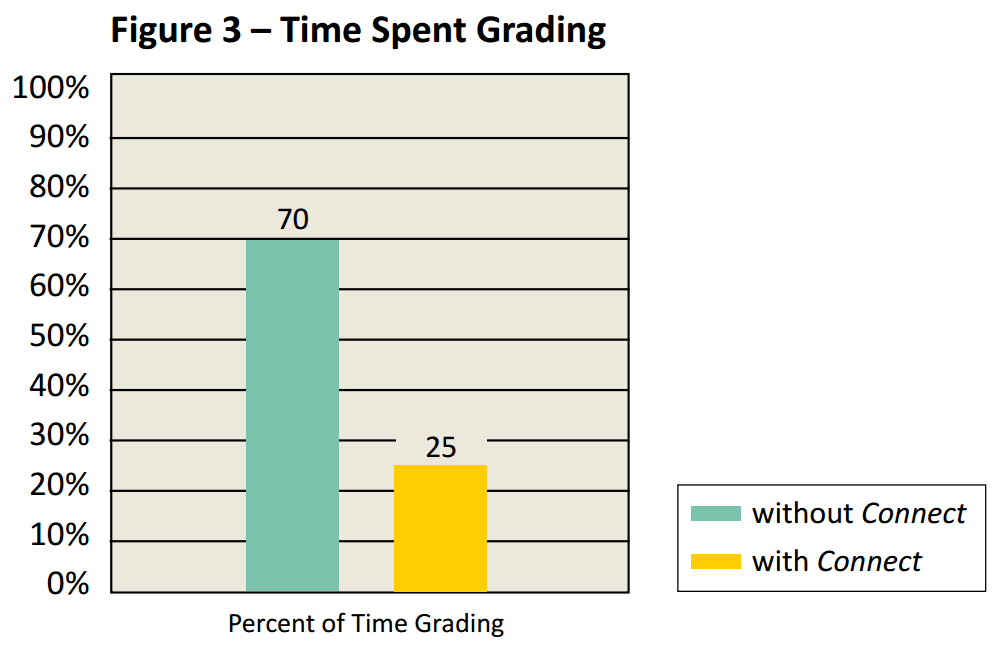 Wertalik has seen other benefits as well; she spends reduced time in office hours, since students' SmartBook homework assists in expanding their understanding of concepts discussed in class. Students participate more in class through discussing the concepts and cases presented which adds to the overall experience in the classroom. When it comes to her own personal gains, the system saves time that she can dedicate to other things. Connect has the biggest impact on time spent grading, she says, since it integrates into the school's own learning management system. "It is a two-click simple process to upload grades," Wertalik says.
She now intends to add McGraw Hill's Practice Marketing to the course next year. Practice Marketing is the first in a series of 3D, multiplayer business strategy games designed for McGraw-Hill Education's new line of digital learning products. As a multi-player simulation of the backpack industry, Practice Marketing enables students to put their marketing skills to the test in a fun and competitive, real-world environment.
Course Description:
This course is designed to introduce students to the world of marketing. The course emphasizes what marketing is, the power of branding, and the influence of social media in the marketing world. Students learn the vital role of marketing functions within an organization and how marketing creates value for organizations, individual, and society. The also learn the key terms and fundamental concepts of marketing; the important issues in planning and evaluating brand strategies. They Identify concepts and techniques to improve the long-term profitability of brand strategies, apply social media best practices to enhance their personal brand and understand social media fundamentals and basic social media etiquette.
Institution Profile:
The Virginia Tech Pamplin College of Business, commonly known as Pamplin, is a business school founded in 1965. The school has 3,845 undergraduates and 389 post graduate students. Pamplin offers Masters degrees, two PhD degrees and numerous majors and minors for undergraduate students. It also jointly offers a Master of Information Technology degree with the Virginia Tech College of Engineering. The U.S. News and World Report has ranked Pamplin's undergraduate program as the 23rd highest among public institutions. Its campuses are located in Arlington, Blackburg, Falls Church, Richmond and Roanoke, Virginia.
"Connect allows me to provide students an opportunity to master every chapter, provides tips, and acts as a virtual tutor for students requiring extra help. This has been the greatest tool in a mass class of 600 students."
With Connect, Wertalik has reduced her grading time from 70 percent of her overall time, to just 25 percent. She also spends less time in office-hours because students using the SmartBook homework have fewer follow-up questions. Students are more engaged in and satisfied with the course, as demonstrated by increases in class attendance and her course evaluations. And most importantly, students are turning Marketing theory into practice.