Case Study: Connect® Master Economics - North Lake College
---
Digital Product in Use:
Connect® Master: Economics
---
LMS Integration:
Blackboard
---
Course Name:
Principles of Microeconomics
---
Course Type:
Online
---
Credit Hours:
Three
---
Program in Use:
Economics by Asarta/Butters
---
Instructor Name:
June Charles, M.S.
---
Enrollment:
4 sections; 37/students/section, 1600-1800 students/year (college total)
---
Case Study Term:
Spring 2015 (without Connect), Spring 2016 (with Connect)
Prep and Grading Time Decreases while Student Scores and Pass Rates Increase with Connect
Connect has exceeded Professor June Charles' expectation of a 70 percent pass and retention rate for her class. Students' grades and pass rate are both up since Connect was implemented. Charles finds that because students are engaging so well with Connect, they require less office hour support from her. In addition, Connect has helped reduce lecture prep from 30 minutes to just a few minutes and has eliminated her need to score student assignments.
But it's not just grading and class preparation time that she has seen as benefits. Connect's homework and assessment tools have improved student learning outcomes and students' performance. Before Connect, Charles would spend most of her office hour time reteaching foundational concepts to students. With Connect students have a deeper understanding of core concepts, and Charles can spend office hours answering specific questions from students and teaching them the nuances in topic areas. This allows for both students and professors to utilize their time more effectively.
---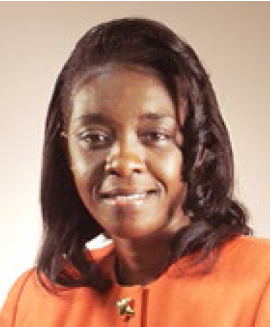 "Connect meets the needs of our students as well as keeping up with today's student learning style. It has enhanced my teaching."
– Professor June Charles
---
Course grade is determined by the following:
40% – Connect Master assignments
20% – Exams administered with Connect
20% – Discussion board
20% – Other assignments
Charles has found that students today like to work with digital technology. "Connect Master works well with the modern students," she says. She assigns the LearnSmart Achieve homework each week to help students understand how the different class topics relate and see practical applications of the ideas in the material. LearnSmart Achieve is Connect Master's adaptive technology that uses assessment and metacognitive questioning to pinpoint a student's strengths and weaknesses—and then provides that student with lessons and resources tailored to his or her needs. With LearnSmart Achieve students can better prioritize their time and improve their course performance.
Connect helps reduce Charles' time related to preparing end of semester class performance reports. Every semester she needs to turn in data and statistics about class performance. Connect provides her with the tools to get this done quickly and easily by providing data analyzing student performance by learning objectives.
Charles says she benefits most from a handful of Connect reports that help her identify and address issues with students. The reports she uses include:
Assignment Results – this report ensures she knows how students are doing with each assignment. "I like the color coding; it tells me who is at risk, who is doing well, etc." she says. She adds that because the report pops out for her with the appropriate color, her own work is made easier.

Student Performance – enables her to share directly with students and this helps to clarify issues should a student have questions/complaints about earned grade or performance.

Item Analysis – allows Charles to check how well students performed on a particular question. Also helps her to understand if students are struggling with learning objectives or if the question should be removed or modified.

At Risk – Charles says she loves this report. "This is my fav." It helps her with student retention by highlighting those who need help. She's no longer reviewing the gradebook to find students at risk of failing, now she can see the remediation warning signs immediately and e-mail those students.

LearnSmart Achieve Progress Reports – this tool also allows Charles to see which students are struggling and where they are struggling.
Charles advises instructors to start early with training sessions for use of Connect and to make use of the performance tools to track progress, especially the At Risk Report. Charles found out that early remediation helped to boost the student retention rate."
The Connect gradebook integrated with Blackboard also saves time. This, she says, has minimized the number of e-mails and complaints from students since the work they do is available all through a single access point.
Some of the most valuable feedback comes directly from the students, Charles says. Students who used Connect responded that:
"One thing that I really like about Connect Master is that the material is easy to navigate and can be accessed at any time. The information is straight-forward and very concise."

In addition, students have said that "Instruction is very clear and available anytime to guide me through the course materials."

"I think it's very well organized," another student reported. "I like how the books are on the site as well. If I had a choice I would prefer to use Connect Master in all my other classes."
With Connect Charles retention rates increased by eight percent (Figure 1). "The At Risk Student report was quite useful for me and the students found the concept assignments and recharge feature helpful," says Charles. Connect also provides students with immediate results and self-evaluation so they can identify their areas of strength and weakness without Charles having to be there.

Grades were up with a 32% increase in A's (Figure 2). "I observed positive change in their assignments and mastery of concepts," she says. "Overall the students did well [with Connect] and scored high in all assignments – 96 to 100 percent."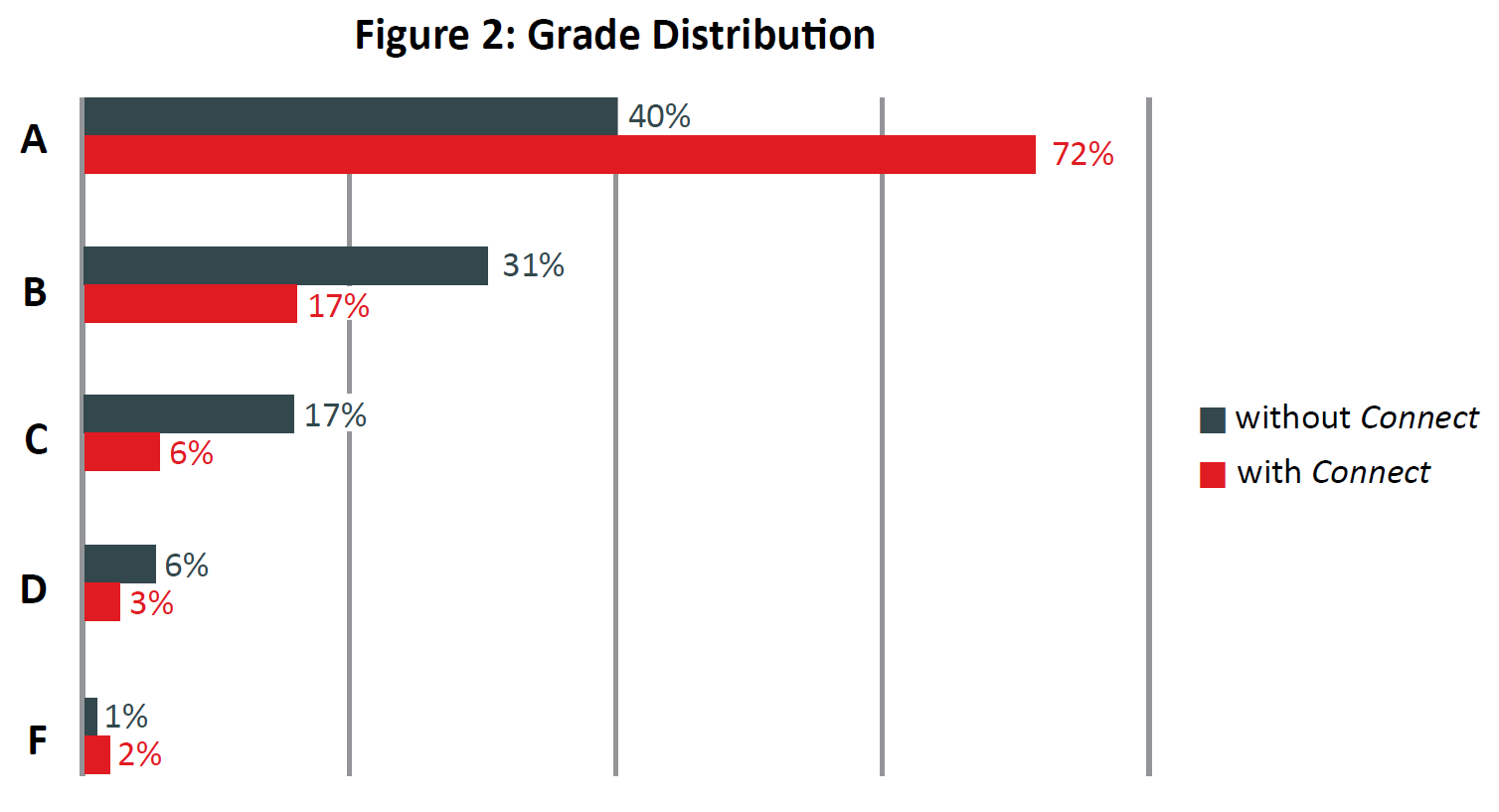 Connect has enabled Charles to minimize the time she spends prepping for classes since assignments have already been created. In addition, homework scoring and reviewing is eliminated since she deployed Connect. In fact, lecture prep has been reduced from 30 minutes to only a few minutes with each lecture. "There is no need for time consuming lecture preparations and long office hours. Connect is more engaging and interactive with additional materials available to my students." She further adds, "Because LearnSmart Achieve allows students to recharge and study before completing assignments and taking exams, students can review their work," which she says also reduces the number of e-mails she receives from students.
While the time she spent reviewing homework in the past was 60 minutes per week, per assignment, the work is done automatically with Connect (Figure 3).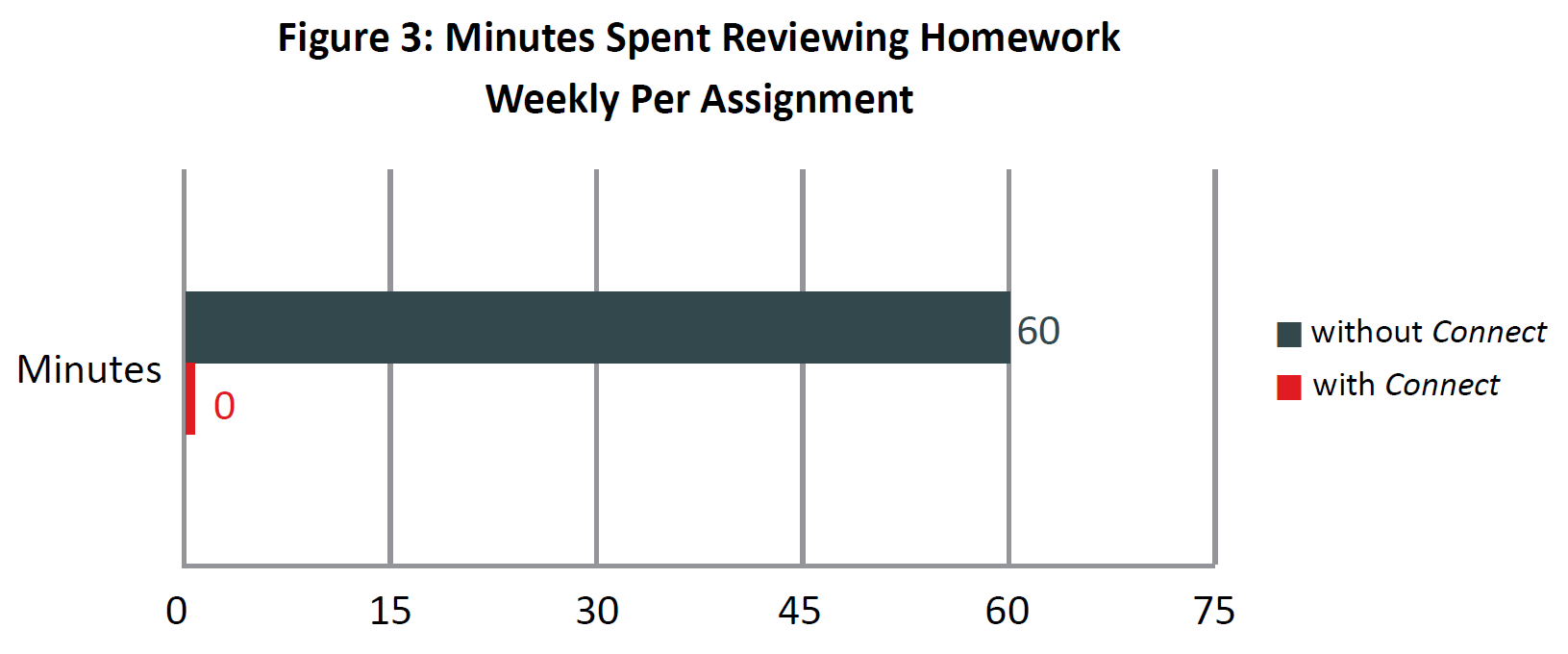 Instructor's implementation goals:
Identify and intervene with at risk students

Better engage with students using a medium they are used to: technology

Allow students to self-evaluate their performance
Issues for instructor before using Connect:
Lecture prep was time consuming

Students could have been better engaged

Students were unprepared
Benefits to instructor after using Connect:
Pass and retention rate increased

Grades are up in all sections of her class

Better time management

Increased enrollment
Course Description:
Analysis of the behavior of individual economic agents, including consumer behavior and demand, producer behavior and supply, price and output decisions by firms under various market structures, factor markets, market failures, and international trade.
Institution Profile:
North Lake College is a two-year community college located in the Las Colinas area of Irving, Tx. The school opened as part of the Dallas County Community College District in 1977. Its specialties include logistics technology, sciences and arts. It has a central campus as well as West, North and South campus, the latter two campuses opened in 2008 and 2009. The college has about 11,000 students altogether. Seventy eight percent of its students are part-time, and 22 percent are attending full time.
"Connect Master is engaging and interactive with additional materials available to my students. This makes teaching and learning fun for both the instructor and the students."
Connect provides Charles time savings before each class, on grading and enables reduced office hours and tutoring. Student have access to the information they need about their own performance and are better engaged with the material as well. "I will definitely use Connect again. My classes are already full for next semester, and I'm able to serve more students," Charles says.