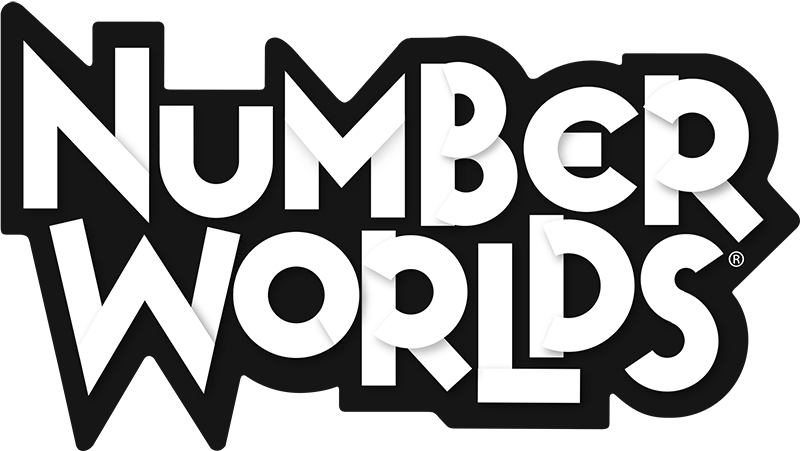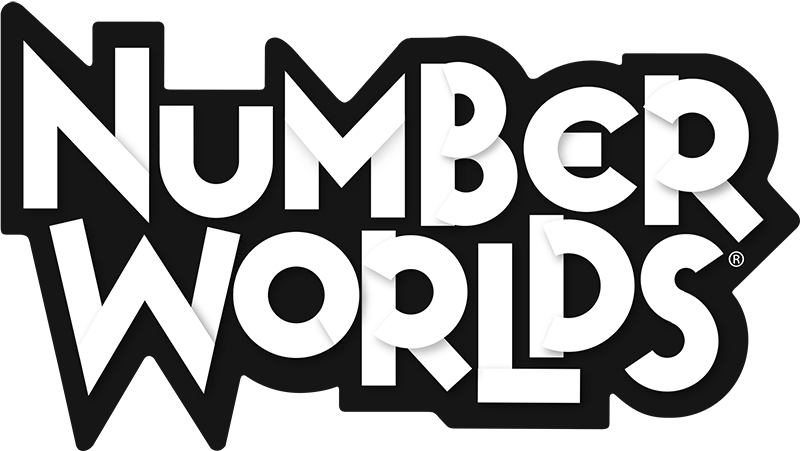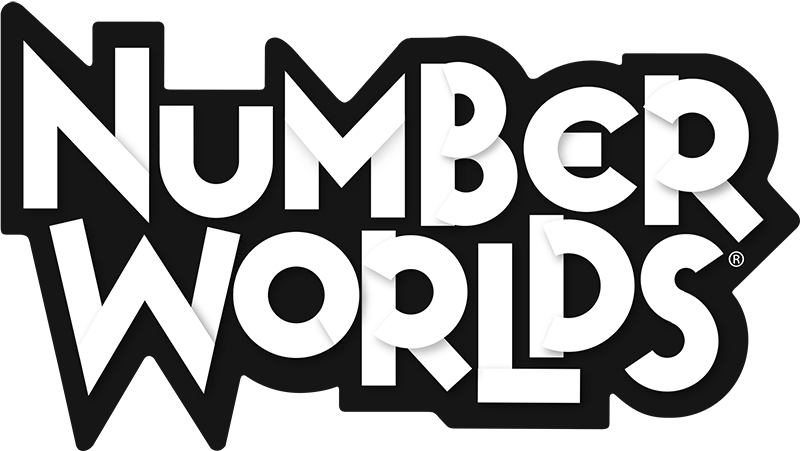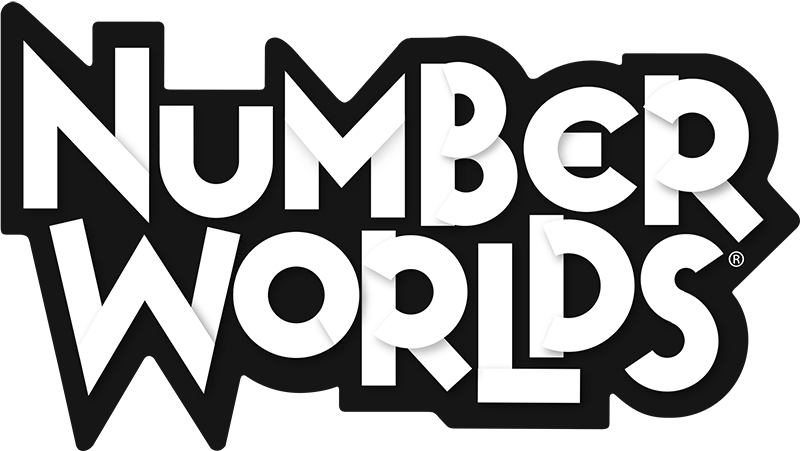 Pedagogy for Number Worlds:​ Math Intervention Program​
Prepare Students for Success
Number Worlds provides instruction for students​ who are one to two grade levels behind their peers​ in mathematics. Daily lesson activities emphasize​using communication, logic, reasoning, modeling,​ tools, precision, structure, and patterns to solve​ problems.
The Number Worlds Weekly Planner provides helpful information before lessons begin, making teacher preparation simple and effective.
​Weekly Planners map out the entire week of lessons, complete with Learning Objectives and all of the resources needed to maximize instructional time. Teachers can access all digital planning tools and resources online, making Number Worlds easy-to-use in a variety of educational settings.​
"In our Developmental Program, we love using the Number Worlds Program, because it effectively differentiates instruction to meet the individual academic needs of our students. The materials are easy to use and are highly engaging to all of students across all levels. The use of this program has helped our students to successfully meet their goals and objectives."
-Erika, Intervention Teacher Massachusetts
Built-in Differentiation​
Number Worlds is designed to be effective for diverse learners. ​
Support English Language Learners by building academic language and creating context before lessons begin​
Interactive Differentiation provides opportunities for students to spend more time learning critical math concepts with hands-on and digital interactive games.​
Alternative Groupings help teachers adapt instruction to fit various learning environments such as one-on-one tutoring, summer school, and after-school settings​
Daily Progress Monitoring allows teachers to swiftly adapt instruction and to provide targeted remediation for struggling students.​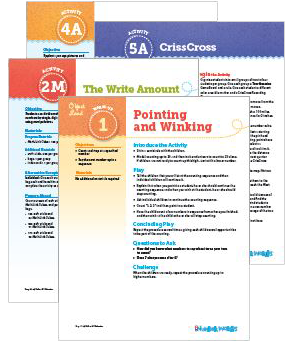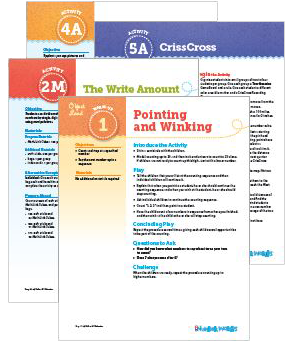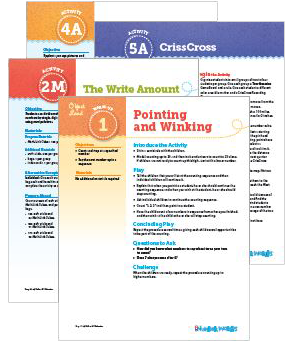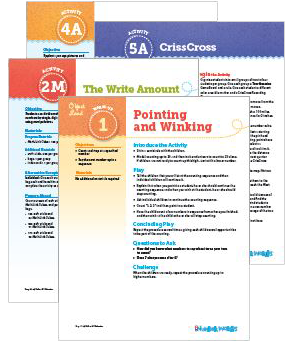 Project-Based Learning​
Weekly Project-Based Learning activities increase long-term retention of concepts. Students collaborate on projects to answer an essential question and each week builds on the next. Students are challenged to apply and demonstrate mastery of concepts and skills by expressing understanding through discussion, research, and presentation.
Each project includes an easy-to-follow routine. Real-world scenarios are used to help build college and career readiness for all students. Each project wraps up with a discussion, presentation, or reflection of the project.​
Interactive Games​
In Number Worlds, math is designed to be fun for all students.​
An effective balance between hands-on and digital games helps students apply concepts in a variety of settings.​
Every Number Worlds activity provides the instructional support necessary to get struggling students back on track.​
Through purposeful activities, students develop conceptual understanding and computational fluency as they actively apply concepts.​
Both group and individual activities are purposefully embedded in the curriculum to provide many opportunities for collaboration and teaming as well as personalized, individual learning.​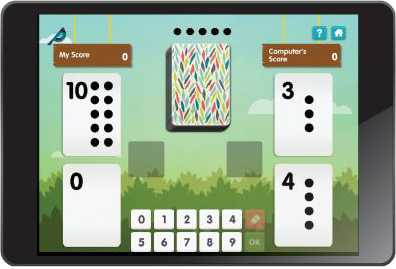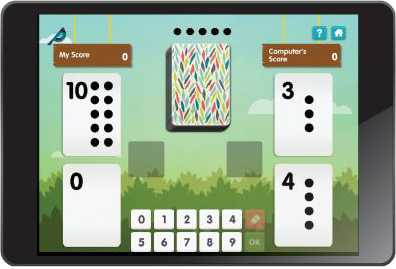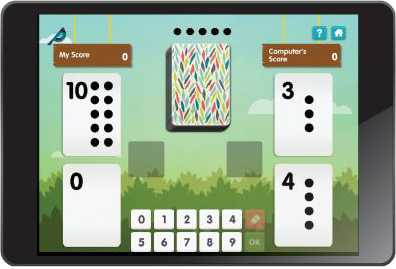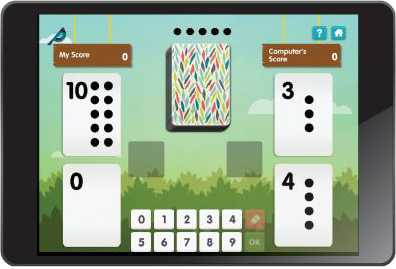 Building Blocks Activities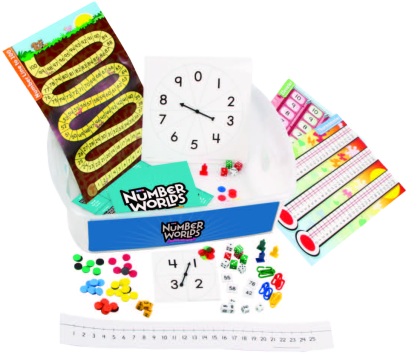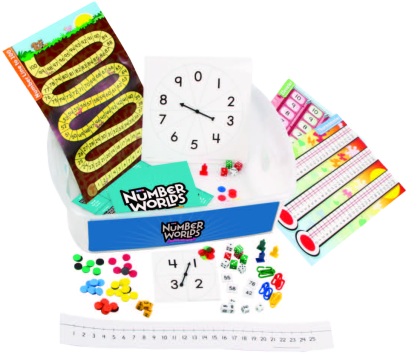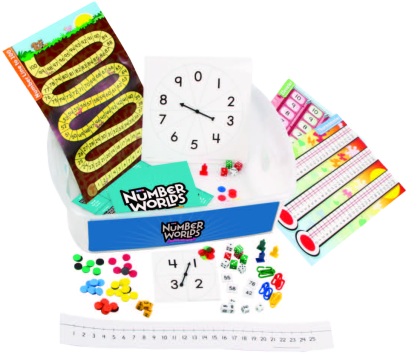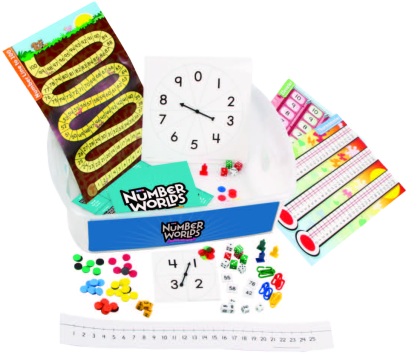 "The best thing I like about it is the practice time it allows for the students to reach mastery. It breaks down the math skills into smaller parts, and offers direct instruction for the smaller pieces. I also like how it offers many opportunities for practice with the skills, and the use of manipulatives and games for the practice. My students like the applications of the skills and are able to understand them. For example, with fractions, they apply the skills to cooking, which my students loved. Overall, Number Worlds is a fabulous Math program that offers direct instruction at the student's level, and with time for practice and mastery of all skills taught."
-JoAnne, Intervention Specialist North Carolina
Dynamic Assessments and Reporting
Assessment tools allow teachers and administrators to correctly place and monitor at-risk students. A variety of assessment options evaluate student proficiency, inform instruction, and visually track progress.​​
Placement Tests: Students in grades Pre–K to 5 (levels A–G) can be placed into Number Worlds using the Number Knowledge Test, which measures students' ability to make sense of quantitative problems. Based on the results, students are placed at their appropriate level.​
Informal Assessments: Each lesson embeds ongoing, informal assessment. Teachers can use the online assessment tool or the Student Assessment Record to record their observations.​
Formal Assessments: Number Worlds evaluates student understanding weekly, at the end of each unit, and through cumulative assessments to inform instruction. Online testing measures and prepares students for high stakes tests.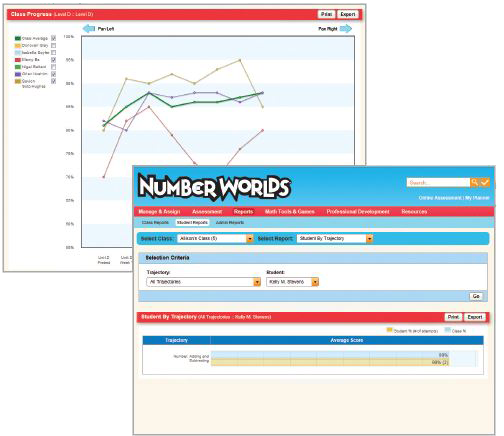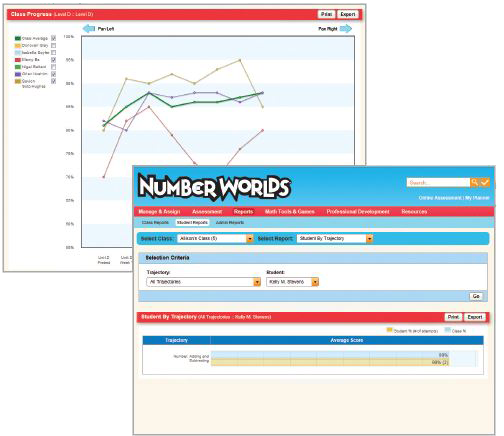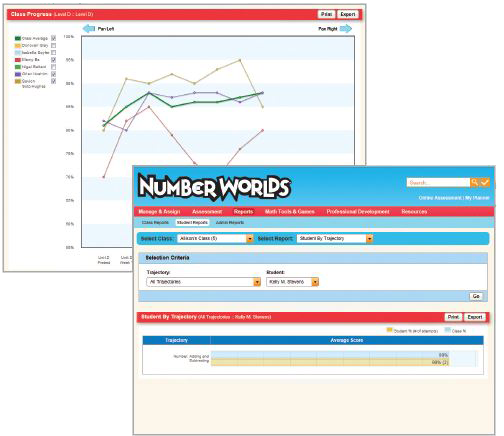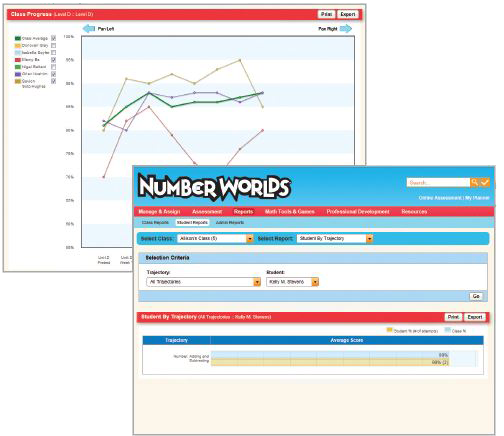 "Number Worlds is a great complement to our core curriculum and standards. It addresses a myriad of specific skills that assist students through understanding concepts, and applying the necessary skills to gain mastery. The Building Blocks component also allows for the students to visually see their progress, and set expected outcomes, which encourages them to become involved in the decision-making process for their education."
-Cassandra, Intervention Teacher Florida