New Mobile 'Connect Insight' Data Analytics Tool for Higher Education Leads McGraw-Hill's Digital Lineup at SXSWedu
Published March 3, 2014
---
New interactive "study abroad" game for college Spanish, collaboration with StudySync, implementation of ALEKS at "world's largest math emporium" in Austin round out company's presence at education conference
AUSTIN, Texas, March 3, 2014 /PRNewswire/ -- Today at SXSWedu, McGraw-Hill introduced Connect Insight™, a first-of-its-kind data analytics and visualization tool for higher education. The launch leads McGraw-Hill's presence at the Austin-based education festival, where the company will also host an on-site lounge experience, debut a new interactive game for college Spanish, and announce a major partnership in the K-12 market. With the debut of the mobile-based Connect Insight, McGraw-Hill becomes the first major education company to analyze and present data in a highly visual and actionable way.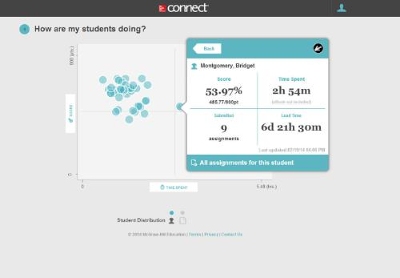 Connect Insight at a glance:
Goal: Allow instructors to pinpoint how each student is performing individually and relative to peers, as well as gauge the effectiveness of their assignments
Automates the data analysis process so every instructor can gain insights – not just information – about individual student or whole class progress
Enables instructors to make data-driven, real-time decisions about their instruction and act as an early warning system to immediately identify and help struggling students
Built for mobile; works seamlessly with McGraw-Hill Connect®, the company's online learning platform for higher education
"'Big Data' is probably the most misused term in education because, until now, all we've had are millions or billions of data points without the analysis to make them truly meaningful and actionable," said Brian Kibby, president of McGraw-Hill Higher Education. "With Connect Insight, we're taking data analysis to a new level by helping instructors see a fuller picture of how students are performing and providing the information they need to coach at just the right time."
"An instructor's time is precious and shouldn't be wasted on manual data analysis or sifting through voluminous data reports that don't connect the dots about student performance," said Stephen Laster, chief digital officer of McGraw-Hill. "This type of actionable analysis will be a big driver in understanding, improving and eventually predicting student performance."
The company has several other activities and announcements planned for SXSWedu:
Launch of 'Practice Spanish: Study Abroad' game: Practice Spanish: Study Abroad, a multiplayer, personalized Spanish language learning game provides college students with a virtual and immersive "study abroad" experience while enabling them to practice Spanish vocabulary, grammar, reading, and conversation. As the company's first foreign language learning game, Practice Spanish builds on the McGraw-Hill's educational gaming portfolio which includes Government in Action and Practice Marketing.
StudySync collaboration: McGraw-Hill is announcing a partnership with StudySync to combine StudySync's dynamic digital content and platform for English Language Arts with McGraw-Hill's educational solutions and sales expertise. As part of the agreement, McGraw-Hill will distribute the award-winning StudySync literacy program for Grades 6-12, and the two companies will collaborate to develop new digital products and services for the U.S. educational market.
Adaptive learning at the world's largest math lab in Austin: ALEKS, one of the company's adaptive programs, will serve as the sole technology provider for Austin Community College's new 600-seat math emporium, the world's largest. The emporium, which will exist on the site of the Highland Mall in Austin, is set to open this summer in time for the 2014-2015 academic year.
The McGraw-Hill Lounge (Room 406, Hilton Austin): With the theme "the future of education is here," the company and its leaders will host a digital lounge to showcase the latest in technology for K-12 and higher education. Join McGraw-Hill in Room 406 at the Hilton Austin for demos of the new products and an opportunity to relax and recharge.
LAUNCHedu: Peter Cohen, president of McGraw-Hill School Education Group, will serve as a judge at LAUNCHedu, part of the larger SXSWedu conference, in which education entrepreneurs from across the country and around the world will highlight their innovations in an elevator-style pitch competition.
McGraw-Hill will post live tweets from SXSWedu through its Twitter feed @MHEducation using the hashtags #SXSWedu and #futureEDU.
About McGraw-Hill
McGraw-Hill is a digital learning company that draws on its more than 100 years of educational expertise to offer solutions that improve learning outcomes around the world. McGraw-Hill is the adaptive education technology leader with the vision for creating a highly personalized learning experience that prepares students of all ages for the world that awaits. The Company has offices across North America, India, China, Europe, the Middle East and South America, and makes its learning solutions available in more than 60 languages. For additional information, visit www.mheducation.com.
Contact:
Visit our News & Media Center for current contact information.